Tribal Government & News
12-year-old Tribal member seeking to become stand-up comic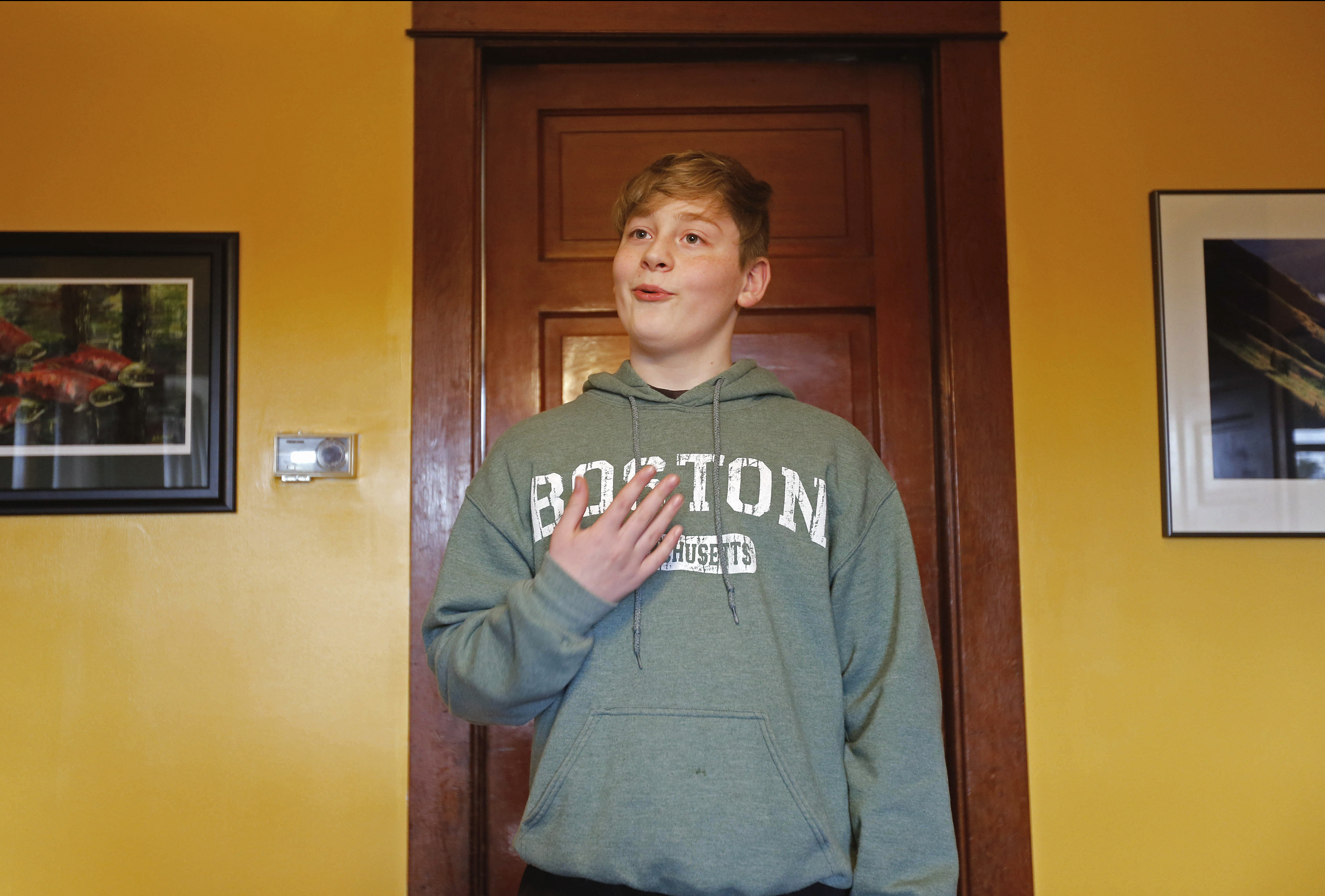 By Danielle Frost
Smoke Signals staff writer
SHERIDAN -- Ask most parents of a middle school boy and they'll likely tell you their son thinks he is a great comedian.
Twelve-year-old Grand Ronde Tribal member Sean Gerbrandt has taken that to a new level by actually performing stand-up comedy and being recognized for how well he did it.
His big break came after placing second in the Sheridan Japanese School talent show last year. As a top finisher, he was invited to perform in the West Valley's Got Talent competition held on Saturday, March 16, presented by the Sheridan Rotary Club.  
"It was pretty big and I wasn't expecting that many people," Gerbrandt says. "It was is a little nerve-wracking at first."
The event is a benefit for the Sheridan Rotary Club's Community Relief Fund. With approximately 50 people in attendance, it was Gerbrandt's largest audience ever. However, with family and friends cheering him on, the young comic settled his nerves and got ready to rock his first big show.
"I practice my routine in advance and memorize my jokes, so when I go out onstage I have everything committed to memory," he says.
Gerbrandt's go-to joke? "I always say that I am not actually a stand-up comic, I'm a sit-down comic, and then I get into my routine that way."
Gerbrandt says so far he has not suffered from stage fright or forgotten his lines, and he enjoys connecting with an audience.
"When I first make them laugh, it gives me a hit of adrenaline and then I really get going," he says. "I try to pay attention to my audience and form jokes they will like."   
Gerbrandt says he finds his comedic material from observing daily life and interactions with different people, such as grandparents, parents, classmates and teachers.
"I just hear little things here and there that might potentially be a joke, then I make it into one," he says. "I really enjoy the feeling after a show begins, when I can let go and do a really good job."
Gerbrandt is the son of Tribal Council member Kathleen George and Matt Gerbrandt. Rick George, the Tribe's Planning Department director, is his stepfather.
Kathleen George describes her son as a natural storyteller.
"Sean loves to make people laugh and has been a natural storyteller since he learned to speak," she says. "Maybe it's to be expected. He comes from two great storytelling cultures, Native American and Irish. Since the talent shows he has gotten an offer to perform at a St. Patrick's Day celebration in Portland that hundreds of people attend every year and is eager to try stand-up again. I can't wait to see where he takes his passion for performing."
In his spare time, Gerbrandt enjoys playing with his black lab, Vinnie, and video games alone or with 15-year-old brother Noah. His favorite subjects in school are social studies and language arts.
"They really interest me and I get to learn about cool subjects," he says.
Gerbrandt first became interested in stand-up comedy after watching TV shows like "America's Got Talent."
"They were all having a blast and living their best life, and I wanted to do that, too," he says.
Gerbrandt says he gets his sense of humor from his father.
"He is always telling jokes," he says.
But the bravery to get onstage is inspired by his mother.
"She taught me that even though it might not seem like you are doing great, no matter what, you are going to make it," Gerbrandt says.
He enjoys how talent shows give young performers an opportunity to practice speaking in front of a large group of people.
"I really love how it gets kids used to talking in front of live audiences," Gerbrandt says. "I'm sure it will help me out in life, too."
Although he intends to keep doing stand-up comedy as a hobby, his first love is writing and he is hoping to pursue a career in that field.
"I am working on my first novel right now," he says. "It's about kids who go to school and find a vessel that will transport them to different places."
Sean Gerbrandt's material:
I walked into school. The principal said to me, "Have a great day." So I promptly left.
So you know about stage fright, right? It might not be what you're thinking. I'm not afraid to go up on stage. I'm afraid of the stage itself.
My friend asked me to help him with an assignment about the Dead Sea. I was shocked because I didn't even know it had been sick!