Gaming
Casino's new venue invokes Tribal history of harvesting hops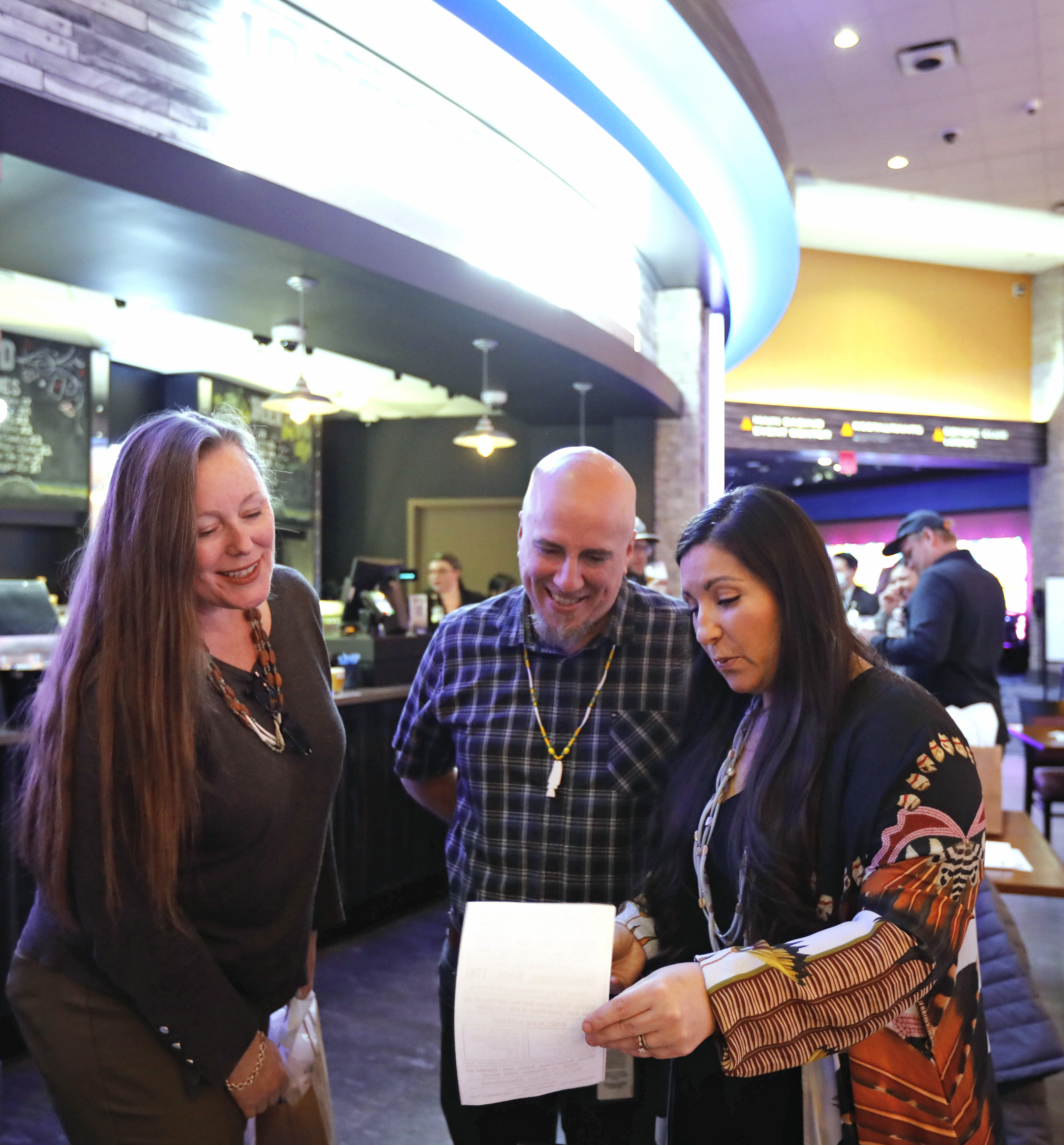 By Dean Rhodes
Smoke Signals editor
Spirit Mountain Casino's new dining and drinking venue, 10 Barrel Hop Yard, invokes Tribal members' history of working in the Willamette Valley hop yards.
It is also a personal testament to Public Relations Administrator Jocelyn Huffman's family history.
"My great-grandparents, Maggie Menard Bean and Thomas Bean, worked for years during the harvest and took my grandfather with them," Huffman says. "He also worked in the hop yards for years. He would tell me stories about it being hard work, but also a time of celebration.
"Hearing my grandpa Fremond Bean tell these stories about being with family, laughter, music and movie nights in the hop yards, and even an ice cream truck that would arrive at the end of the day all painted a picture for me that I thought should be remembered."
Huffman started talking with Cory Eisele and Jason Kloser, who work for Bend-based 10 Barrel Brewing Co. which is a fellow Oregon State corporate partner along with the casino, about Oregon Tribes and the large role that Tribal members played in the hop harvest and their contribution to making the Willamette Valley the "hop capital of the world" at one time.
Those conversations quickly turned into discussing a 10 Barrel Brewing outlet at Spirit Mountain Casino, Huffman says.
"I asked if we would call it the Hop Yard to honor our Tribal families that worked and played in the hop yards," Huffman says.
Eisele contacted 10 Barrel founders Chris and Jeremy Cox about the idea and they agreed on the concept within minutes.
"Chris and Jeremy grew up in Lincoln City and knew all about the Tribe and our history in the hop yards," Huffman says. "They founded 10 Barrel Brewing on a culture of tradition and love of all things Oregon. I thought these values were perfect for partnering to tell a story of tradition and a love of the Willamette Valley."
Hops are the flowers of the hop plant that are used primarily as a bittering, flavoring and stability agent in beer to which, in addition to bitterness, impart floral, fruity or citrus flavors and aromas.
The hop plants have separate female and male plants, and only female plants are used for commercial production. The hop plant is a vigorous, climbing perennial and is usually trained to grow up strings in a field called a hop yard when grown commercially.
Many different varieties of hops are grown around the world, with different types used for particular styles of beer. The first documented use of hops in beer dates back to the 9th century.
The new 10 Barrel Hop Yard space at the casino features wallscapes with historic images of Tribal members who worked in the hop yards. They were installed on Thursday, April 7, and one features Huffman's great-grandfather.
"The concept was to create a 10 Barrel look and feel in the new space," Huffman says. "However, we would recognize the Tribal families that worked in the hop yards."
The new venue opened on Wednesday, April 13, and features pizzas, pretzels, salads and a few other appetizers. It also includes eight draft beers on tap and 10 Barrel cocktails in a can.
"The menu will more than likely expand seasonally and we will feature new drafts as they become available," Huffman says.
A grand opening event held on Wednesday also featured Dick Kirk, the oldest active hop farmer in Oregon and possibly the country at the age of 91. Kirk's farm is located in St. Paul and he and his daughter, Shannon Ernst, loaned the casino hop-related artifacts from their farm that included hop baskets from the early 1900s that might have been used by Grand Ronde Tribal ancestors.
Tribal Council Vice Chair Chris Mercier and Tribal Council members Denise Harvey and Kathleen George also attended the event with Mercier gifting Tribal Pendleton blankets to the Cox brothers.
10 Barrel Brewing was founded in 2006 and also has two taprooms in Bend, as well as in Portland, Boise and Denver.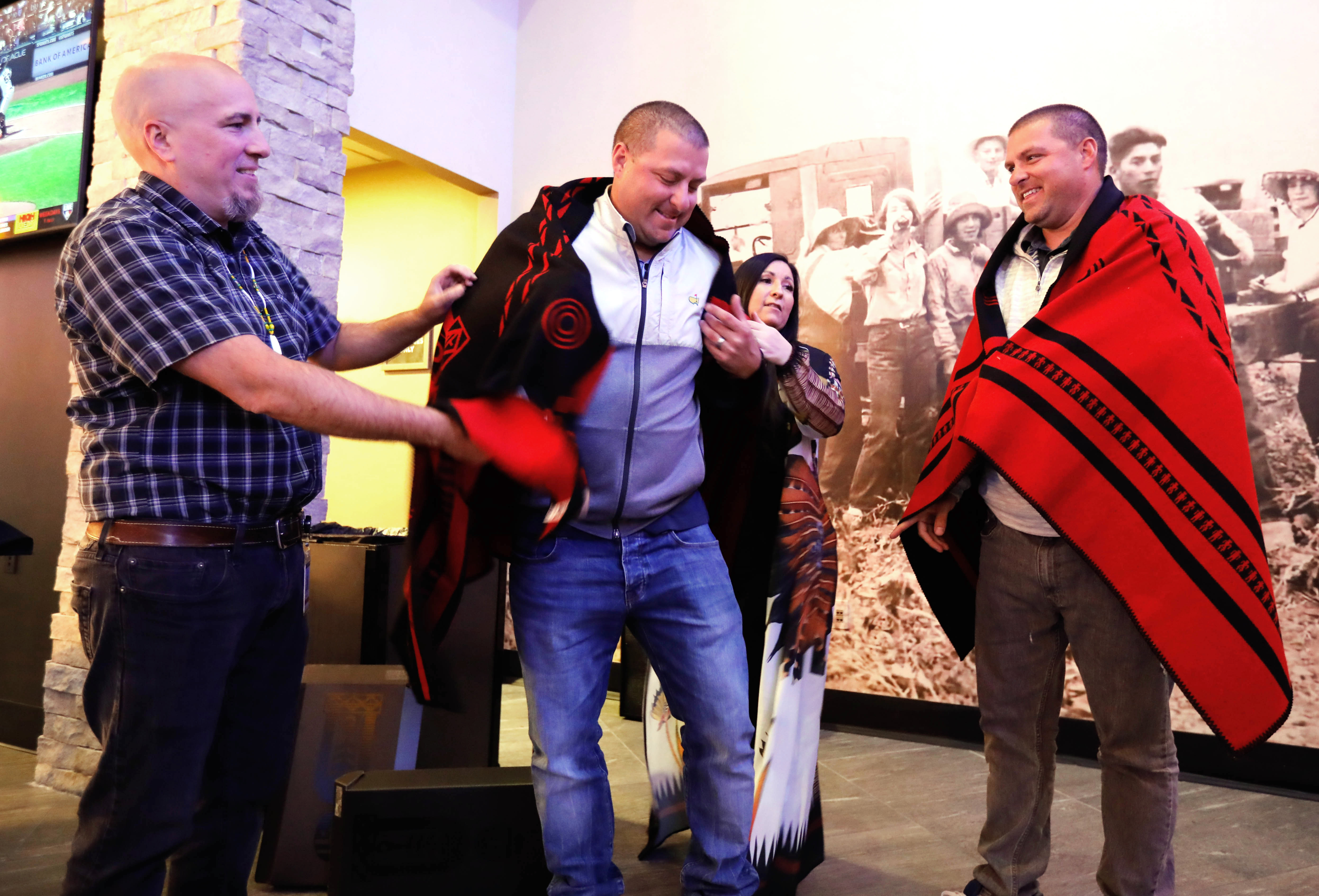 Tribal Council Vice Chair Chris Mercier presents a blanket to 10 Barrel Brewing co-founder Jeremy Cox with the help of Spirit Mountain Casino Public Relations Administrator Jocelyn Huffman as co-founder Chris Cox looks on during the opening of the 10 Barrel Brewing Hop Yard in Spirit Mountain Casino on Wednesday, April 13. The new dining and drinking outlet also honors Tribal members' history of working in the Willamette Valley hop yards. (Photos by Timothy J. Gonzalez)