Tribal Government & News
Tribe celebrates start of Blue Heron demolition work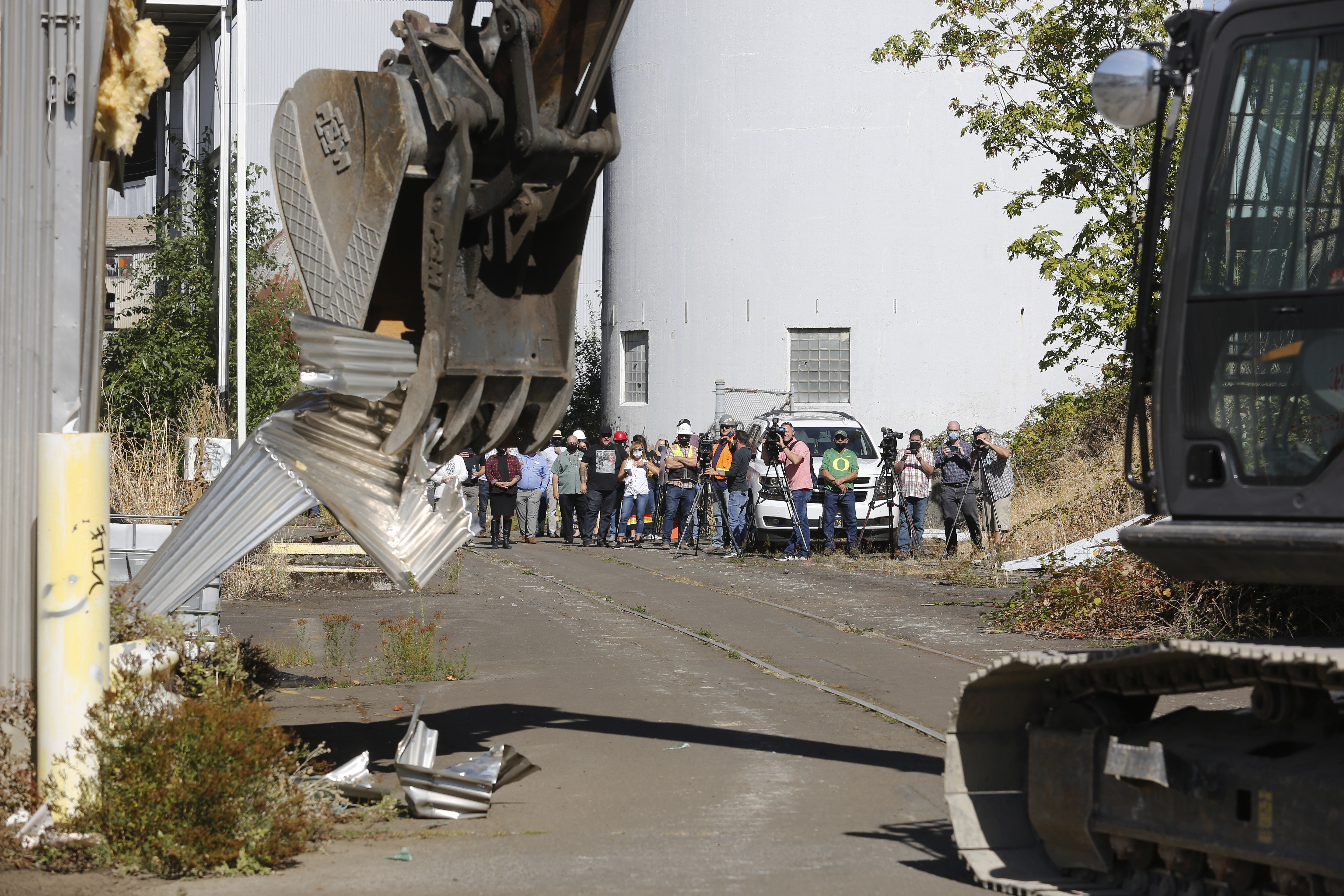 By Danielle Harrison
Smoke Signals staff writer
OREGON CITY – The Confederated Tribes of Grand Ronde celebrated the beginning of onsite work at the former Blue Heron Paper Mill property.
A private demolition event, held on Tuesday, Sept. 21, marked the start of a new era at the site.
"I just want to say about 10 years ago, if you told me we would hold this property here, I'm not sure I would have believed you," Tribal Council Vice Chair Chris Mercier told a group of approximately 25 people who attended. "One thing I really like about this site is its history. Our roots run deep here."
Mercier also said that the Confederated Tribes of Grand Ronde ceded homelands stretch from the Willamette Valley all the way south to the California border.
Tuesday's demolition began with a prayer and drum song led by Tribal Cultural Advisor Bobby Mercier, Cultural Policy Analyst Greg Archuleta and Tribal member Chris Rempel.
In addition to Mercier, other Tribal Council members in attendance included Jon A. George, Michael Cherry, Lisa Leno, Denise Harvey, Jack Giffen Jr. and Secretary Michael Langley.
"This (property purchase) opened up the door for us to partner with other local governments and tell the story of our people in this area," Mercier said. "This is a crown jewel of one of the goals, to reflect the values and mission of this Tribe."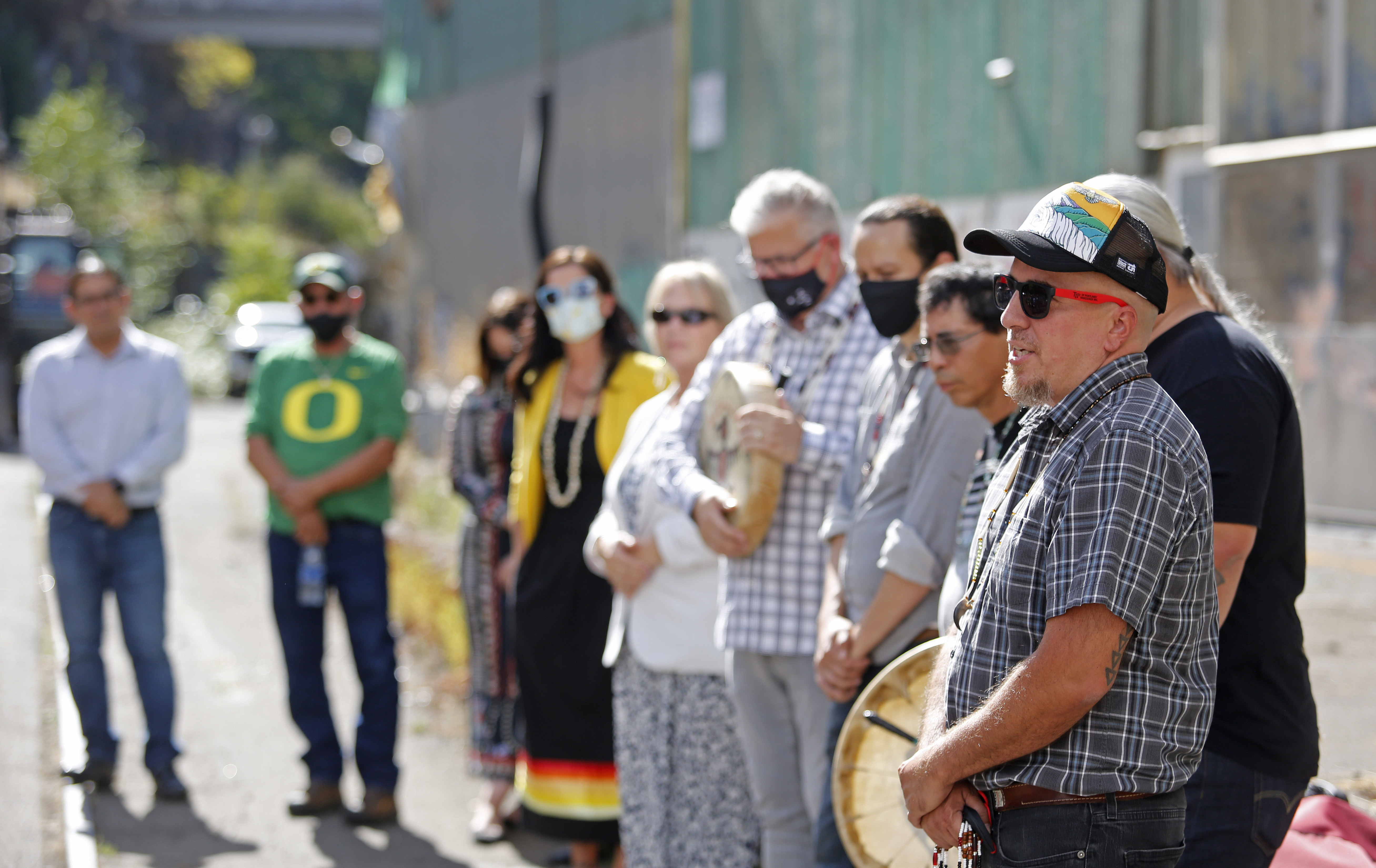 Tribal Council Vice Chair Chris Mercier answers questions from the media during the demolition of the old Blue Heron Paper Mill site during an event hosted by the Confederated Tribes of Grand Ronde on Tuesday, Sept. 21. (Photo by Timothy J. Gonzalez)
After Mercier finished speaking, employees of Elder Demolition started running an excavator to begin removal of insulation and aluminum siding from one of the buildings on site as the crowd looked on. Tribal Council approved an $847,852 contract with the Portland company on May 5.
"It's actually finally happening," Harvey said. "It's been a long road and it's still a long way to go, but it is happening. I think 10 years from now, there will be no regrets. It's really nice that the Tribe is cleaning up this property. It's a blessing for Oregon."
Cherry, the newest Tribal Council member, said she feels a personal connection to the site on the banks of the Willamette River.
"Just being here today is an honor," Cherry said. "This morning I woke up and thanked our ancestors, feeling very grateful. I enjoyed listening to Bobby drumming and have a profound sense of gratitude. I'm very excited when I think of my grandkids and great-grandkids coming here in the future and partaking in the culture, never knowing a time when this wasn't here. It warms my heart that that they will be here on this land."
The Tribe acquired the 23-acre Blue Heron site near Willamette Falls in August 2019 for $15.25 million.
"This is a special time for our people as we bless the site and begin our work to heal the land as stewards of the falls," said Tribal Council Chairwoman Cheryle A. Kennedy in a press release announcing the demolition event. "We are excited to take these initial steps toward real progress toward our vision for this site and re-introducing the general public to this special place."
In March, the Tribe shared its vision for the site, focused on healing the landscape through extensive ecological restoration, celebrating the site's Tribal connection and bringing the public back to Willamette Falls through mixed-use development and gathering places.
Potential plans include environmental and cultural restoration along with new development. Other priorities are to provide economic prosperity and return the Tribe to the role of caregiver over an important piece of its homeland.
Development could include office, hospitality, institutional or educational spaces, as well as Tribal spaces, public gathering spots, restaurants, retail and a river walk area. Any new development would reflect the story of the Tribe and its historical and cultural connection to Willamette Falls.
The site has been used for numerous industrial purposes since the 19th century and includes more than 50 abandoned and dilapidated buildings.
Since acquiring the property, the Tribe has worked with the Oregon Department of Environmental Quality regarding remediation efforts and also received an $800,000 grant from the Environmental Protection Agency for site cleanup.