Tribal Government & News
Tribe restarts its southern Oregon outreach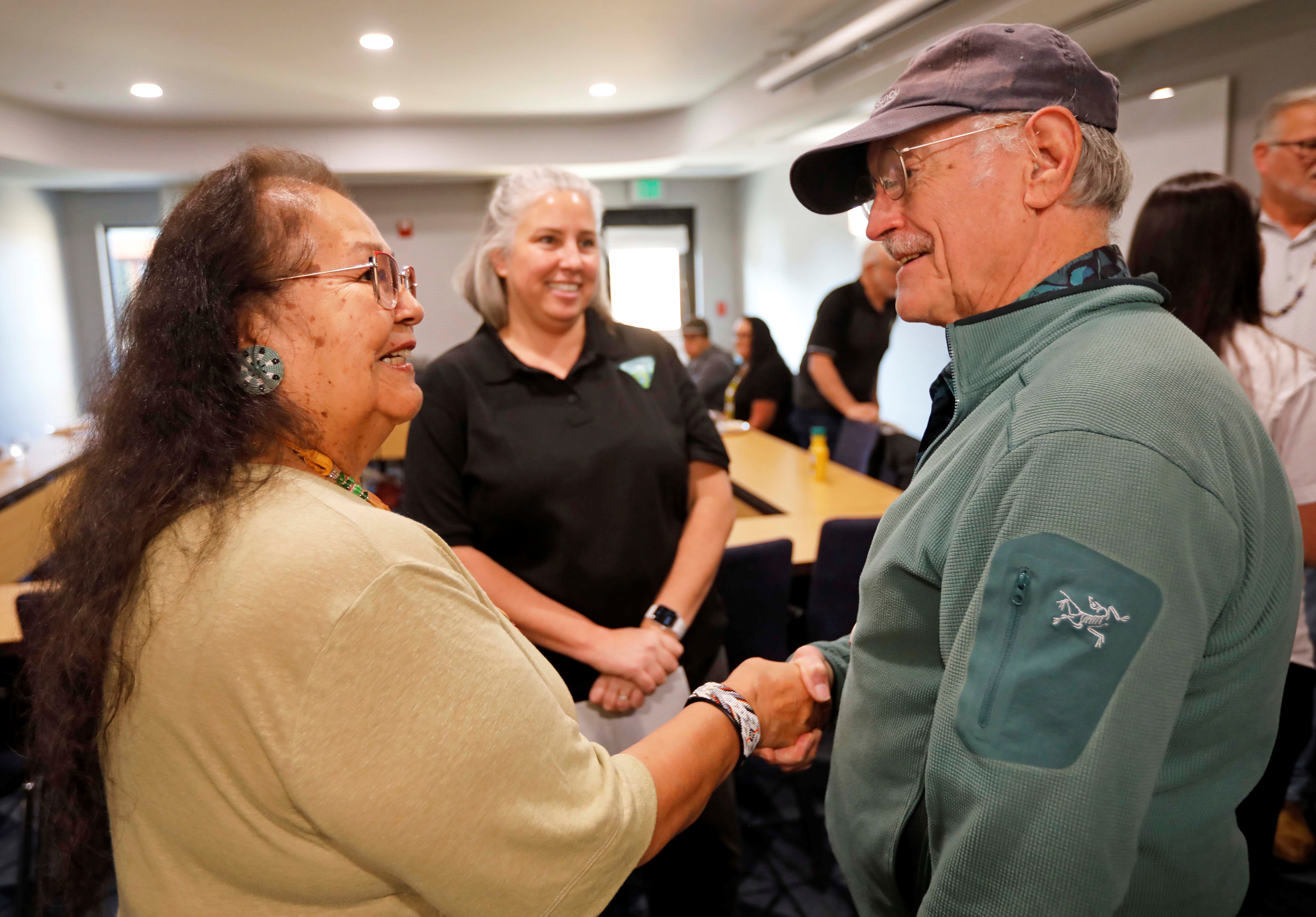 By Kamiah Koch
Social media/digital journalist
MEDFORD – The Confederated Tribes of Grand Ronde reinvigorated its outreach in southern Oregon by hosting its ninth Coffee & Conversation at the Courtyard by Marriott adjacent to the Medford Airport on Friday, Oct. 7. 
This event also commemorated the Sept. 10, 1853, treaty with the Rogue River Tribes that ceded a large swath of southern Oregon that now includes Medford to the federal government. 
After two years of cancellations due to the COVID-19 pandemic, staff from Friends of Cascade-Siskiyou National Monument, Oregon State Parks, the Bureau of Land Management, Lomakatsi Restoration Project and The Nature Conservancy sat in a circle in the hotel conference center to share updates from the southern Oregon region with Grand Ronde Tribal staff. 
Tribal Council Chairwoman Cheryle A. Kennedy began the meeting by thanking everyone for attending and their work stewarding southern Oregon lands. 
Tribal Council member Jon A. George, his son Tynan George and Tribal Council member Brenda Tuomi sang and drummed before attendees went around the room introducing themselves.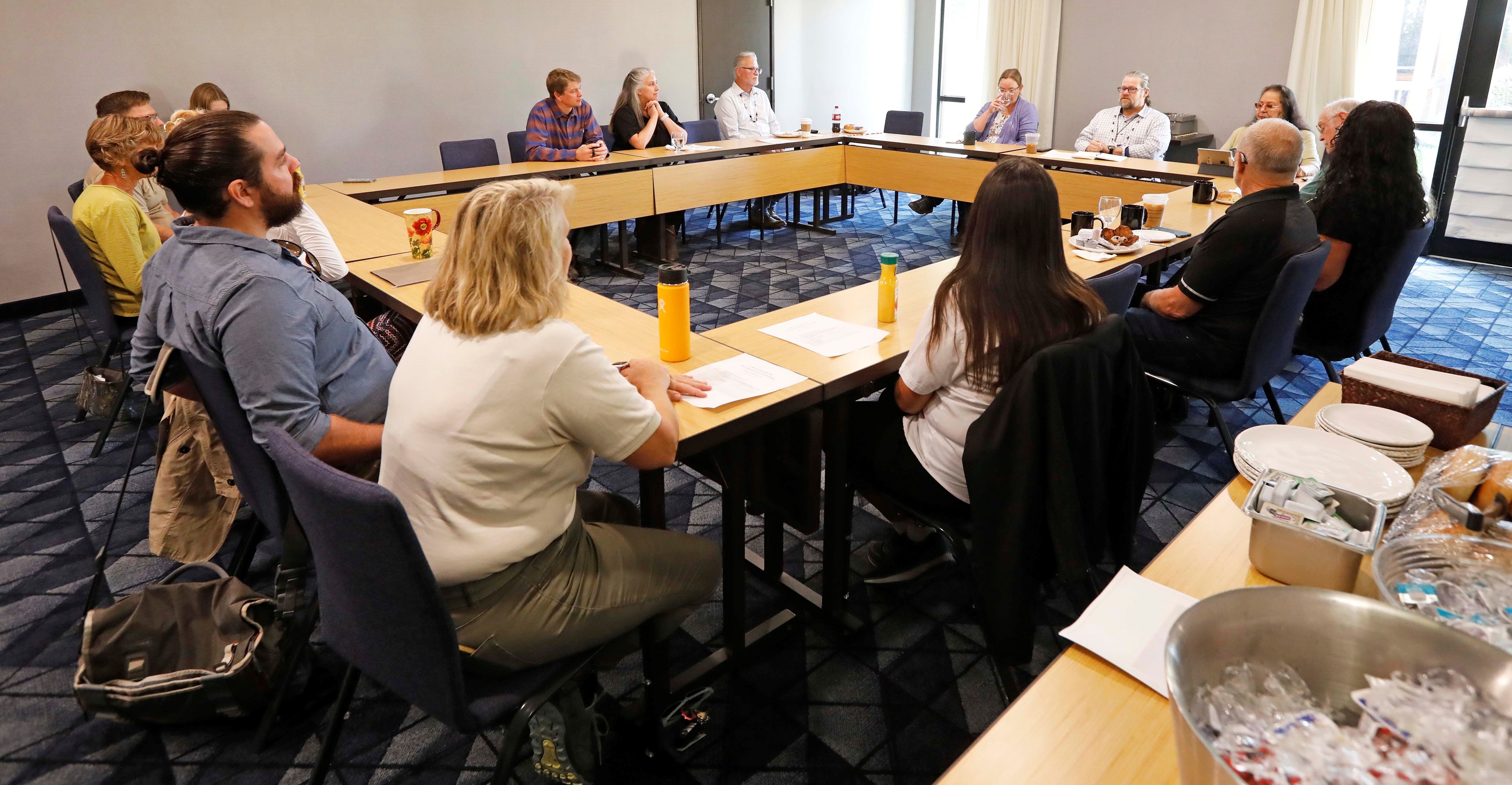 The Coffee & Conversation event held at the Courtyard by Marriott in Medford on Friday, Oct 7. The annual meeting between Tribal representatives and local government officials in southern Oregon was held for the first time in two years due to the COVID-19 pandemic. (Photos by Timothy J. Gonzalez/Smoke Signals)
Following introductions, Tribal Council members George and Tuomi, joined by her husband Ron Tuomi, as well as Historic Preservation Manager Briece Edwards and Cultural Protection Coordinator Cheryl Pouley each expressed their appreciation. 
"Thank you for the work you have done," Edwards said during his opening remarks. "You may not recognize how important it is but we see it every day in our office from a cultural perspective. The care, the stewardship, the management that you bring forward on this landscape has a much deeper meaning than maybe you understand." 
Tribal staff drove to Medford on Thursday, Oct 6, passing Table Rocks on Interstate 5. Table Rocks was the site of a temporary reservation that held Tribal members before they were force-marched north to the Grand Ronde Reservation in February 1856. In 2011, a memorandum of understanding with the Bureau of Land Management and The Nature Conservancy regarding a management plan for the Tables Rocks area north of Medford was signed. 
Pouley said as she passed the southern Oregon landscape on her drive she was reminded of past projects Grand Ronde has participated in and new ideas were sparked. 
Each attendee received a necklace made by George before they shared their respective updates and Tribal partnership ideas.
Friends of Cascade-Siskiyou National Monument Board Member Terry Dickey began by saying he feels there is more communication between Tribal entities and nonprofits.  
Oregon State Parks South-Central District Manager Dani Padilla echoed Dickey, saying that Oregon Parks and Recreation Department Director Lisa Sumption recently created a diversity, equity and inclusion committee to "start looking at how we can represent underserved communities and provide more welcoming opportunities for those who have not been welcome to state parks in the past."
Padilla said that when she started working with Oregon State Parks 14 years ago, anyone could share anything they found on the Internet or in a library. She says now State Parks is more mindful of how they can be more respectful of Tribal culture and gain more input from the Tribes on what they should or should not share. 
Jared Nichol, Bureau of Land Management's field manager for the Butte Falls field office in the Medford district, agreed with Padilla. 
"We are in a historic moment. We have Secretary (Deb) Haaland in the Interior," Nichol said. "Speaking about shifts, Tribes and federal agencies are working together. It is a key moment in time here."
Nichol did elicit a few uncomfortable laughs after he mentioned the MOU signed in 2011 between Grand Ronde, BLM and The Nature Conservancy expired recently. 
A follow-up email between Smoke Signals and Pouley clarified the MOU did not actually expire and per the agreement, automatically renews every 5 years unless the parties agree in writing to terminate it. She said her office has shared this information with the BLM and the Nature Conservancy so all parties are on the same page. 
The conversation continued into its second hour with BLM Medford District Manager Elizabeth Burghard saying they are particularly interested in documenting traditional ecological knowledge in regards to fire management.
Edwards jumped in the conversation to caution that in many ways that sort of documentation could be seen as a "taking." He mentioned Tribes have been through systematic oppression, relocation and assimilation, yet knowledge on the landscape managed to survive and is held very tightly. 
Edwards said if that ecological knowledge is shared, it should be done without overindulgence of information.
"Every Portlandian in their fleece is going to be out there doing (prescribed fires) and they are going to be doing it wrong," Edwards said.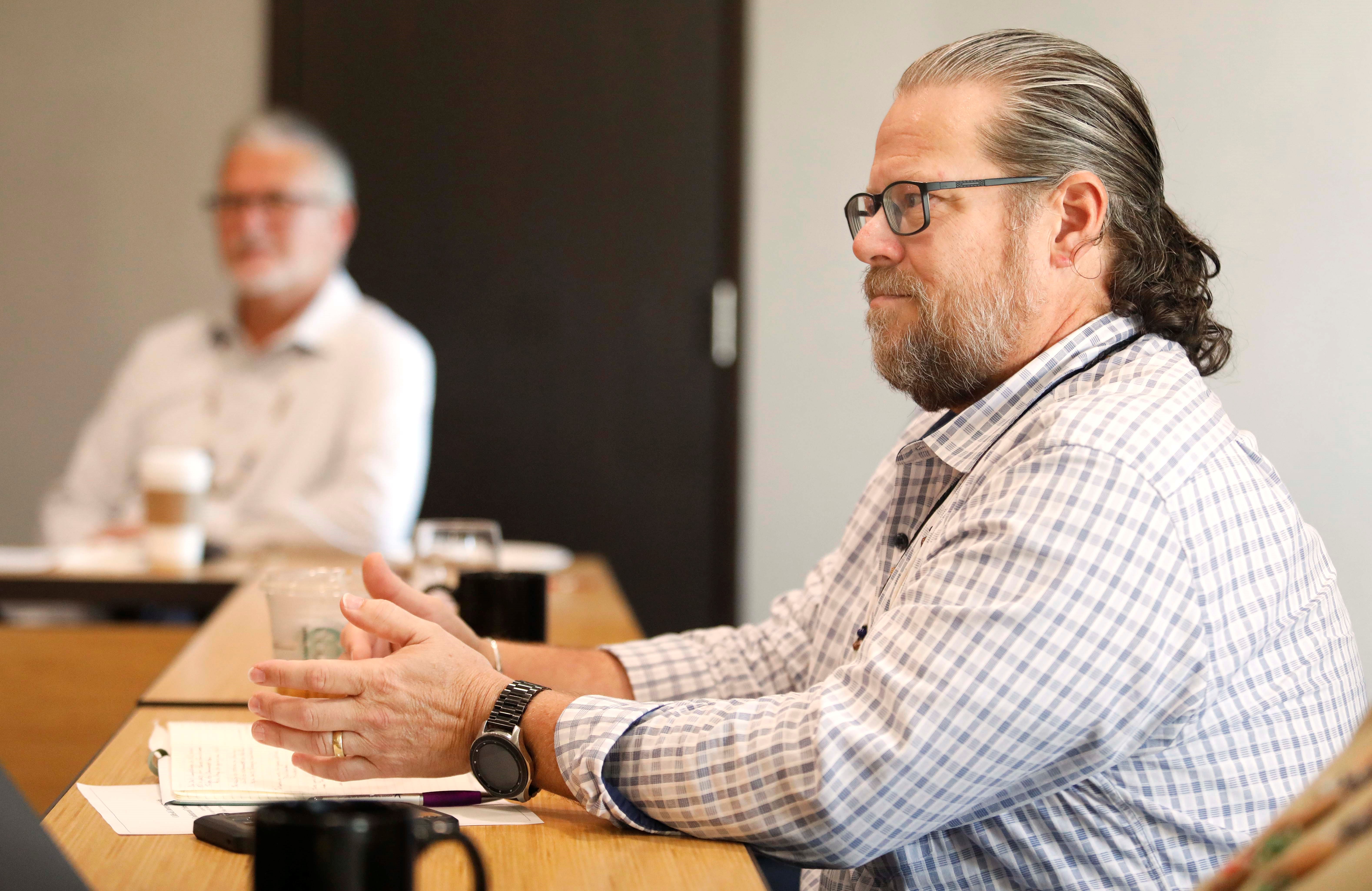 Grand Ronde Historic Preservation Manager Briece Edwards speaks during the Coffee & Conversation event held at the Courtyard by Marriott in Medford on Friday, Oct 7. (Photos by Timothy J. Gonzalez/Smoke Signals)
Lomakatsi Restoration Project Communications Director Tom Greco and his colleague, Communications Associate Allayana Darrow, addressed their organization's effort to say that Tribes are still currently involved in projects as opposed to the common past tense used with Tribes. 
Toward the end of the meeting, George, Kennedy and Tuomi gave closing remarks. 
"Our words are not just fleeting in the air," Kennedy said. "They do have life."
After the meeting, Tribal employees left for an Acorn Camp, a weekend event hosted by the Indigenous Gardens Network, at TouVelle State Recreation Site. To conclude the weekend, participants also joined in a sunrise hike at Table Rocks.