Culture
Tribal Canoe Family preparing to start Paddle to Lummi journey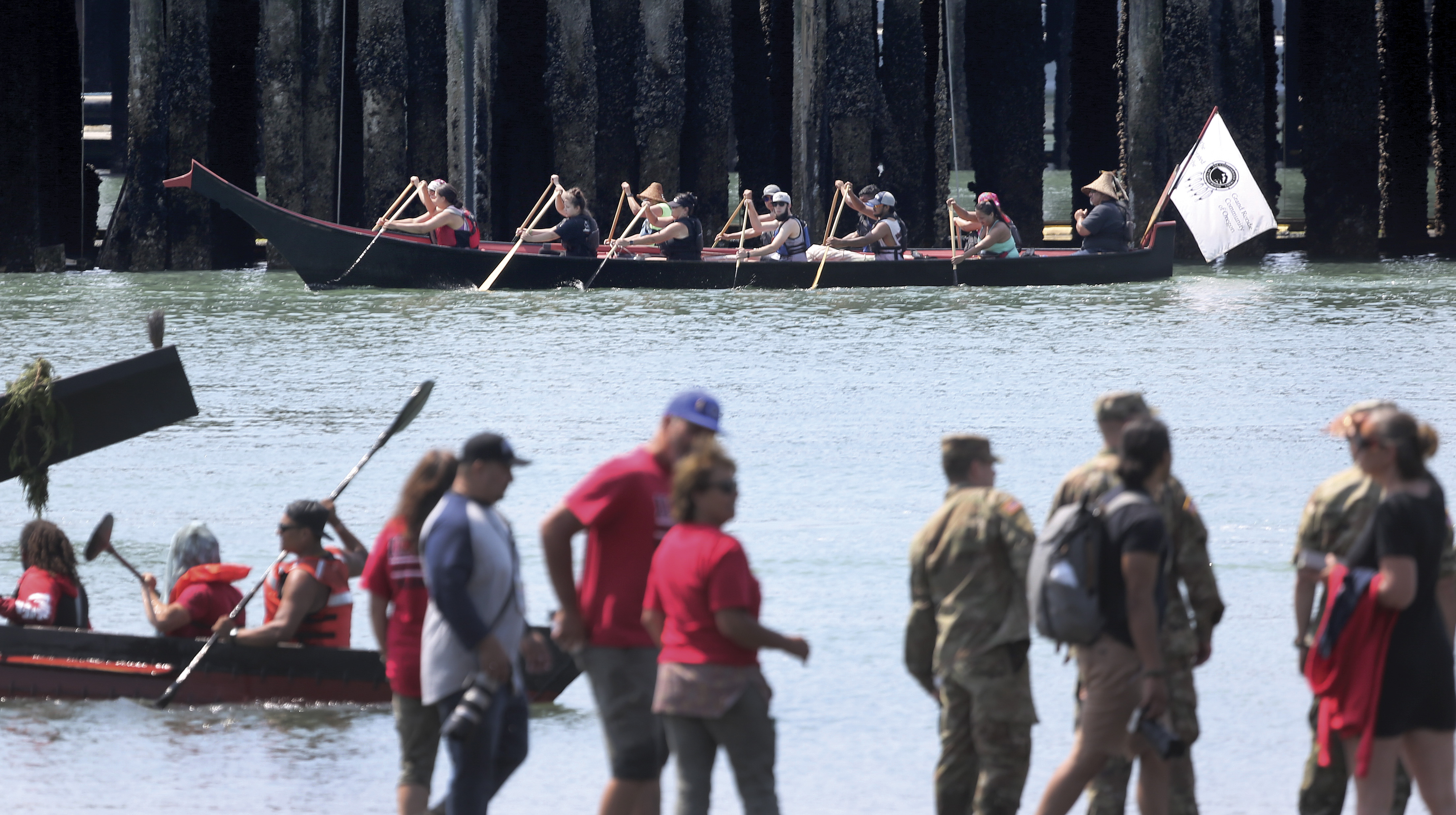 By Danielle Frost
Smoke Signals staff writer
The Grand Ronde Canoe Family and Tribal support staff will begin the annual Canoe Journey when they leave Grand Ronde on Monday, July 15, for Squaxin Island located along the shores of South Puget Sound in Shelton, Wash.
From there, the Canoe Family will navigate stankiya, which means "coyote" in Chinuk Wawa, as they paddle to Nisqually, Puyallup, Muckleshoot, Suquamish, Swinomish and Samish.
"Being able to tie into a sense of community is the best part of Journey," said Youth Prevention Manager Nicole Hewitt. "Plus youth can see just how much fun can be had without using any sort of mind-altering substance. It's also a good time to learn how to work with a team, which is a crucial skill to have in life."
The Youth Prevention team is taking 15 youth and spots are still available for those who want to attend.
"It's a great opportunity to see Native people from all over the country and the world working together to accomplish something as big as Journey," Hewitt said. "We hope youth can gain relationships with each other so they have the connections and support that they need throughout the year. It's also an opportunity for people who don't normally get exposed to our Native language and culture to have an opportunity to be immersed in it."  
This year's journey is hosted by the Lummi Nation and the theme is "Honoring Our Way of Life."
"The Lummi people are honored to welcome all our relations traveling the traditional highways of the ancestors to participate in this year's journey," stated the Paddle to Lummi website. "Together we will celebrate, honor and preserve the unique cultural heritage of the Coast Salish people. We are expecting approximately 10,000 people and over 100 canoes coming to our shores. With their arrival we will share in potlatch traditional song, dance and testimonies that have provided our people over the generations with hope, healing and happiness."
Landing Day is slated for Wednesday, July 24, at the shores of the Lummi Reservation and protocol is scheduled to begin later that day and run through Sunday, July 28, and attracts thousands of onlookers and participants. It includes singing, dancing, sharing stories and food. The order of protocol is the Tribe that travels the farthest to attend goes first.
Grand Ronde's Canoe Family first participated in the 2005 Canoe Journey, which landed on Hollywood Beach in Port Angeles, Wash.
The Canoe Journey began in 1989 with the "Paddle to Seattle," which was held in conjunction with Washington's 100th anniversary of statehood. That year, the state and indigenous governments signed the Centennial Accord, recognizing indigenous sovereignty. Fifteen Tribes and First Nations participated in the Paddle to Seattle.
Today, upwards of 100 canoes representing as many as 90 U.S. Tribes and Canadian First Nations and up to 12,000 people participate in the annual journey, paddling canoes, operating support boats, acting as ground crew, singing, dancing and sharing their cultures and traditions. 
Canoe Journey was designed as a family-friendly event to familiarize northwest Tribes with the trade routes used by their ancestors and to promote a healthy lifestyle free of substance abuse.
"This is a space where we are here to help," Hewitt said. "Every person is important on the team. Everyone makes a difference, whether they are the skipper or ground crew."
To participate in Canoe Journey, contact Hewitt at 503-879-1471. For updates on the journey, visit www.paddletolummi.org or Paddle to Lummi 2019 on Facebook.