Tribal Government & News
57 employees honored for 655 years of service to the Tribe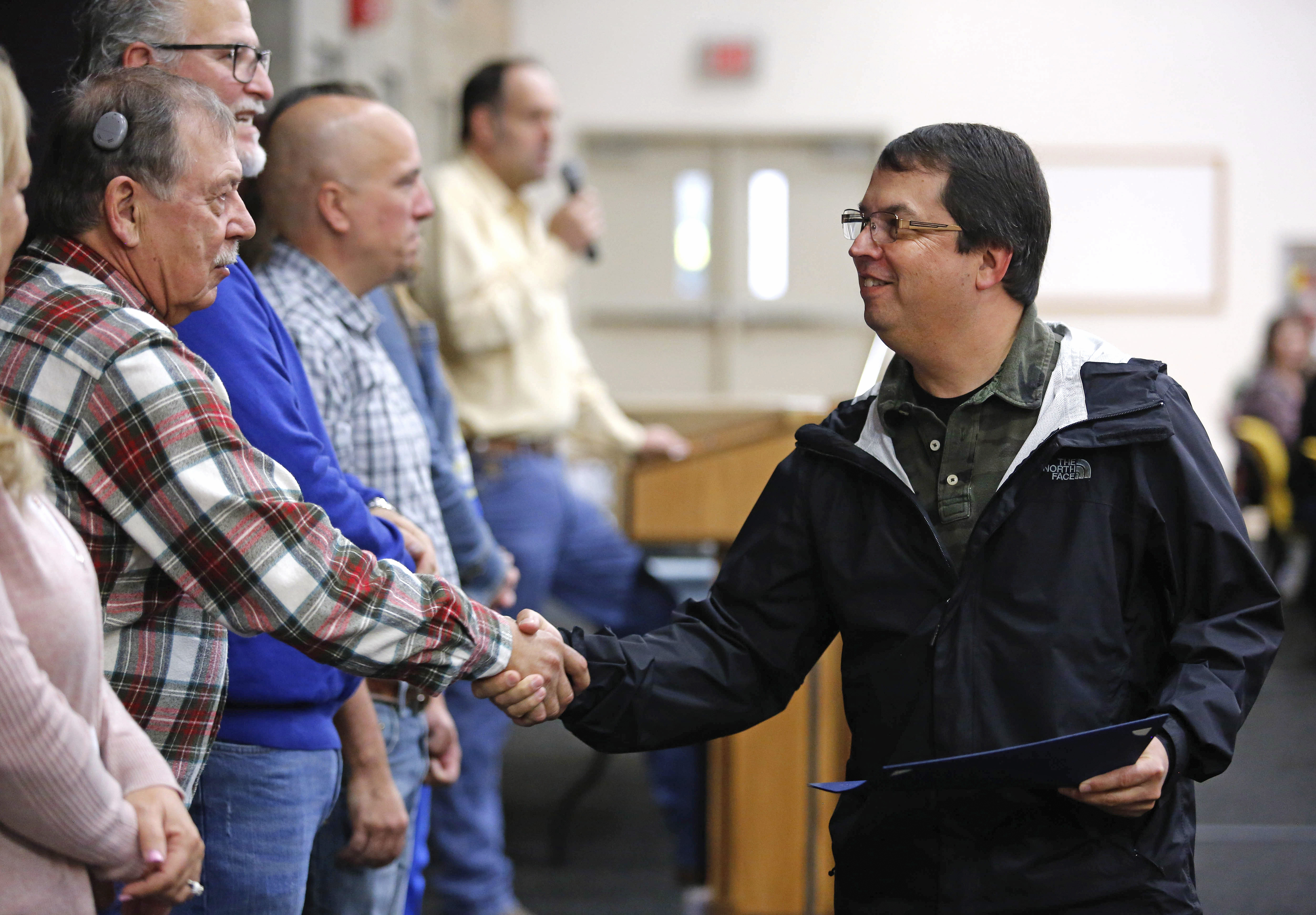 By Danielle Frost
Smoke Signals staff writer
Records Administrator Kim Mueller and A/V Network Technician Wendell Olson led employees with 24 years of service to the Tribe during the first-quarter Employee Service Awards breakfast held on Thursday, April 11, in the Tribal gym.
The first-quarter awards honored employees reaching their anniversary date in January, February and March. Employees who were hired five years ago or longer received bonus checks and other awards.
Fifty-seven employees were honored for a combined 655 years of service to the Tribe.
Gaming Commission Licensing Manager Julia Papen reached the 23-year mark while Lands Department Manager Jan Reibach attained 22 years. Health & Wellness Payment Processing Specialist Sunni Ulestad was hired in the first quarter of 1998 and hit her 21st year of employment with the Tribe.
Tribal Council Secretary Jon A. George blessed the breakfast and General Manager David Fullerton welcomed a large turnout of employees to the awards ceremony.
"Thank you for your service," Fullerton said. "We really appreciate you for that."
Other Tribal Council members who attended and congratulated employees included Vice Chair Chris Mercier, Denise Harvey, Jack Giffen Jr. and Kathleen George.
Before the awards celebration began, everyone in attendance sang "Happy Birthday" to Mail Room/Printing Clerk Anna White.  
Cultural Resources Department Manager David Harrelson gave a brief cultural presentation about the spring gathering season and the importance of reciprocity as a cultural obligation.
"When you are taking something from the land, you need to give back," he said. "This is not a field to harvest, but a patch to gather from. These teachings are very valuable. You need to think about what you are taking and what you will give back."
Other employees honored during the Service Awards were:
20 years: Social Services Administrative Assistant Tammy Garrison and Purchased/Referred Care Supervisor Melody Baker.
19 years: Compensation/HRIS Specialist Becky Mode and Employee Relations Specialist David DeHart.
18 years: Spirit Mountain Community Fund Program Coordinator Angie Sears and Cultural Protection Specialist Christopher Bailey.
17 years: Legal Assistant Kerrina Mishler and Cultural Resources Interpretive Coordinator Travis Stewart.
16 years: Post-Secondary Education Program Coordinator Joshua Clift and Nutrition Lead Cook Kevin Campbell.
15 years: Portland Office Tribal Services Representative Lisa Archuleta.
13 years: Cultural Resources Administrative Assistant Toni Mercier, K5 Tutor/Adviser George Neujahr, Full Charge Bookkeeper Debra Nolen and Domestic Violence Relief Advocate Carmen Mercier.
12 years: Employment Specialist Jesse Powley.
11 years: Construction Supervisor Bart Bryant, Day Shift Housekeeper Rosie Saldivas, Gaming Commission Compliance Analyst Tyrell Soderberg, Natural Resources Senior Administrative Assistant Michele Volz, Employee Relations Senior Administrator Nick LaBonte, Member Services Administrative Assistant Melanie Monson and Billing and Audit Specialist Desiree Allen.
10 years: Hydrosystem Compliance Specialist Lawrence Schwabe.
9 years: Adult Foster Care Administrative Assistant Candi Buswell, Swing Shift Lead Housekeeper Joseph Grammer, Rental Housing Coordinator Leon Ramos, Early Childhood Education Instructional Assistant Lindsay Ramer and Shipping/Receiving Clerk Seth Mercier.
8 years: 477/Employment & Training Specialist Khani Schultz, Early Head Start Teacher Melissa Phillips, Employment Program Manager Michael Herrin, Dental Assistant Shelby Hoyt, Employee Relations Specialist Sean Barton and Dental Hygienist Erin Muchmore.
7 years: Youth Prevention Coordinator Cristina Lara, Chinuk Wawa Immersion Preschool Assistant Halona Butler, Housing Maintenance Technician Gary LaChance Jr., Housing Maintenance Technician Robert Wiggs, Historic Preservation Manager Briece Edwards and Accounts Payable Supervisor Tammy Chavez.
6 years: Utilities Maintenance Technician Richard Smith, Child & Family Services Caseworker Shauna Hastings, Employment and Training Specialist Tiny Gibbons, Swing Shift Housekeeper Sean Sell and Risk Manager Patricia Mercier.
5 years: Groundskeeper Joseph Kelley, Tribal Police Officer Tyler Brown, Chinuk Immersion Apprentice Jade Colton, Dental Secretary Whitney VanArsdel, Groundskeeper Anthony Henry and Adult Foster Care Caregiver Pearline Metzker.
Employees were served a breakfast consisting of scrambled eggs, biscuits, sausage, gravy, yogurt and fruit by Public Affairs Administrative Assistant Chelsea Clark, Tribal Council Chief of Staff Stacia Hernandez, Deputy Press Secretary Sara Thompson and Administrative Assistant Shannon Ham-Texeira.
After the awards, Fullerton and Hernandez raffled off door prizes that included gift cards to Walmart, Lowe's and Cabela's, Portland Trail Blazer playoff tickets, a tent, backpack, stadium chair, water bottles and portable phone chargers.