Tribal Government & News
Legislative Information Day puts Tribal governments in the center of attention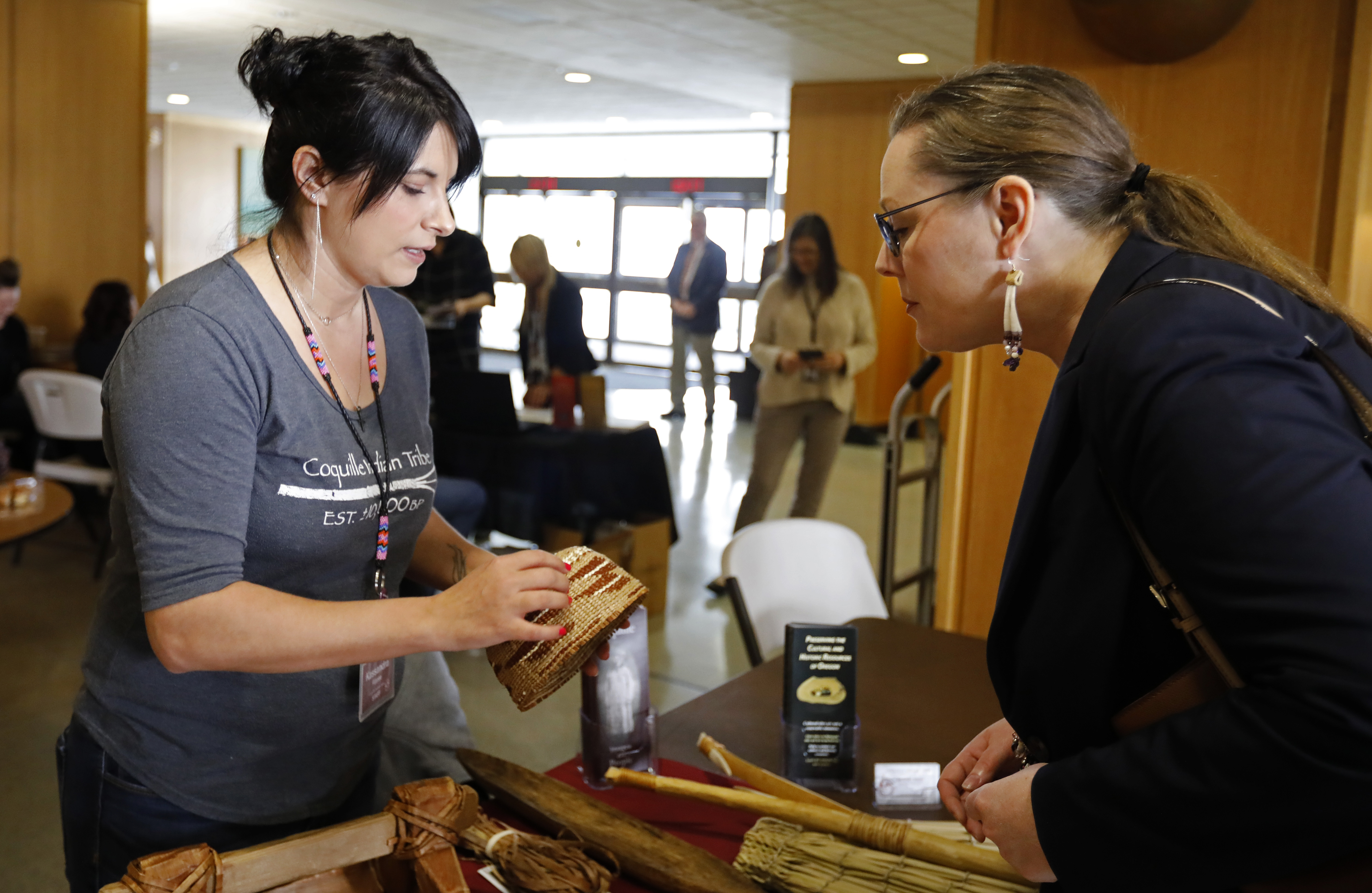 By Danielle Frost
Smoke Signals staff writer
SALEM – Tribal Legislative Information Day at the State Capitol continues to be well-attended despite cautionary travel restrictions in response to the spread of the novel coronavirus in Oregon.
Held Thursday, March 5, at the Capitol Galleria, this year's theme was "Working Together."
The high turnout was good news to Mitch Sparks, the new Legislative Commission on Indian Services executive director. This year marked his first organizing the annual event.
"The attendance today is pretty good," said Sparks (Oglala Lakota Nation). "We've had excellent turnout from our governmental offices and legislative offices."
Held at the State Capitol in Salem, Legislative Information Day provides an opportunity for Oregon's nine federally recognized Tribes to highlight who they are and what makes Tribal governments different from the various special interest groups and stakeholders with whom legislators and state agencies mostly interact.
During the four hours the Tribes were at the Capitol Galleria, a steady stream of advocates, Capitol staff, agency directors and staff, legislators and staff, lobbyists and members of the public visited the tables. The only notable difference at this year's event was the use of "elbow bumps" and air handshakes instead of the usual handshake, along with copious containers of hand sanitizer.
Tribal Council member Kathleen George said the best part about Legislative Information Day is the opportunity for networking and interacting with other Tribes across Oregon.
"What I appreciate most about it is that it's a day where we put Tribes in the center of our government, literally," she said. "It's an opportunity to get to meet new people. Having people here, interacting, this is what it is supposed to be all about. There are so many Tribal leaders in one place."
Seven of the nine Tribes had various cultural and informational items set out on tables.
Besides the Grand Ronde table, George said she liked Coquille and Coos Tribal tables the best.
"As a basket weaver, I admire that they both have beautiful basketry and I love the opportunity to look at it," she said. "Also, seeing the old cedar hats is always a treat."
The Confederated Tribes of Grand Ronde's giveaway table included a ceded lands maps, copies of Smoke Signals, notepads, pens, lanyards, chocolates, stickers and reusable straws with carrying cases. Communications Director Sara Thompson and Tribal Council Coordinator Chelsea Baranski sat at the table and answered questions from passers-by.
Other Tribal tables included information on governmental structure, pottery, basketry, first foods, stone tools, Native plants, youth and Elders programs, treaty information, language programs, health programs, social service offerings, maps and bead work. 
Sparks said that in addition to steady traffic at the booths from legislative representatives, several Tribal liaisons from various state agencies were in attendance as well. Two liaisons were Julie Johnson (Fort McDermitt Paiute and Shoshone), the Tribal affairs director for the Oregon Health Authority, and Janine Belleque, Marine Board Tribal liaison.
"I love seeing everybody here," Johnson said. "It's a chance to reconnect and relationships are everything to me. At my job, it's about sharing information with the Tribes early and often."
Belleque was attending Legislative Information Day for the first time.
"I know many of the Tribal leaders from the workgroup meetings, but it's a different opportunity to see how they utilize resources in this setting," she said. "It's a different view. We're really proud to take a more active role in consulting with the Tribes. Our agency has made this a priority."
During the event, the smell of fresh fry bread wafted through the air as representatives from the Native American Rehabilitation Association, such as Taylor Berglund (Navajo Nation), walked through the Galleria and offered samples.
"It's my first time here," the Portland resident said. "This is super cool that I get to represent and to see all the cultural displays."
Grand Ronde Tribal Council member attendees included Chairwoman Cheryle A. Kennedy, Vice Chair Chris Mercier, Lisa Leno, Kathleen George and Jack Giffen Jr. Other staff members in attendance were General Manager David Fullerton and Finance Officer Chris Leno.
The Tribe provided a light breakfast, as it has in years past, and the Legislative Commission on Indian Services provided coffee and water.
Tribal Legislative Information Day has been held for more than 14 years and the commission serves as event host along with fellow commission members and staff. 
"I'm really happy to see this level of detail with all the Tribes in their education and cultural information (at the tables)," Sparks said. "It's very important."