Culture
Veterans Powwow honors Vietnam-era warriors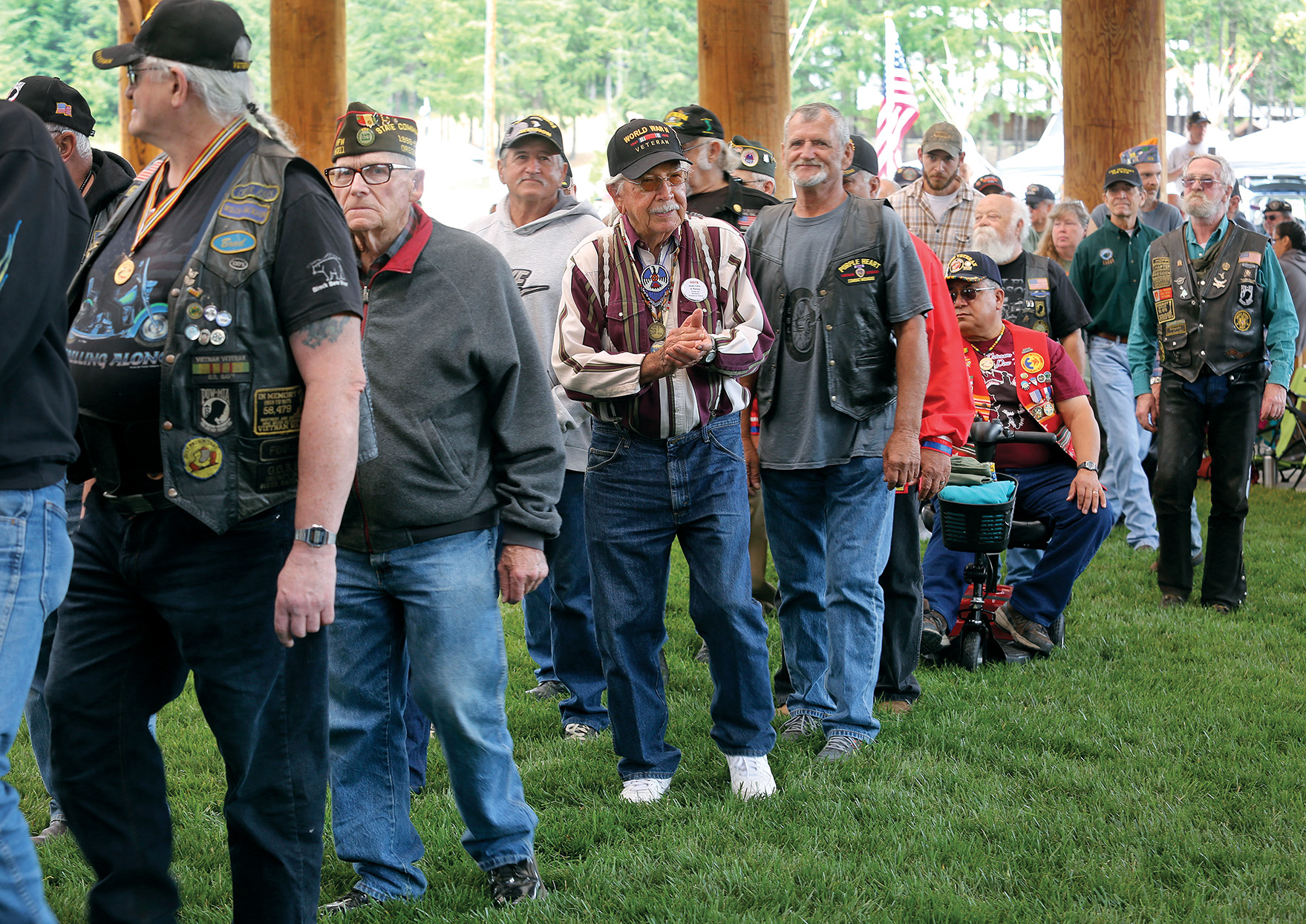 Even rainy weather in July couldn't keep veterans from turning out in large numbers for the annual Marcellus Norwest Memorial Veterans Powwow held in Grand Ronde at the Tribe's Uyxat Powwow Grounds on Friday, July 8, through Sunday, July 10.
Friday night's opening grand entry featured Grand Ronde Tribal Elder and Marine Corps veteran Alton Butler and Tlingit/Haida Tribal member and Army veteran Wayne Chulik carrying in the eagle staffs to the sound of host drum Bad Soul.
Tribal Elder and Marine Corps veteran Steve Bobb Sr. carried in the American flag, Tribal Elder and Army veteran Raymond Petite carried in the Confederated Tribes of Grand Ronde flag, Navy veteran Al Miller carried in the Oregon flag and Navy veteran Dennis Kleffner carried in the POW/MIA flag.
Tribal Council Chairman Reyn Leno, a Marine Corps veteran, Vice Chair Jack Giffen Jr., and Tribal Council members Jon A. George, Denise Harvey, Chris Mercier and Army veteran Brenda Tuomi followed the veterans into the dance arena to the beat of Chet Clark's Johonaaii Singers.
The Four Directions drum group then brought in the fancy shawl dancers, bustle dancers and jingle dancers, and they were followed by children of all dance styles.
Tribal Elder, former Tribal Council member and Navy veteran Wink Soderberg gave the invocation and said that when people come to visit Grand Ronde they should be treated like family and honored guests.
This year's Veterans Powwow honored Vietnam veterans since 2016 marks the 50th anniversary of the country's military escalation in that conflict. Every Vietnam veteran who attended received a commemorative eagle pin.
"Trying to keep everything dry has been a test," said Bobb, chair of the Tribe's Veterans Special Event Board. "But that's OK; we still have the ones that are passionate."
Bobb wasn't the only one concerned about the weather.
"On Friday, I was really worried about how many veterans we would get, but then on Saturday we ended up having a grand entry that had one of the highest turnouts of veterans we have ever had in the circle," said Leno. "That was a great turnout."
Saturday's highlight was a presentation made to the Tribe by the Oregon Veterans Motorcycle Association's Eugene-area Kalapuya Chapter.
"Saturday went really well," said Bobb. "We had the Motorcycle Association and they are big supporters of veterans. That was really good to have them here."
The Kalapuya Chapter sought permission from the Tribe to use the Kalapuya name and they wanted to say thank you. The Tribe was presented with a breast plate made from spent brass M16 shells.
Butler, who carries in the eagle staff for the Grand Ronde Honor Guard, was selected to wear the breast plate for Sunday's grand entry. Leno said whoever carries in the Tribe's eagle staff from now on will be the one who wears the breast plate into the arena.
"I think it was a great thing that they presented an acknowledgement for the use of the name," said Leno. "They presented us with that vest and it will be worn at all of our grand entries now."
Tuomi said seeing the motorcycle veterans again made her happy, but the thing that really caught her eye this year was the young dancers.
"I was excited to see the motorcycle vets back," said Tuomi. "And one thing I noticed during grand entry was our young dancers. I love watching those little kids dancing their hearts out. I like to watch them when they are dancing for the veterans. I see it as important."
Bad Soul got things started again on Sunday afternoon with the grand entry song and Big Eagle drum group performed the flag song. Four Directions finished the powwow's final grand entry with the victory charging song. Bobb gave the invocation.
Northern Blackhorse, Turquoise Pride and All Nations drums then performed three InterTribals before giving way to the Grand Ronde Royalty members who performed a dance special for Tribal youth Saige Selwyn, who walked on in 2015 after a tragic car accident on Grand Ronde Road.
The idea to honor Saige with a dance special at this year's Veterans Powwow was credited to Junior Miss Grand Ronde Isabelle Grout and Little Miss Grand Ronde Kaleigha Simi.
The dance special featured three songs with the first song being dedicated to Saige's family.
"The first dance was for the family as an honor song for Saige," said Tribal Council Administrative Assistant Shannon Simi, Kaleigha's mother, who also helps with Royalty events.
The second dance was just Royalty and the third dance was a competition special open to junior and teen category dancers of all styles.
Royalty members (Grout, Simi, Amaryssa Mooney and Iyana Holmes) and Amelia Mooney judged the dance special and picked the top three dancers.
Tribal member Kailiyah Krehbiel, Kaylee Johnson and Jazmine Barney were the winners and they each received bracelets that said "In Loving Memory of Saige" on them.
"The girls on Royalty were really good friends with Saige and since Saige was a fancy dancer the girls wanted to do something special for her," said Simi. "Saige is from the Norwest family. We thought it would be an appropriate time to honor the family and have all the girls dance fancy, which was her style. It was the girls' way of remembering their friend and doing something for the family."
Leno said hearing about the dance special for Saige made him proud to be a member of the Tribal family.
"I'm proud to be part of a Tribe that steps up and they help people and they don't forget about them, and they really help the family work through these things," said Leno. "At the end of the day you never want to forget somebody. You always want to be able to remember them and honor them the best you can. That's always our commitment. We will never forget you."
Isabelle Grout put that commitment into action when she wore Saige's fancy dance shawl on to the arena floor. She remembered so we can all remember.