Culture
Metro partners with Grand Ronde Tribe on its newest park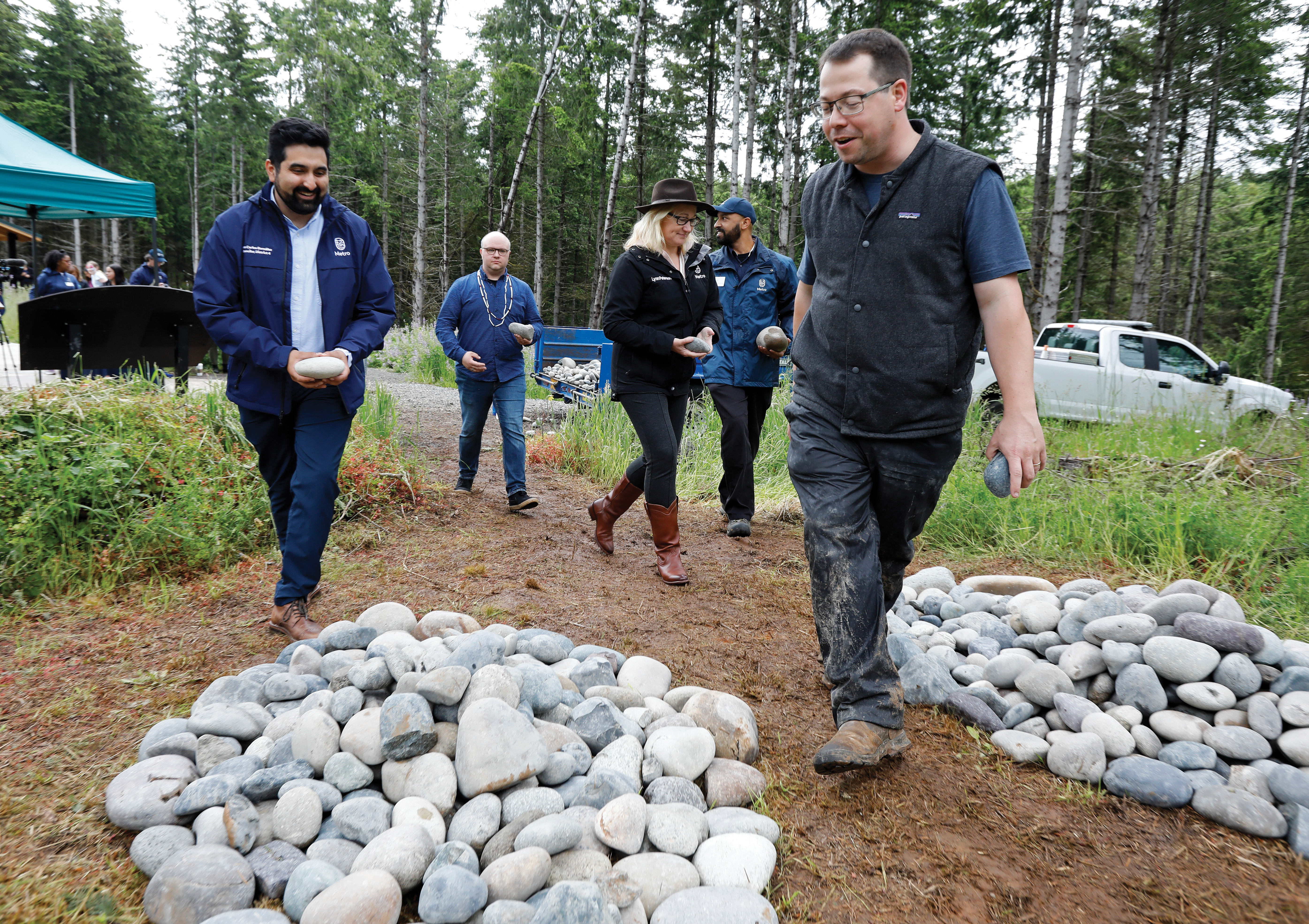 By Danielle Harrison
Smoke Signals assistant editor/staff writer
GASTON -- One of regional government Metro's newest features, Chehalem Ridge Nature Park, celebrated its opening on Friday, June 17, and highlighted the collaboration between itself, the Confederated Tribes of Grand Ronde and other partners, which include Centro Cultural, the Confederated Tribes of Siletz Indians, Oregon State Parks and local public officials.
The dedication celebration featured food, photos, music, dancing and crafts, as well as a cultural ceremony conducted by Tribal Cultural Resources Department Manager David Harrelson.
The park's name, Chehalem, is a Kalapuyan word that means "the outside place."
"It's the perfect name," Harrelson said. "It's outdoors and also outside the urban area."
The dedication ceremony began with a rattle song performed by Harrelson, Chachalu Museum & Cultural Center Manager Travis Stewart, Cultural Policy Analyst Greg Archuleta, and Tribal artists Bobby Mercier and his son, Nakoa.
Metro Council President Lynn Peterson thanked the Tribe and other partners for their efforts during the park construction process.
"It has truly been a collaborative effort," she said. "This is the second largest park in our system and it's an investment in our region's future. It's not just a great place to experience nature, it's a space with clean air, water and also respects those who have called this home since time immemorial. … Tribal partners worked with our staff so we could understand the history and stories of our Tribal partners … and honor Indigenous history, connection and relation to place."
Harrelson said that the process of meeting with Metro staff about the park project began 11 years ago. 
"It's an exciting process and from the beginning Metro was really reaching out and talking with the Tribe and seeing how to make this place come alive and be the type of place Tribal people want to come to within our homelands," he said. "It's been really wonderful that Tribal members, Elders and staff have been able to walk the land and advise on different restoration activities. … I feel very privileged to come and speak to that authentic relationship building today."
The Grand Ronde Tribe also has its imprint on the park's artwork. Bobby and Nakoa Mercier served as Tribal artisans and designed sculptures known as "The Three Elders."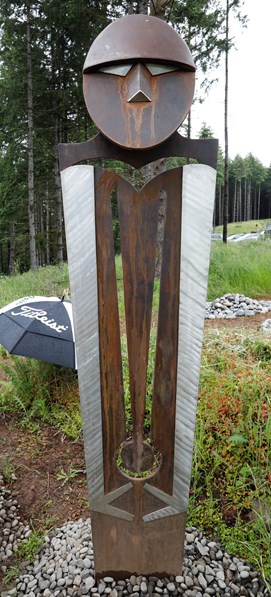 The welcome power figure, designed by Tribal member Nakoa Mercier, is one of three genderless figures that were installed at Chehalem Ridge Nature Park. The park's grand opening celebration was held on Friday June, 17. The artwork was placed on land inhabited by Wapato Lake Indians, one of the Kalapuya bands that make up the Confederated Tribes of Grand Ronde. (Photo by Timothy J. Gonzalez)
Chehalem Ridge is in the homelands of the Atfalati, who are part of the Kalapuyan people. The three figures featured throughout the park's 10 miles of trails are meant to share Kalapuyan stories from when Coyote was changing the land, and Deer was digging wapato and dentalium from nearby Wapato Lake, according to an inscription next to one of the statues.
"Each of these anthropomorphic figures located throughout the park are intended to share the traditional art form and stories with visitors at Chehalem Ridge Nature Park," the inscription reads.
Bobby Mercier talked about his work and explained the figure near the entrance of the park was designed to welcome people.
"When our people do so, we always have our hands out, hoping all will be OK for them while they are in our space," he said.
Mercier said the next figure visitors would see had wapato leaves engraved on its chest to honor the Wapato Lake people who came from a nearby village.
He continued, "The dentanium shells in the chest of the third figure, that's what was used for a form of currency, it's our old money. … I raise my hands to you guys for being involved with the Tribes. Hopefully this sets a precedent. These are places where we come from and so being able to put art back is something very big for me, and I'm thankful my son could be a part of that."
The ceremony closed with Harrelson performing an atudship ceremony. Atudship means the heaping up of earth and rocks in Chinuk wawa.
"We place rocks in important places worth returning to," Harrelson said to the crowd of approximately 60 people. "I'm inviting people to come and place a rock on the mound to set the intention of this park, joining into fellowship with everyone else."
Stewart said it had been an enjoyable experience to work with Metro on the park project.
"Consulting with local Tribes is definitely not always the case, but here we've been involved for 11 years," he said. "I sat on the art selection committee and wrote the inscription for 'The Three Elders.' "
Chehalem Ridge Nature Park includes trails for walking, off-road cycling, running or horseback riding. The 1,260-acre park features Oregon white oaks, Pacific madrone trees and a variety of shrubbery where wildlife live.
The park is located in Gaston and is the largest Metro park on the west side of Portland. Parking is free and it is open from dawn to dusk daily. For more information, visit oregonmetro.gov/parks/chehalem-ridge-nature-park.