Culture
Rose Festival Court makes annual visit to Grand Ronde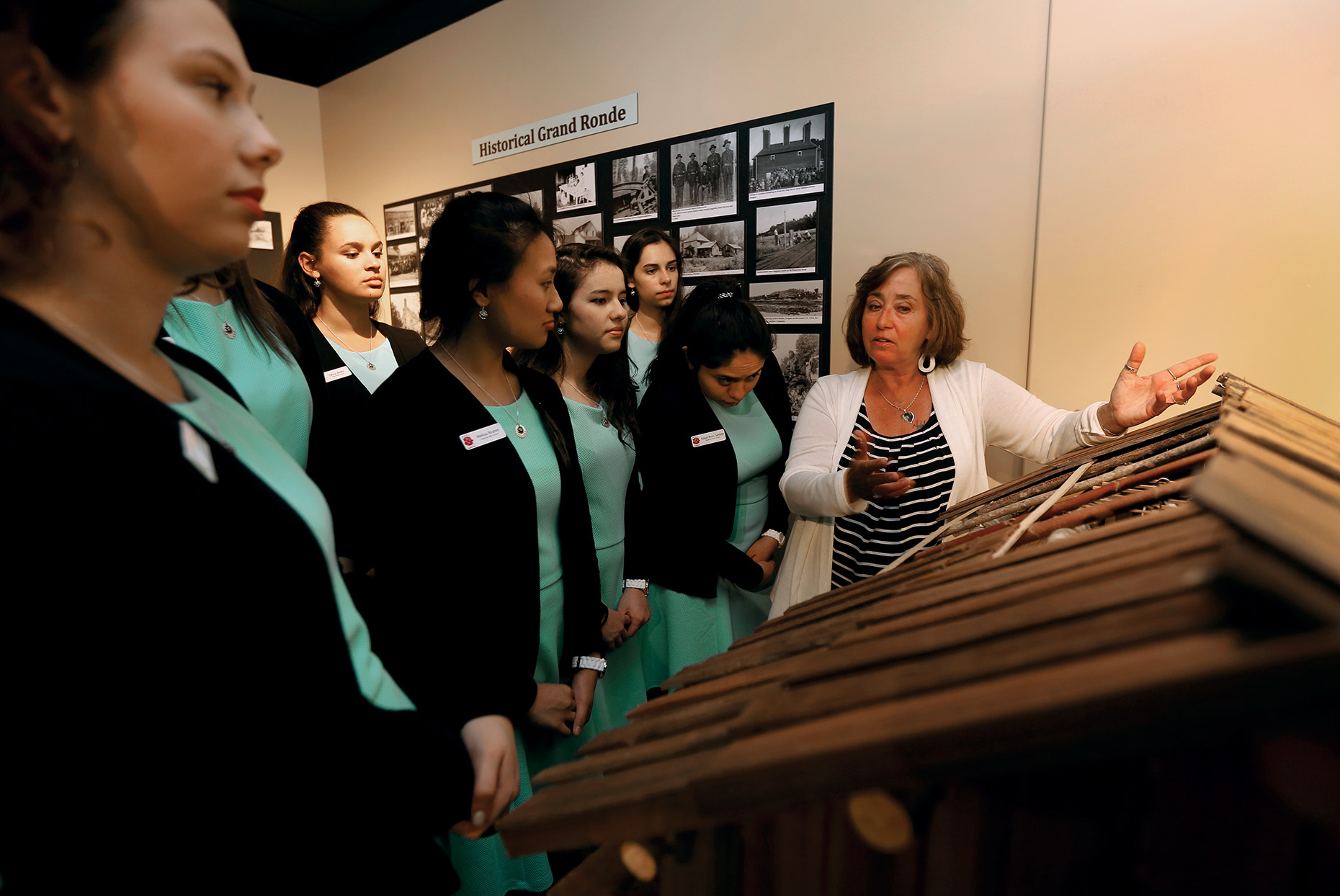 The 15 high school students who make up the 2016 Rose Festival Court came to Grand Ronde again on Tuesday, May 31, for their now annual visit to the Tribe.
The Rose Festival Court and chaperones toured Chachalu Museum & Cultural Center and then visited the Tribal plankhouse – achaf-hammi.
Spirit Mountain Casino Sponsorship Administrator Jocelyn Huffman worked with the Rose Festival to arrange this year's Rose Festival Court visit.
"Welcome, my name is Jocelyn and I work at Spirit Mountain Casino," said Huffman when greeting the Rose Festival Court at Chachalu.
Huffman welcomed princesses Emily Jayne of St. Mary's Academy, Olivia Wolfe of Grant High School, Katie Johnston of Roosevelt High School, Mariella Fischer of Central Catholic High School, Melissa Ibrahim of Parkrose High School, Stephanie Vo of David Douglas High School, Bryana Hanks of Jefferson High School, Abby Freimark of Franklin High School, Kaytlin Gaines of Cleveland High School, Helena Raposo of Lincoln High School, Abigail Reyes Santiago of Madison High School, Arianna Webb of Metro West -- Westview High School, Grace Ramstad of Metro East – Centennial High School, Estee Emlen of Wilson High School and Cynthia Aguilar-Arizmendi of Benson Polytechnic High School to Chachalu with the help of Jenny Moore of the casino's Marketing Department and Culture Department Manager Kathy Cole.
Cole provided a tour of the museum and its exhibits for the Rose Festival Court.
The princesses asked questions about the Reservation and they were interested in knowing more about the language.
"If I know that somebody speaks Chinuk wawa I will speak to them in Chinuk wawa just to keep it fresh," said Cole on how she keeps her language skills sharp. "Speaking a different language really takes dedication. It has to be a conscious effort to speak. That's my passion is the language. I love everything I do, but I'm really passionate about the language."
Rose Festival Court members were interested in the Culture program's language app for their smart phones. They seemed to love the idea that they could download the app and learn the language.
"One thing that I am so proud of with our Court is that we hold up the positive side of our youth," said Rose Festival President Frank Chinn. "They represent their schools and they represent their communities very well. It's amazing what they are planning to do with their lives."
Chinn, who is a retired teacher, said the targeted professions of Rose Festival Court members range from pediatrics and surgery to business, journalism and teaching.
"That's the kind of girls we get in the Court program," said Chinn. "They are usually great students in their schools and they want to do something with their lives. Many of the experiences that the Court has, you can get nowhere else."
Chinn said the Rose Festival assigns each student a mentor.
"Each girl is partnered with a professional woman in Portland," said Chinn. "They do things together and there is job shadowing. When the girls get out of the (Rose Festival Court) program they are connected already."
For example, Aguilar-Arizmendi was paired with Amy Nelson of Point West Credit Union. Aguilar-Arizmendi is a 17-year-old senior at Benson High who is planning to pursue a career in law, medicine or business. Nelson, her mentor, is president and chief executive officer of Point West Credit Union in Portland and also sits on the board of Financial Beginnings, a nonprofit that teaches financial education.
"It's amazing to see the girls when they go into the program and then six weeks later how they come out because when they go in they are kind of shy or timid and when they come out they are used to public speaking and they know how to answer questions," said Chinn. "I love our program because it supports their educational efforts."
Huffman says the relationship between the Tribe and its main business, Spirit Mountain Casino, and the Portland Rose Festival makes sense and that the relationship to members of the Rose Festival Court fits with Tribal values of honoring and assisting youth.
"This year marks the 20th year we have entered a float in the Spirit Mountain Casino Grand Floral Parade. We've been partners for 20 years now," said Huffman. "Taking on this title sponsorship has taken this from a business transaction to a relationship, and it's been a platform that allows us to tell our story. It's really been a platform for us to tell our story about our people and our ceded homelands.
"The great part is we have been able to reach out to young students and we have been able to touch the community. I think it has been a positive thing to have the Rose Festival Court out every year. These girls are learning that we are more than a casino, this is a Tribe; people live here. It's a community and they are learning about us and they are going to go forward and tell other people about their visit."
Rose Festival Chief Executive Officer Jeff Curtis, who made the visit to Grand Ronde again this year with the Rose Festival Court, agreed with Huffman and said the relationship between the Tribe, the casino and the festival is not only an important one, but one that also makes good business sense.  
"I think the Tribe and Jocelyn and the casino do a good job of laying out the opportunity for our Court to experience seeing the history and the culture of the Grand Ronde Tribe," said Curtis. "The point of educating them about the Tribe and its history is that it is still alive and well and practiced. That is significant so it is really a great educational opportunity for 15 young women who will now have the knowledge base and some personal perspective of it. That's what I think is special about the relationship.
"It's important from a business perspective. What the casino and the Tribe do to support the Rose Festival is significant. We are a nonprofit foundation that works year-round to produce this huge festival and it takes resources, so a great partner like Spirit Mountain Casino and the Grand Ronde Tribe is significant for us. We really, really appreciate it and it's important."
Curtis said the parade is watched by as many as 400,000 people throughout the state when one includes the television audience.
"I think this is a gift for Portland," said Curtis of the relationship and sponsorship.
Huffman echoed Curtis in that she said casino staff members work on digital, print, radio and television marketing for the festival event throughout the year.
"We do the Starlight Parade, Float Week, the Junior Parade, we do the Rose Festival Court visit," said Huffman. "With the casino, the demographics match up perfectly. We're touching the heartstrings of the Portland community. It makes a lot of sense for us to do this. There is a definite return on investment to this sponsorship."
Chinn said the knowledge imparted on Rose Festival Court members from visiting the Tribe and learning about the culture and history will last for years to come.
"It's a fabulous relationship in my opinion," said Chinn. "You will see that these girls will go back and know that there is a culture within a culture that is trying to survive. Life is relationships and learning."