Tribal Government & News
Community Fund celebrates 20th anniversary of giving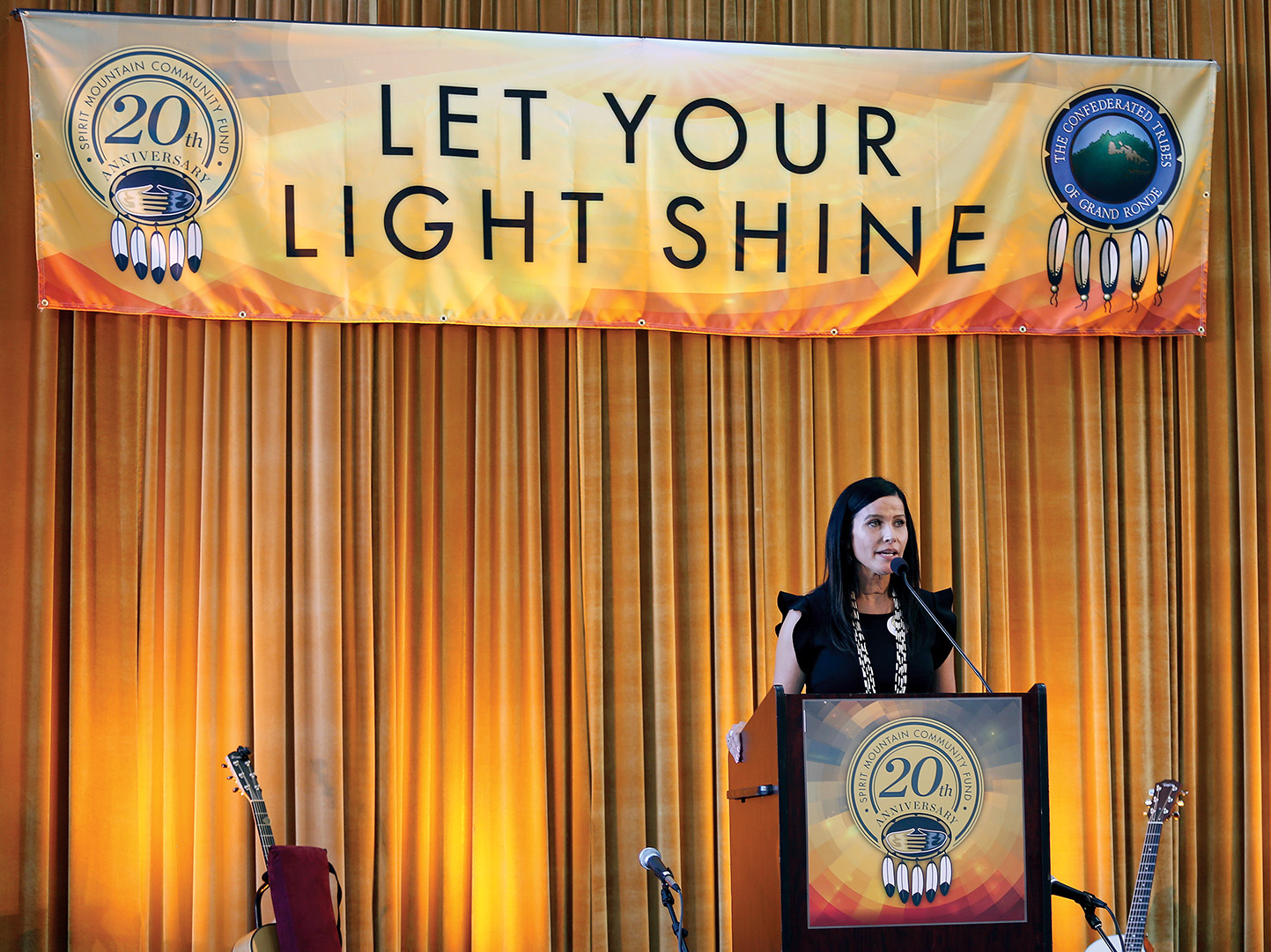 PORTLAND – As invited guests entered Oregon Health & Science University's pavilion overlooking the picturesque Tilikum Crossing spanning the Willamette River for the 20th anniversary celebration of Spirit Mountain Community Fund, they couldn't help but notice an oversized $74 million check resting on an easel next to the registration table.
If they did manage not to see it, Tribal Council Chairman Reyn Leno ensured that the more than 300 people at the event pondered that impressive total donated to Oregon nonprofit organizations in 11 northwestern Oregon counties since the Community Fund was founded in 1997.
The $74,146,358, to be exact, represents 6 percent of Spirit Mountain Casino proceeds that the Grand Ronde Tribe has given back to the community after the community took care of Grand Ronde people during 29 years of Termination from 1954 to 1983.
"You can't imagine, when you really think about it over 20 years and $75 million or whatever, how many people that has really reached out and helped," Leno, who also sits on the Community Fund's Board of Trustees, said about the almost 2,500 grants awarded. "It's been a success story."
The "Let Your Light Shine" celebration started at 4:30 p.m. with a VIP Reception on OHSU's patio overlooking the river.
Community Fund Board of Trustees Chairman Sho Dozono told reception attendees that they were standing in the ceded lands of the Grand Ronde peoples and it was the Grand Ronde Tribe that submitted the winning name for the 2 year-old pedestrian-public transit bridge crossing the Willamette River.
Community Fund Director Mychal Cherry honored many of the original members of the Community Fund's Board of Trustees with Pendleton blankets, including former Polk County Commissioner Ron Dodge, Tribal Elder and former Tribal Council member Leon Tom, former Spirit Mountain Casino Marketing Director Chuck Galford, Tribal Elder and former Tribal Council Chairwoman Kathryn Harrison, and Dozono, who has been on the Board of Trustees since its inception. Those honored but not in attendance included former Tribal Council member Ed Pearsall, Oregon Gov. Kate Brown and former Oregon U.S. Attorney Kris Olson.
The celebration drew an array of current and former Tribal Council members, as well as many Tribal Elders and Tribal staff. A sampling of those in attendance included Tribal Council members Jack Giffen Jr. and Denise Harvey, who both sit on the Community Fund's Board of Trustees, as well as Tonya Gleason-Shepek and Chris Mercier; former Tribal Council members Kathleen Tom, Steve Bobb Sr., June Sell-Sherer, Candy Robertson and Ed Larsen; Tribal Elders Laura Gleason and Jenny VanAtta; and Tribal employees Stan Dillon, general manager at Spirit Mountain Casino, Tribal Attorney Rob Greene, Tribal lobbyist Justin Martin, Human Resources Department Manager Patrick Dempsey and Tribal Council Administrative Assistant Shannon Simi.
Former Community Fund Directors Angie Blackwell, Cherry's older sister, and Shelley Sneed also attended the event as did former Hatfield Fellows Mary Bodine, Shana Radford, Tribal member Bryan Mercier, Dennis Worden and Bodie Shaw.
The formal celebration program started at 6 p.m. with Cherry welcoming attendees and the Grand Ronde Color Guard of Steve Bobb Sr., Daniel Helfrich, Rich VanAtta and Dennis Kleffner bringing in the U.S., Grand Ronde, MIA/POW and Oregon flags while Lands Department Manager Jan Looking Wolf Reibach, Tribal Council Secretary Jon A. George and Tribal member Greg Archuleta performed a drum song.
Tribal Royalty members Iyana Holmes, Senior Miss Grand Ronde; Kaleigha Simi, Little Miss Grand Ronde; and Little Miss Princess Sophia Grout followed the Color Guard in.
George gave the invocation, citing the "20 years of open hearts and open hands" that the Tribe's charitable arm represents.
Cherry delivered opening remarks.
"You can't truly appreciate where you are if you don't think about where you have been," Cherry said. "How far you have come and how you got here. I look around the room tonight … and it warms my heart. I see so many faces of the Tribal leaders and visionaries in the room who helped us get to where we are today, and I know our ancestors are proud.
"Native Americans are a very giving people. They are a proud people and they are a resilient people. As we celebrate our 20th anniversary of the Spirit Mountain Community Fund, we are not just celebrating the $74 million in giving, we are celebrating all of those people who never gave up."
Bobb blessed the meal, which served a family-style dinner of wild-caught salmon filet, sweet red peppers stuffed with rainbow quinoa, corn cakes, Indian fry bread with honey butter and a dessert of lemon mousse.
While people ate, a 20-year celebration video was shown on numerous screens.
Reibach, a multiple Native American Music Awards winner, and his Looking Wolf Band of Brothers (violinist Mark Babson, guitarist Neal Grandstaff and percussionist Nathan Myers) entertained with a three-song set that included "Live As One," "Twilight" and "Seminole Wind." Reibach dedicated "Twilight" to Tribal member Ryan Beauchamp, who walked on in 2000.
Dr. Brian Druker, director of the Knight Cancer Institute at OHSU, was the keynote speaker and talked about Nike co-founder Phil Knight and his wife Penny's challenge for the university to raise $500 million in matching funds in less than two years to fight cancer. OHSU succeeded in raising the money in 18 months and received an unsolicited $100,000 donation from the Grand Ronde Tribe without the Tribe being approached for the money.
Appropriately, a Community Fund celebration also included sharing the bounty as Trustees and Community Fund staff members each selected an organization to grant $5,000 to for their work that exemplifies the goals and values of the Tribe.
Grant recipients were the Children's Cancer Association of Portland, selected by Leno; Downtown Language of Springfield, selected by Trustee Val Hoyle; Liberty House of Salem, selected by Cherry; Neighbors For Kids of Depoe Bay, selected by Trustee Darlene Hooley; Oregon Tradeswomen Inc. of Portland, selected by Harvey; Pitch Black of Portland, selected by Trustee Chip Lazenby; Race Talks of Portland, selected by Dozono; Tillamook Forest Heritage Trust, selected by Giffen; Oregon Children's Foundation's Start Making A Reader Today, selected by Community Fund Program Coordinator Angela Sears; and the West Valley Fire District of Willamina, selected by Trustee Ron Reibach.
Also receiving $5,000 checks were the two organizations that received the first Community Fund awards back in 1997 – Life Flight of Oregon and Portland Art Museum.
But the giving was not over. The Community Fund also announced this year's recipients of its Oregon Tribal Grants program, which gave $110,000 each to the Burns Paiute, Coos, Lower Umpqua and Siuslaw Indians, Coquille Indian, Grand Ronde, Siletz, Umatilla and Warm Springs Tribes.
Leno accepted the Grand Ronde check, saying it will help fund a needed adolescent psychiatrist at the Grand Ronde Health & Wellness Clinic.
Leno also was honored during the event for his 21 years of service on Tribal Council and his many years on the Board of Trustees. He received a beaver hat signifying his allegiance to Oregon State University, an eagle feather and Pendleton blanket and laptop bag.
Cherry also awarded Tribal coffee house gift certificates to Tribal Youth Council members in attendance, including Payton Smith, Dominik Briant, Madelyn Volz, Izaiah Fisher and Jason Page. She also thanked Tribal Elder Victor Cureton, Social Services Administrative Assistant Darla Patterson and Public Affairs Administrative Assistant Chelsea Clark for making the numerous dentalium necklaces that were given as gifts during the event.
The 2½-hour event concluded with Giffen delivering closing remarks and George, Archuleta and Fisher drumming as the colors were retired.
"I'd just like to take a moment to thank each and every grantee that we have had in the 20 years of Spirit Mountain Community Fund for the work you do in your communities," Giffen said. "But I also have to, on behalf of the Tribal membership, thank our ancestors for bestowing in each and every one of us the meaning of giving back to your community and passing that on from generation to generation. The Tribal philosophy is pretty much seven generations and a lot of past leaders have passed on, but they have passed on that message. You give back not only to your Tribe, but to your family and the community around you.
"I want to personally say thank you to all of those ancestors, all those Elders that passed that message on and you can see where it has got us today: $74 million and a lot of help to a lot of communities."