Culture
Seventh First Nations Powwow set for Jan. 24 in Salem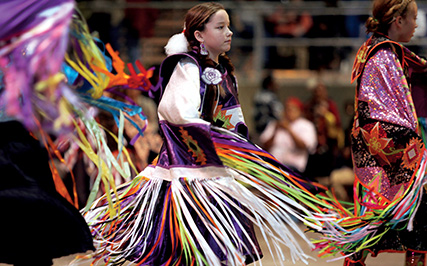 SALEM -- Native American drumming, dancing and crafts will return to the Salem Pavilion at the Oregon State Fair and Expo Center on Saturday, Jan. 24, with the doors opening at noon and Grand Entry scheduled for 1 p.m.
The seventh annual Gathering of Oregon's First Nations Powwow, called "Standing Strong," started as a one-time event to coincide with Oregon's 150th birthday in 2009.
While Oregon was celebrating 150 years of statehood, the five federally recognized Tribes of western Oregon wanted Oregonians to remember that their ancestors have called this land home since time immemorial.
Of the five Tribes that coordinated the first powwow, four continue the event, which has become an annual tradition.
The Tribes still cooperatively planning and participating in the powwow are the Confederated Tribes of Grand Ronde in Grand Ronde, the Confederated Tribes of Coos, Lower Umpqua and Siuslaw Indians in Coos Bay, the Coquille Indian Tribe in North Bend and the Cow Creek Band of Umpqua Tribe of Indians in Roseburg.
In addition, a video entitled "Standing Strong, The Tribal Nations of Western Oregon" will be shown continually during the powwow. It was developed to teach the cultural and historical background of the participating Tribes.
Among notable events this year are exhibitions of traditional Northwest Indian dances. Educational booths will demonstrate Native crafts, games and traditional hunting and fishing tools.
Hands-on activities will give guests a feel for Native beading, basketry, carving, clothing and jewelry, much of which will be sold at vendor booths surrounding the powwow floor.
The Confederated Tribes of Coos, Lower Umpqua and Siuslaw Indians will demonstrate traditional weaving using grasses and rushes.
Demonstrations from the Grand Ronde Tribe will showcase natural pigments, weaving, carving and beading.
Nick Sixkiller, a member of Cherokee Nation in Tahlequah, Okla., is powwow master of ceremonies, and Tony Whitehead, a member of the Confederated Tribes of the Umatilla Indian Reservation near Pendleton, is arena director.
Parking at the pavilion is $3, but admission to the powwow is free. The powwow is scheduled to conclude at 9 p.m.
Vendors should call 800-422-0232 about working the powwow.