Culture
Still Standing Strong: Oregon's First Nations Powwow returns for sixth consecutive year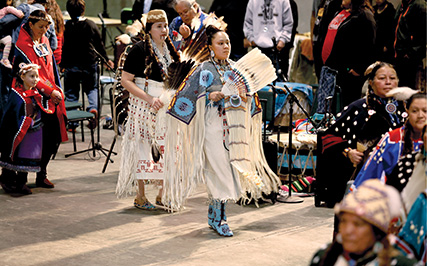 SALEM -- Native American drumming, dancing and crafts will return to the Salem Pavilion at the Oregon State Fair and Expo Center on Saturday, Jan. 25, with the doors opening at noon and Grand Entry scheduled for 1 p.m.
The sixth annual Gathering of Oregon's First Nations Powwow, called "Standing Strong," started as a one-time event to coincide with Oregon's 150th birthday in 2009.
While Oregon was celebrating 150 years of statehood, the five federally recognized Tribes of western Oregon wanted Oregonians to know that they have called this land home since time immemorial.
Of the five Tribes that coordinated the first powwow, four continue an event that has become an annual tradition.
The Tribes still cooperatively planning and participating in the powwow are the Confederated Tribes of Grand Ronde in Grand Ronde, the Confederated Tribes of Coos, Lower Umpqua and Siuslaw Indians in Coos Bay, the Coquille Indian Tribe in North Bend and the Cow Creek Band of Umpqua Tribe of Indians in Roseburg.
Reasons for carrying on the powwow, Tribal spokespersons say, include the success of the original powwow and the recognition each successive one has brought to Oregon's Native peoples. Previous powwows have attracted as many as 5,000 attendees.
"The Grand Ronde Tribe has always stepped up to support spreading the message of Tribal sovereignty and promoting awareness and appreciation of our Tribal culture," says Grand Ronde Tribal Council member Cheryle A. Kennedy. "This annual gathering has demonstrated that Oregonians are hungry to learn about our history and culture. Last year, our numbers surpassed all expectations and we hope to do the same again this year. It is also a great way to bring our fellow Tribes together to celebrate our culture and friendship, and family ties within the Grand Ronde's ceded lands. I am proud our Tribal Council makes supporting this event a priority and that so many of our Elders and Tribal families show up to participate."
Ron Brainard, Tribal Council member of the Confederated Tribes of the Coos, Lower Umpqua and Siuslaw Indians, says there are two benefits of the annual powwow.
"The public needs to be educated that we're still here. A lot of folks out there don't realize that there are still Tribes," Brainard says. "It makes for better relationships between the Tribes. (Good relationships and cooperation) work better for all of us."
"The powwow and activities surrounding the event were designed to showcase the western Oregon Tribes and their significance during the 1850s, as well as their distinct cultures," says Michael Rondeau, Tribal administrator and chief executive officer of the Cow Creek Band of Umpqua Tribe of Indians.
"It was also an opportunity to provide education on U.S. policies regarding the Natives of western Oregon during the 1950s, specifically the Termination era."
In 1954, the Western Oregon Indian Termination Act severed the trust relationship between the federal government and Tribes of western Oregon. In the late 1970s and early 1980s, several of those terminated Tribes successfully regained federal recognition.
In addition, a video entitled "Standing Strong, The Tribal Nations of Western Oregon" will be shown continually during the powwow. It was developed to teach the cultural and historical background of the five Tribes.
Among notable events this year are exhibitions of traditional Northwest Indian dances. Educational booths will demonstrate Native crafts, games and traditional hunting and fishing tools.
Hands-on activities will give guests a feel for Native beading, basketry, carving, clothing and jewelry, much of which will be sold at vendor booths surrounding the powwow floor.
Food also will be available for purchase.
The Confederated Tribes of Coos, Lower Umpqua and Siuslaw Indians will demonstrate traditional weaving using grasses and rushes.
Demonstrations from the Grand Ronde Tribe will showcase natural pigments, weaving, carving and beading, and the Grand Ronde Canoe Family will perform Native songs and dances.
Also, the Grand Ronde Tribe will hold a raffle to raise funds for Chachalu (Place of the Burning Timber), the Tribe's emerging museum and cultural center. An opening event is planned for early June.
The Grand Ronde Tribe also will be represented by Tribal Council members and Elder Dolores Parmenter, who will demonstrate carving and other traditional arts and crafts.
Kathy Cole, Grand Ronde Cultural Education and Outreach Program manager, and Grand Ronde culture consultant Greg Archuleta also will be on hand for demonstrations and to answer history, sovereignty and culture questions.
Nick Sixkiller, a member of Cherokee Nation in Tahlequah, Okla., is powwow master of ceremonies, and Tony Whitehead, a member of the Confederated Tribes of the Umatilla Indian Reservation near Pendleton, is arena director.
Parking at the pavilion is $3, but admission to the event is free. The powwow is scheduled to conclude at 9 p.m.