Culture
Tribal members reconnect with Tomanowos during New York City event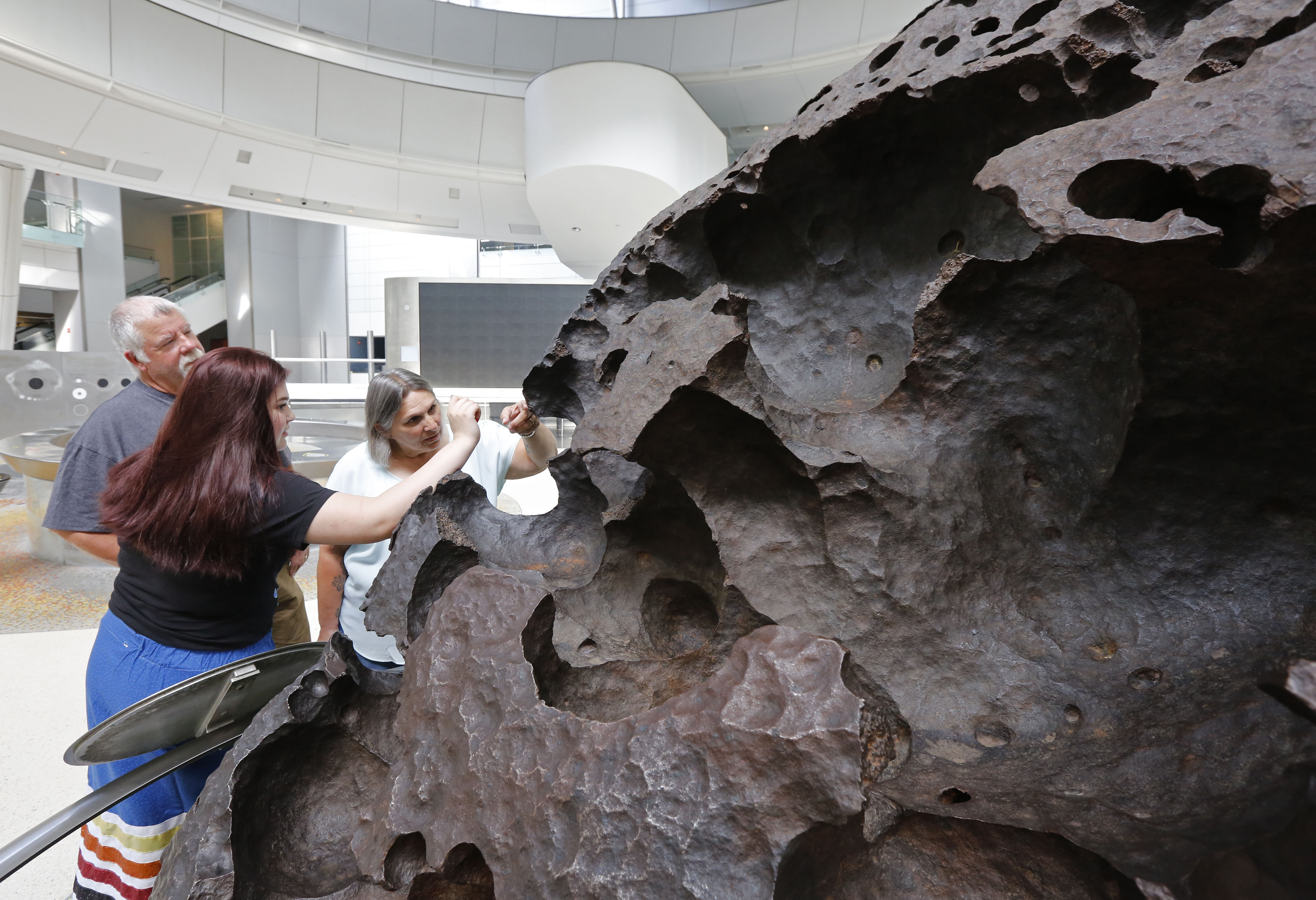 By Dean Rhodes
Smoke Signals editor
NEW YORK CITY -- For Tribal Elder JoAnn Colton Comeaux, standing in a room with Tomanowos – the 15.5-ton Willamette Meteorite – was a physical manifestation of the stories she heard from her grandmother, Clara Riggs.
Dressed in a cedar hat created by her daughter before the Monday, June 17, ceremony held at the American Museum of Natural History, Comeaux said that her grandmother passed down the stories she had been told about Tomanowos from her ancestors.
"My grandmother used to talk about the Elders in the valley traveling to see the meteorite because they thought it had healing powers," Comeaux said. "When it rained, the water would fall into the bowls and they would think that the water had healing powers. She talked about that, stories from generations above her. I've always wanted to come and see it. It's just amazing."
Tribal ancestors used to dip their spearheads into the crevices and pockmarks of Tomanowos to obtain spiritual strength before a hunt.
Modern-day Grand Ronde members dipped cedar boughs into rose water to cleanse Tomanowos and also, perhaps, reconnect some of the spirituality that was lost in the mid-1850s when Tribal members were removed to the Reservation.
The annual Tribal trip to visit Tomanowos featured 14 Tribal members, including two Tribal youth interns working at the museum for three weeks. The ceremony was led by Youth Prevention Coordinator Cristina Lara, who also was chaperoning the youths, in the Frederick and Sandra Priest Rose Center for Earth & Space.
Deputy Press Secretary Sara Thompson ferried the cedar boughs from Oregon while Lara provided rose water and tobacco.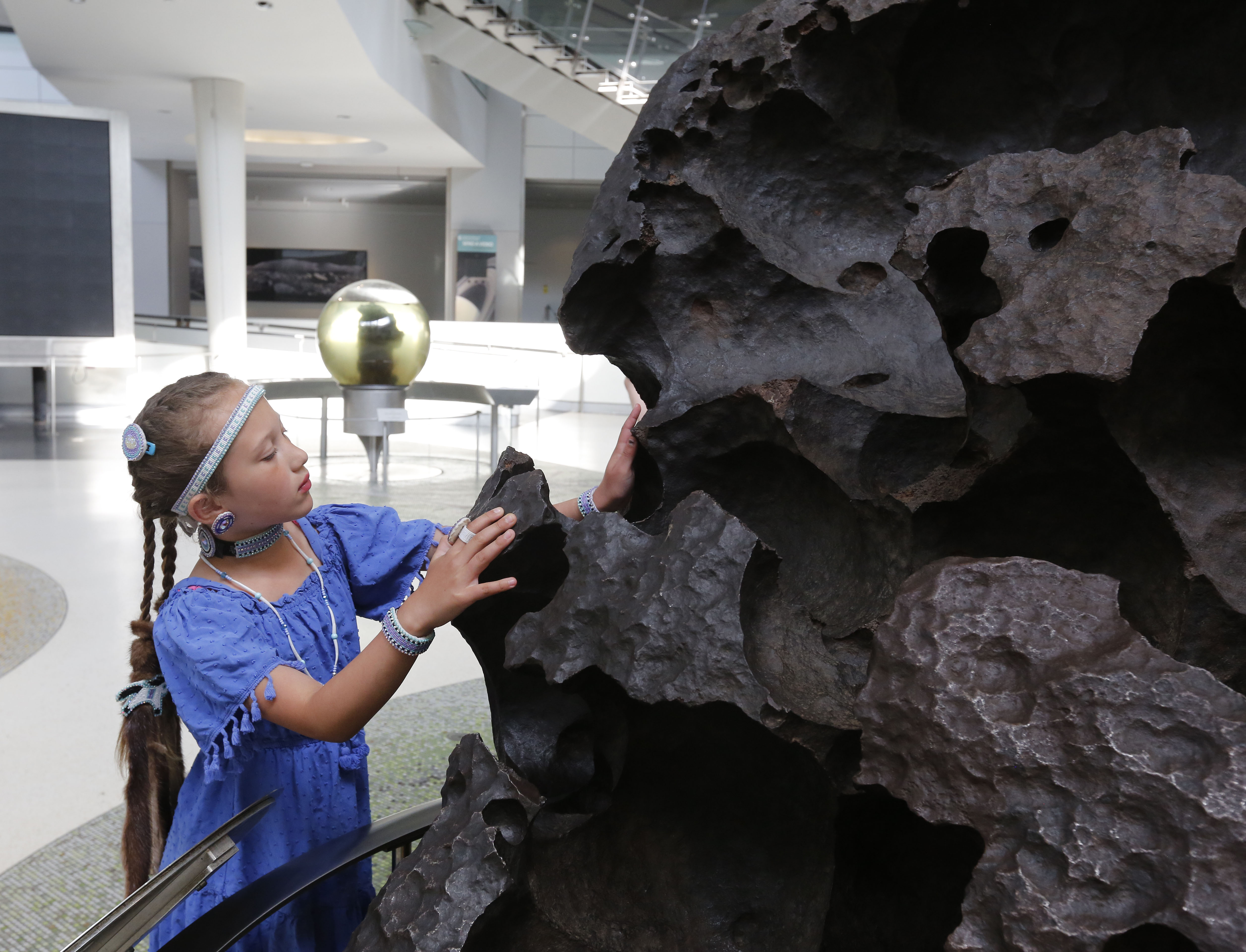 Desirae Hernandez, 7, interacts with Tomanowos before a ceremony the Grand Ronde delegation held on Monday, June 17, at the American Museum of Natural History in New York City. (Photo by Timothy J. Gonzalez/Smoke Signals)
The Grand Ronde contingent also included Tribal Council member Denise Harvey, Tribal Council Chief of Staff Stacia Hernandez, Tribal Police Lt. Tim Hernandez, Tribal youth Desirae Hernandez, Tribal Elders Marion Mercier, Penny DeLoe and Dorothy Leno, Museum Interns Kailiyah Krehbiel and Isabelle Grout, and Manhattan resident and Chief Tumulth descendant Jennifer Weiss and her children, Charlotte and Spencer.
Lara requested that the ceremony remain private and that no pictures or audio recordings be taken.
Tribal members held the 43-minute ceremony and communed with Tomanowos in their own, personal ways at Lara's encouragement.
When the ceremony was complete, the Tribal contingent gathered outside the American Museum of Natural History for a group photo and then dined at Maison Pickle.
Tomanowos' history
Tomanowos is the iron-nickel core of an early planetoid that orbited the Sun millions of years ago. After that planet was shattered, perhaps in a collision with another protoplanet, the core fell at approximately 40,000 miles per hour to the Earth's surface, landing somewhere in southwestern Canada.
The meteorite eventually found its way to present-day West Linn in the Willamette Valley as a passenger in the Missoula Floods that carved out the Columbia River Gorge. The Clackamas Chinooks named it Tomanowos and revered it as a spiritual being that healed and empowered the people since the beginning of time. The rainwater that collected in the meteorite's crevices and pockmarks served as a powerful purifying, cleansing and healing source for the Clackamas and their neighbors.
But that connection was broken when the Clackamas and other Tribes were removed from the West Linn area and relocated to the Grand Ronde Reservation in the 1850s.
With the Native peoples gone, Tomanowos' story grew more complex and convoluted. In 1902, it was kidnapped by part-time miner Ellis Hughes, who moved it off land owned by Oregon Iron and Steel Co., and he charged people 25 cents to view it.
Eventually, Oregon Iron and Steel won a lawsuit to regain ownership of the meteorite, which was then purchased in the early 20th century by a wealthy New York City philanthropist, who moved it across the country and donated it to the American Museum of Natural History, where it sat patiently for almost 100 years for its Native peoples to find it.
In 1999, the Grand Ronde Tribe submitted a claim to the museum seeking return of Tomanowos under the provisions of the 1990 Native American Graves Protection and Repatriation Act. The museum countersued and eventually the two parties reached an agreement that Tomanowos would remain in New York City provided that Tribal members had annual access for religious ceremonies and the museum sponsored an internship program for Tribal youth to spend three weeks working at the museum every summer.
This marks the 19th year of that agreement.
Museum breakfast
On Tuesday, June 18, museum staff held at breakfast in the Astor Turret for the Grand Ronde delegation, serving scrambled eggs, sausage, puff pastry and a fruit plate.
Museum Senior Vice President for Communications Anne Canty welcomed Tribal members.
"On behalf of all my colleagues here at the museum, I want to welcome the delegation for this momentous 19th year," Canty said. "It's wonderful to welcome back some old friends and see so many new faces."
Canty said that the museum considers its agreement with the Grand Ronde Tribe to be a model for a collaborative and reciprocal relationship between Native American communities and museums.
She also cited Tribal Elder Kathryn Harrison, who was a longtime Tribal Council chair, for her work to strengthen the relationship between the museum and the Tribe. Harrison currently serves on the museum's board of directors and is the first Native American to do so.
Harvey expressed the Tribe's thanks to the museum.
"Hopefully, we will always have a long-standing relationship with the museum," Harvey said. "It's an honor and a privilege to be here.… We thank you for your continued support, which is fundamental to the Tribe in maintaining our historical connection to Tomanowos and teaching our youth about the importance of our people."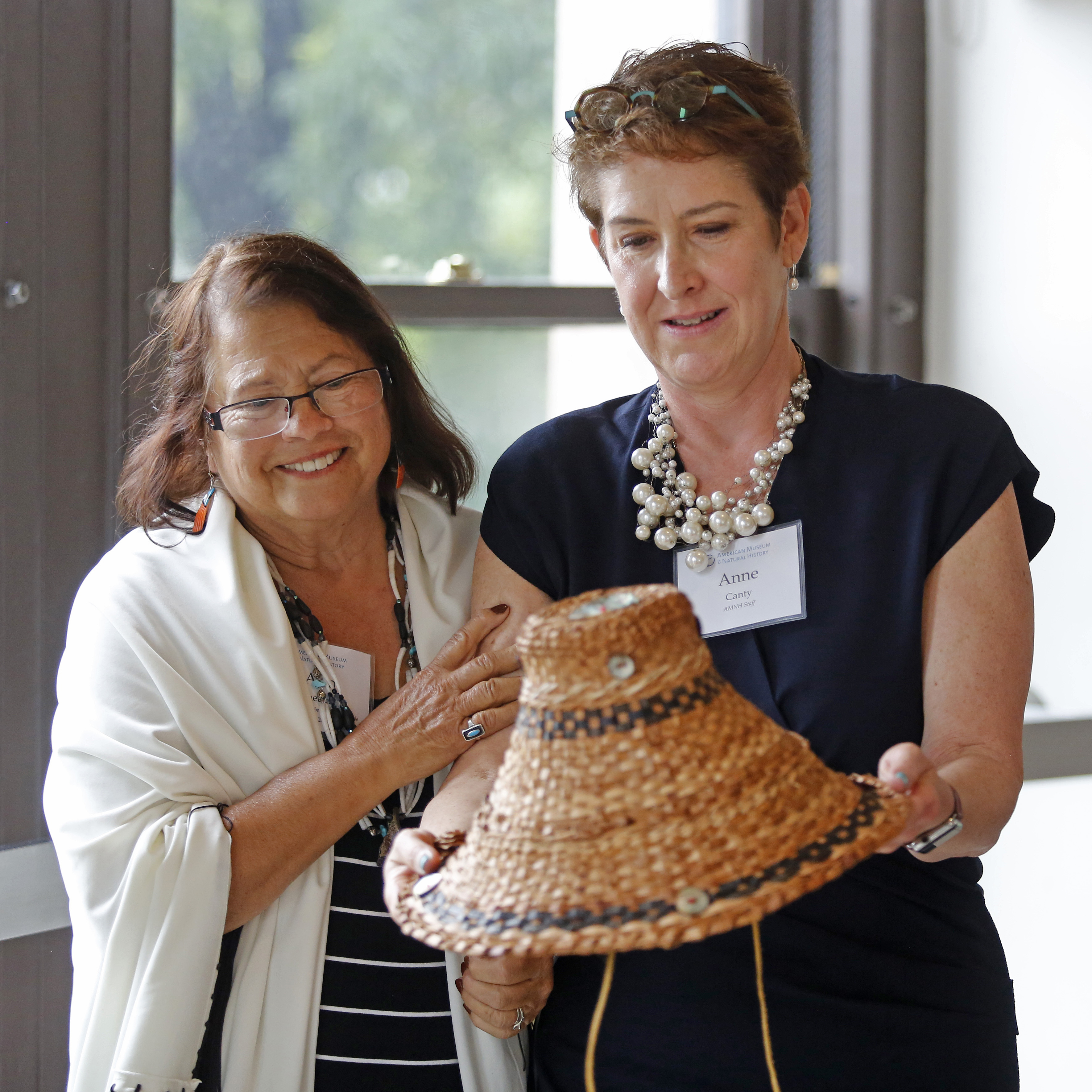 Tribal Elder JoAnn Colton Comeaux and Senior Vice President for Communication Anne Canty look at a traditional cedar woven hat that Comeaux donated during a breakfast at the American Museum of Natural History on Tuesday, June 18, in New York City. (Photo by Timothy J. Gonzalez/Smoke Signals)
Comeaux donated a cedar hat made by her daughter, Carol Colton, to the museum collection in honor of Tribal Elder Connie Graves, who walked on earlier this year and left a legacy of teaching traditional weaving.
Division of Anthropology Curator Peter Whiteley accepted the hat for the museum.
"What an amazing gift," Whiteley said. "Thank you so much. It's wonderful to have this added to our collection."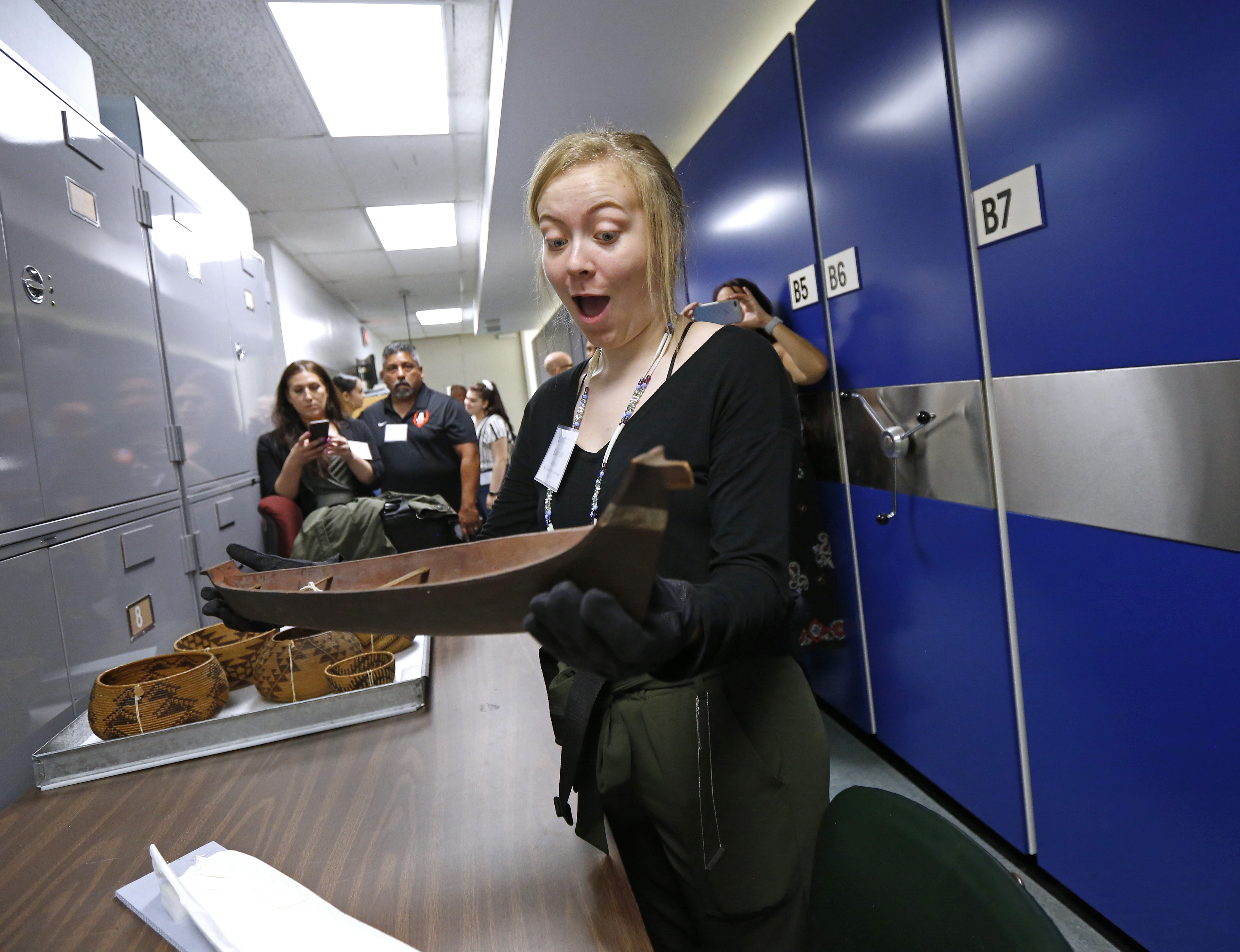 Tribal member Kailiyah Krehbiel can't contain her joy as she hold a replica of an ocean canoe in the archive of Native American textiles in the American Museum of Natural History on Tuesday, June 18, in New York City. (Photo by Timothy J. Gonzalez/Smoke Signals)
Following the breakfast, Grand Ronde Tribal members received a behind-the-scenes tour of the museum's extensive Native American textile archives led by Paul Beelitz, director of Collections and Archives in the Division of Anthropology.
Lara was most interested in seeing a feathered headband visor used during coming-of-age ceremonies. The museum's, made from blue jay feathers, dates back to the late 19th century. It entered the museum's collection in 1903.
In addition to the Tomanowos activities, Tribal members also visited the Statue of Liberty, Ellis Island and the 9/11 Museum during the whirlwind three-day visit, among other group and solo activities.
"Attending the ceremony with fellow Grand Ronde Tribal members to celebrate Tomanowos was truly special event for me and my Tribal children," Jennifer Weiss said. "My family has lived in New York City for almost 30 years and we have seen the meteorite on many occasions during our visits to the museum, but at arms' length. We were thrilled and honored to be allowed to attend Grand Ronde's meteorite ceremony for the first time this year. It is certainly not often that we get to see fellow Tribal members in our hometown, and it was an amazing and special opportunity to receive total privacy at the museum and join in ceremony with them around our sacred meteorite."
"Visiting New York is an awesome experience," Tribal Elder Marion Mercier said. "There is a lot to see and a lot of history. … Plus, visiting the meteorite just gives you a different sense, a different feeling. It kind of gives you goosebumps when you walk into the room. There it is and it's like, 'I've got to go down and touch that.' "