Culture
Contest Powwow set for Aug. 15-17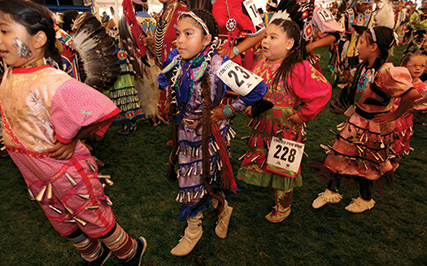 If you go
Grand Ronde Contest Powwow
Grand entries: 7 p.m. Friday, Aug. 15; 1 and 7 p.m. Saturday, Aug. 16; and 1 p.m. Sunday, Aug. 17.
Where: Uyxat Powwow Grounds, 9390 Highway 22
Cost: Parking $1 per day or a donation of canned food; $3 for a weekend pass
More info: 503-879-2037
More than $35,000 in prize money will be on the line during the Confederated Tribes of Grand Ronde's annual Contest Powwow set for Friday, Aug. 15, through Sunday, Aug. 17, at Uyxat Powwow Grounds, 9390 Highway 22.
The annual powwow - one of the largest in the Pacific Northwest - drew more than 250 Native dancers in 2013. Dancers compete for prize money in 20 categories.
Registration begins at 5 p.m. Friday, Aug. 15, followed by the first Grand Entry at 7 p.m. Royalty coronation also will be held Friday evening.
On Saturday, Aug. 16, a parade between the powwow grounds and Fort Yamhill State Park will be held at 10 a.m. and include cash prizes. Grand entries will be held at 1 and 7 p.m. with the deadline for dancer registration set for 2 p.m.
On Sunday, Aug. 17, the lone Grand Entry will occur at 1 p.m.
In addition to dancing, the third annual youth 3-on-3 Basketball Tournament will be held. The tourney is open to middle and high school youth and teams consist of four players. For more information, contact Recreation Coordinator Matt Mosley at 503-879-1369. Deadline to register is Aug. 8.
Scheduled host drums will be Young Bear and Young Spirit with The Woodsmen as the honorary host drum. Women's traditional and Men's round bustle will be the dance specials with $800 first-place awards and four consolation prizes each. Day pay will be guaranteed for the first 20 visiting drums.
Master of ceremonies will be Edmund Nevaquaya, Charlie TailFeathers will act as head judge and Fred Ike Jr. will be the arena director.
Camping at Uyxat Powwow Grounds is available for $5, which includes a parking pass. Parking is $1 a day or a donation of canned food. Weekend passes are available for $3.
A shuttle also will transport powwow enthusiasts from Spirit Mountain Casino to the powwow grounds.
No pets are permitted around the powwow arena and the powwow is a drug- and alcohol-free event.