Culture
Eclipse prompts change to Grand Ronde Contest Powwow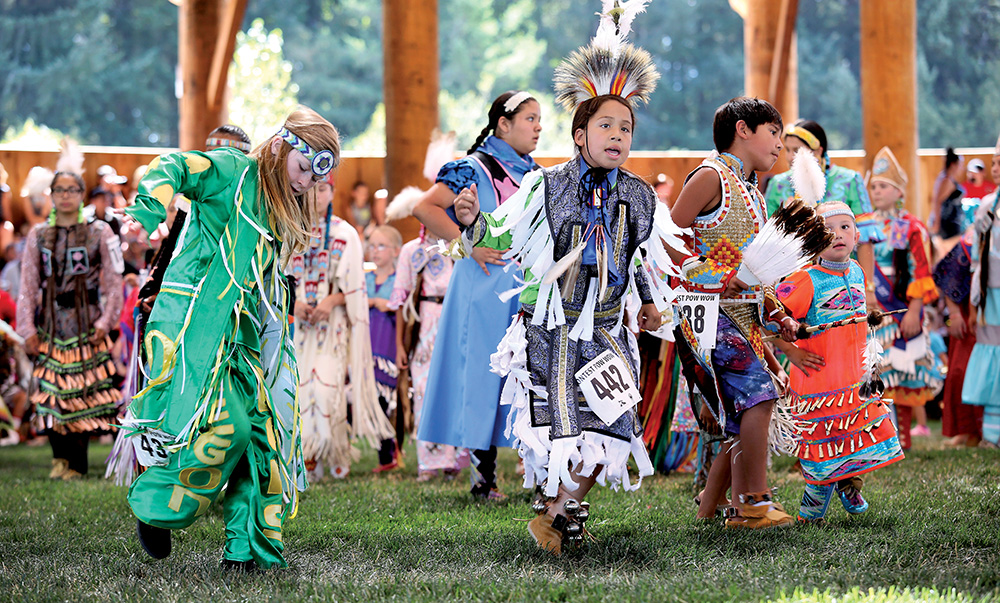 If you go
Grand Ronde Contest Powwow
When: Grand entries are at 7 p.m. Friday, Aug. 18; 1 and 7 p.m. Saturday, Aug. 19; and noon Sunday, Aug. 20
Where: Uyxat Powwow Grounds, 9600 Highway 22 (Hebo Road)
Parking: $1 a day or a donation of canned food; $3 for a weekend pass
More information: 503-879-2037
A noon grand entry at Contest Powwow on Sunday, Aug. 20?
Yes, that is not a typo in the Smoke Signals ad.
Powwow Special Event Board Chair Dana Ainam said the usual 1 p.m. grand entry on the third day of Contest Powwow has been moved up an hour to help travelers get on the road as soon as possible considering the next morning is the total solar eclipse over Grand Ronde and traffic on Highway 18 could be congested.
And that's not the only change.
Adult dance categories have been split in half with an 18- to 35-year-old category and a 36- to 50-year-old category. Golden Age remains older than 50.
"Tribal Council supported additional funding to increase opportunities to attract participants to our event," Ainam said. "Many powwows have moved to a junior adult and senior adult so 28 year olds are not competing against 49 year olds. As you are aware, last year our event was heavily impacted by competing powwows in our region."
Last year's Contest Powwow drew 171 dancers, down from the usually more than 200 who regularly attend.
The new dance categories increase the total prize money in all the dance categories to almost $50,000. The numerous dance contests will feature first-place prizes from $1,000 to $150 depending on age categories.
Other than that, the Contest Powwow is business as usual. Other grand entries are scheduled for 7 p.m. Friday, Aug. 18, and 1 and 7 p.m. Saturday, Aug. 19.
Head staff will include master of ceremonies Casey Wallahee, arena director Fred Ike Jr., head dance judge Charlie Tailfeathers, head drum judge Chase Sayer and host drum Blackstone.
Specials will include a men's fancy sponsored by the Native Wellness Institute of Gresham with a $1,000 first-place prize, a School Is Cool dance sponsored by the Tribal Education Committee, a Round Bustle/Chicken dance with an $800 first-place prize and a Women's Basket Cap dance with an $800 first-place prize.
The Drum Contest will award $20,000 total with first-place drum winning $8,000.
Camping will be available at Uyxat Powwow Ground for $5 with parking. Daily parking will be $1 or a canned food donation, and weekend parking passes will be $3.
Campers will be allowed to stay overnight on Sunday to view the eclipse on Monday morning and help prevent congestion on local roadways. However, no new campers will be allowed at the powwow grounds after Saturday.
A shuttle will be available from Spirit Mountain Casino to the powwow grounds. To inquire about room availability, contact the casino at 800-760-7977.
In addition, the Tribe's Recreation Department will continue its Native Youth 3-on-3 Basketball Tournament for co-ed teams of youth in middle school or high school. Teams are limited to four members.
All teams must have a coach who is 18 or older. There will be a three-point contest and prizes for first, second and third place.
Team registration is required by Friday, Aug. 11.
Per cultural practice, no drugs, alcohol or firearms are allowed at the event and displaying gang affiliation is not permitted at the Contest Powwow.