Culture
Volcanoes event honors Native American veterans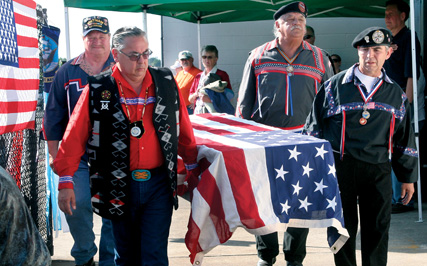 SALEM -- July 5 was the first night of appreciation for Native American veterans held by the Salem-Keizer Volcanoes, a Class A affiliate of last year's World Series-winning San Francisco Giants, but festivities running through July 4-6 represented the team's fifth annual Patriotic Tribute at Volcanoes Stadium.
"I think veterans are one of our most important groups in America," said Jerry Howard, senior marketing executive for the team and director of Game Day Operations. "Because of them, we have free choices they don't have in other countries. There are two defining forces willing to die for you. Jesus Christ and the U.S. soldier. One died for your soul and the other for your freedom."
Howard is an Air Force veteran, having served from 1961-66, and a lifelong baseball professional with 59 years in the sport.
The jam-packed schedule on Thursday, July 5, started with a caisson sitting just outside the gates of the stadium, carrying a flag-draped coffin representing Native American veterans who have walked on. The Grand Ronde Honor Guard, Royalty and Drum, and the Oregon State Defense Force Bagpipe Band playing "Amazing Grace," introduced the night's ceremonies.
The Honor Guard, which included Tribal Elders Gene LaBonte, Reyn Leno and Alton Butler, and Bob Duncan, removed the coffin from the caisson, carried it to a tipi set up on the concourse inside the gates and placed the coffin inside the tipi.
Later, but still before game time, Tribal Elder Jolanda Catabay sang "America the Beautiful" and for the seventh inning stretch, she sang "God Bless America." Becky Yuso sang the national anthem. Ayden Bobb, 11, ran the bases "for every kid who cannot run them," Howard told him before the run.
Tribal Vice Chair Reyn Leno, Tribal Council members Steve Bobb Sr. and June Sherer and Tribal Elder Alton Butler, all Vietnam-era veterans, threw out ceremonial first pitches.
A group that included Native and other Oregon veterans toasted those who have walked on, represented by two table settings with nobody seated.
Lori Piestewa, a Hopi Indian who was the first woman killed in Iraq and the first Native American woman killed in any war, and Ira Hayes, a Pima Indian and one of the six men immortalized in the iconic photograph of the flag-raising on Iwo Jima during World War II, also were honored.
Inning by inning other veterans were honored throughout this year's three-day celebration of the nation's veterans.
"It's a wonderful event," said Bobb. "It doesn't happen too often that they take the opportunity to honor Native American veterans."
"Anytime we honor our vets, especially our Native American vets, I think that's a real appreciation of the people of the Confederated Tribes of Grand Ronde, and all Native Americans," Leno said.
Perhaps the honor of the evening went to the family of Marcellus Norwest, a U.S. Army veteran who walked on in 2011. His family, headed by his wife, Sharon, were brought to home plate, thanked and given plaques for his service.
"It's kind of a mixed feeling," Sharon said before leading the family to home plate. "I'm happy they're honoring him, but it's kind of hard because I still haven't come to terms with losing him."
"It's an honor," said Regina Wheeler, whose husband, Duane, is Marce's brother, "that they're honoring Marce just before powwow."
"It was so nice they honored my brother," said Tribal Elder Marcella Norwest Selwyn. "I still think about him every day."
Tribal families and Elders came out in force for the evening, only to see the hometown Volcanoes lose after the ceremonies 10-2 against a surging Vancouver Canadians team.
Fireworks ended the evening.