Tribal Government & News
Casino honors 2011 Employees of the Year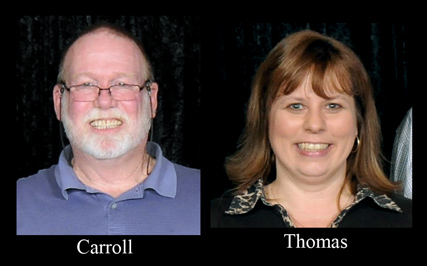 Mark Carroll of Dallas and Becky Thomas of Monmouth have been named Spirit Mountain Casino's 2011 employee and supervisor of the year, respectively.
In addition to recognition and awards, which were presented at a banquet by Chief Executive Officer Rodney Ferguson, Carroll and Thomas will receive extra vacation time and preferred parking spots.
Marketing Manager Greg Fritz said Carroll is popular with guests and colleagues alike. He's also known as a lifesaver.
A security officer, Carroll, 58, is described as an "outgoing and ubiquitous figure at the casino."
"More than a few times he has responded to medical emergencies and, as described by casino Director of Security Joann Mercier, 'breathed life back into someone,' " Fritz said. "His quick reaction time and resuscitation skills have literally brought numerous stricken, unresponsive victims back to life."
Thomas, 41, is described as a 17-year mainstay at the casino, overseeing the property's distribution of cash, chips and other assets.
Fritz said Spirit Mountain Chief Financial Officer Roy Rhode called Thomas a "perpetual whirlwind who scoots about in a cheery, but purposeful manner, as well as a stalwart supervisor of casino cage operations."
Thomas also is said to have been instrumental in the recent arrests of two men charged with trying to pass counterfeit $100 bills at the casino.