Tribal Government & News
General Council briefed on Tribal police force efforts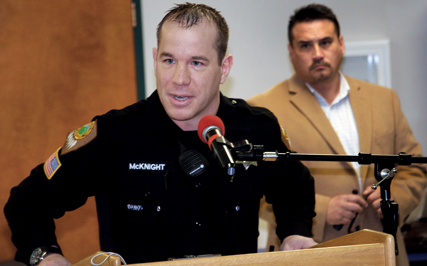 By Dean Rhodes
The Tribe has a state-certified police officer who is on par with other city, county and state law enforcement personnel and by the end of May it should have a police department that is on equal standing with other state agencies, Tribal member and Tribal Director of Development Peter Wakeland said at the Feb. 12 General Council meeting held in the Tribal Community Center.
Wakeland and Tribal member and Tribal Police Officer Jake McKnight outlined the Tribe's continuing development of a police force.
McKnight, who used to be the Tribe's Forest Patrol Officer, graduated from the Department of Public Safety Standards and Training Academy on July 22, 2011, the same day that Gov. John Kitzhaber signed a landmark state law that puts Tribal police on par with other law enforcement personnel in Oregon once they receive appropriate state training.
The state law allows Tribal police to arrest Tribal and non-Tribal offenders on and off Tribal reservation lands without the previously required cross-deputization.
McKnight wrapped up his field training in January with the Polk County Sheriff's Office and now Grand Ronde is one of several Tribes with state-certified police in Oregon, Wakeland said.
The next steps, Wakeland said, are to consummate mutual aid agreements with Polk and Yamhill counties and then establish dispatch services with local dispatching services, adopt and maintain operational forms, obtain tort claim insurance and attain agency certification through DPSST by May 31.
In addition, Wakeland said, the Tribe is still discussing how to use a $672,525 grant from the U.S. Department of Justice that would fund two police officers for three years, but require the Tribe to fund the two positions in their fourth year.
Wakeland said he is not sure if the Tribe will send two Tribal members through the four-month state police certification training like McKnight or hire two police officers who are already trained and certified, but might not be Tribal members.
Tribal Elder Betty Bly said she would support training Tribal members to be on the Tribe's burgeoning police force instead of bringing in outside people.
Tribal Vice Chair Reyn Leno asked Wakeland if the May 31 deadline is guaranteed.
"We're working toward this May 31 deadline for getting certification," Wakeland said. "It's going to be a lot of work, but we're dedicated to doing it."
In other action, Tribal Cultural Resources Department employees Kathy Cole and Julie Brown briefed the membership about an exhibit at Willamette Heritage Center in Salem concentrating on Tribal women that opens in early April.
Titled "Grand Ronde Women - Our Story," the exhibit will honor Tribal women who have been leaders or have gone into the workplace to support their families or the war effort in the 1940s.
"It is an opportunity for our women to tell their story," Brown said.
Brown said Cultural Resources continues to seek photographs of Tribal women who served in the armed forces, held jobs that men typically had during World War II or worked during the Tribal Restoration effort of the late 1970s and early 1980s.
Tribal Elders Val Grout and Violet Folden and Tribal spouse Terry Gray won the $50 door prizes and Tribal Elder Theresa Haller won the $100 door prize.
Grout also opened the meeting with the invocation.
The next General Council meeting will be held at 11 a.m. Sunday, March 4, in the Tribal Community Center.