Tribal Government & News
Tribe attends Oregon marijuana summit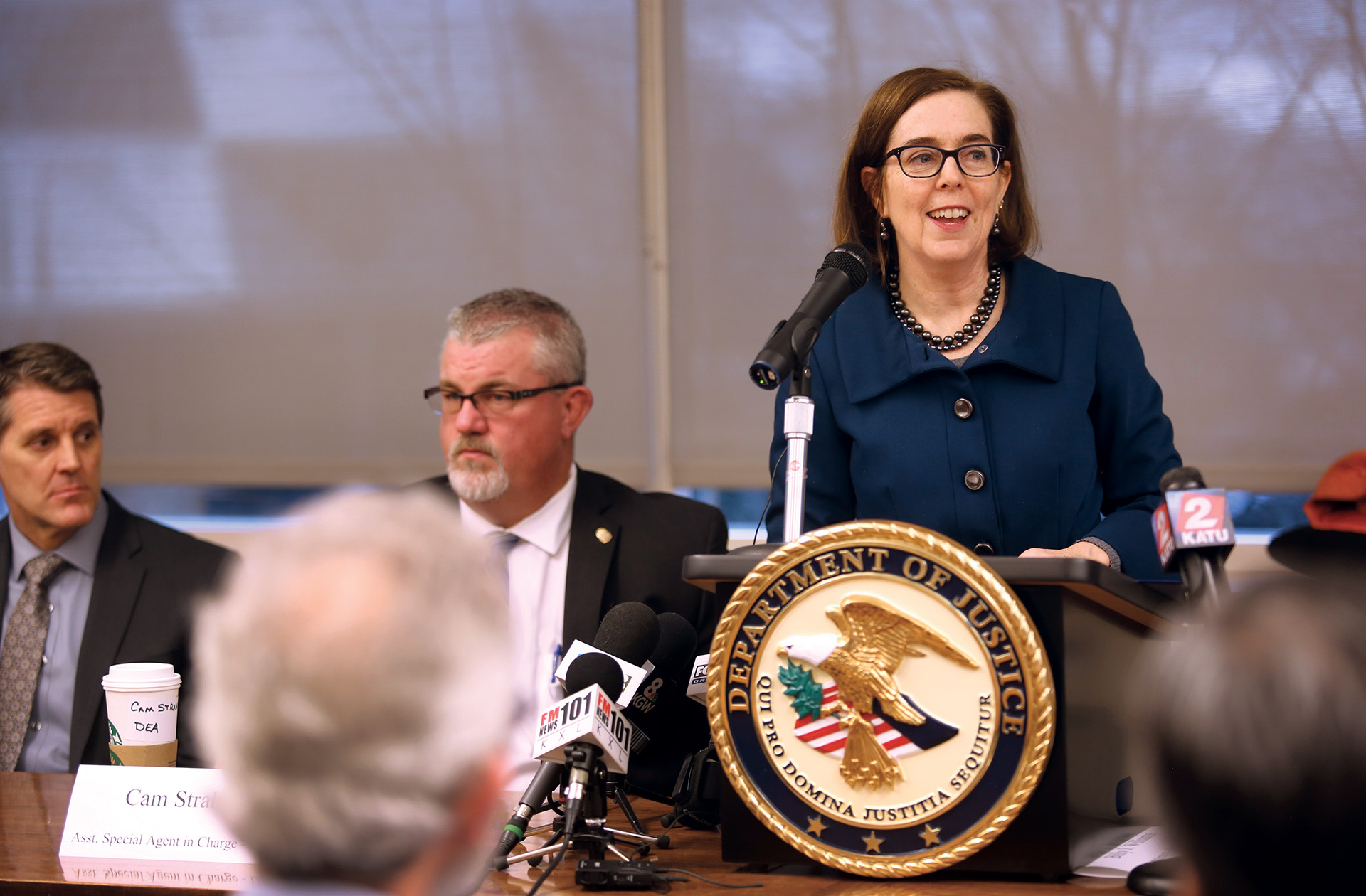 By Danielle Frost
PORTLAND ­­– Grand Ronde Tribal Council member Denise Harvey, Tribal Attorney Rob Greene and Police Chief Jake McKnight attended the U.S. Attorney's Oregon Marijuana Summit on Friday, Feb. 2, representing the Tribe's elected, legal and law enforcement entities.  
They heard Gov. Kate Brown say that Oregon's booming marijuana business is here to stay with a caveat.
Marijuana businesses that operate unlawfully, traffic marijuana across state lines or sell it those under 21 will not be tolerated.  
"We have focused our efforts to make sure we have both a safe and successful cannabis industry in the state of Oregon," Brown said. "U.S. attorney (Billy) Williams has assured my team that lawful Oregon businesses will remain valued stakeholders in this conversation and not targets of law enforcement. … We have worked to build our cannabis industry in good faith and in compliance with the Cole memorandum.
"Our primary focus has been to integrate extensive safety measures into the system. I am certainly committed to keeping legal cannabis in Oregon, but out of the illegal market and out of the hands of kids. I am also dedicated to protecting the will of the voters and the more than 19,000 jobs this industry has created."  
The summit, which was closed to the media, included law enforcement from the local to federal level, cannabis business owners, representatives from the Bureau of Land Management, Department of the Interior and Oregon State Bar Association, state and U.S. representatives and senators, several U.S. attorneys and local, state and Tribal government officials.
"I thought it was very informative," Harvey said. "What surprised me the most was the U.S. Attorneys from several different states represented. My understanding is that this is the first time, and I am very proud of Oregon for bringing a meeting like that together. … It is important to include us in any legislation that is changing and recognize that we are a sovereign nation. However, there didn't seem to be much opposition to Oregon standing by the voters and legalization."
McKnight said he wants to support the will of the voters, but favors tightening overproduction of marijuana.
"It would be good to make it less saturated and not have it going over state lines which have not yet legalized it," he said.
McKnight also said he was "taken aback" by the findings from the Oregon Liquor Control Commission, which oversees marijuana dispensaries.
"When they did stings on some businesses, they found marijuana was being sold to minors, which was my concern as well," he said. "I was worried that minors would have easier access to this."
Greene said it was an excellent meeting with great participation from federal, state, Tribal and local governments, as well as industry representatives. 
"Since Attorney General Jeff Sessions rescinded the Cole memo, there has been uncertainty about how U.S. Attorneys would prioritize the prosecution of marijuana-related cases," Greene said. "This conference did a lot to reassure us in Oregon that the U.S. Attorneys would not be targeting those involved in Oregon's legal marijuana industry. Instead, they will be focusing on what is illegal under both federal and state law."
In September advisory votes, Grand Ronde Tribal voters favored possibly entering the medical marijuana and hemp production businesses, but narrowly voted against becoming involved in recreational marijuana.  
"I don't see us putting something out here unless it is hemp production or THC extraction for medical purposes," Harvey said. "With the fear of it being federal enforcement, we may have overlooked an opportunity. But we had to make sure we weren't jeopardizing anything else."
Hemp production is also of interest at the federal level, where a bill is currently under consideration that would allow Tribes, along with certain research institutions, state departments of agriculture and others to grow hemp under an agricultural program.
The original bill was passed in 2014, but didn't include Tribes and hemp also remained subject to federal drug laws. The new bill, which was co-sponsored by Oregon representatives Suzanne Bonamici, Kurt Schrader and Earl Blumenauer, would remove hemp from the Controlled Substances Act and include Tribes in the groups allowed to grow it.
"Hopefully, the legislators will realize that hemp and marijuana are different," Harvey said.
Oregon voters approved Measure 91 in 2014, which allows residents 21 and older to possess up to an ounce of homegrown marijuana in public, eight ounces at home and grow up to four plants out of public view.
The measure also gave the Liquor Control Commission authority to tax, license and regulate recreational marijuana grown, sold or processed for commercial purposes. The state began issuing commercial recreational marijuana licenses to growers, wholesalers, processors and retail outlets in 2016. 
According to the Oregon Department of Revenue, marijuana tax receipts totaled $60.2 million in 2016. The 2017 figures had not been released as of press time.
After Oregon enacted Measure 91, the Tribe ended pre-employment testing for marijuana at Spirit Mountain Casino and the Tribal government in late 2016.
While marijuana is legal in Oregon, Tribes face often murky waters due to it still being against federal law and Tribal lands are under federal jurisdiction. During the Obama administration, the Cole memo and a U.S. Department of Justice policy statement regarding marijuana issues in Indian Country, released in 2013 and 2014, respectively, established federal priorities in exercising prosecutorial discretion regarding marijuana cases given the federal government's limited resources.  
Essentially, the memos allowed the states to determine appropriate enforcement, with the federal government stepping in to enforce the Controlled Substances Act only when the use, possession, cultivation or distribution of marijuana violated certain provisions, such as distribution to minors, public health issues, contributing to gang activity or possession and use on federal property.   
However, Trump administration Attorney General Jeff Sessions, a well-known marijuana foe, issued a January memo that appeared to yank that authority away from the states that have legalized pot.  
In the memo, Sessions directs all U.S. Attorneys to "enforce the laws enacted by Congress and to follow well-established principles when pursuing prosecutions related to marijuana activities."
"It is the mission of the Department of Justice to enforce the laws of the United States, and the previous issuance of guidance undermines the rule of law and the ability of our local, state, Tribal and federal law enforcement partners to carry out this mission," Sessions said. "Therefore, today's memo on federal marijuana enforcement simply directs all U.S. Attorneys to use previously established prosecutorial principles that provide them all of the necessary tools to disrupt criminal organizations, tackle the growing drug crisis and thwart violent crime across our country."
In his opening remarks, Oregon U.S. Attorney Billy J. Williams said the Sessions' memo provoked a lot of fear and anxiety regarding its exact meaning.
"I don't share those fears," he said. "We have a responsibility to enforce federal laws, but we also have a number of priorities, such as investigating violent crimes, financial crimes, civil rights violations and the opioid epidemic. I view the attorney general's memo as an opportunity to engage with all interested parties. … My view on how to approach a divisive issue is to get in the same room and hear from each other. We need to educate ourselves on what we need to know going forward. … I am very excited that you all are here."
Williams said that Oregon has an "identifiable and formidable" marijuana overproduction and diversion problem.
"We are working with our state partners to do something about it," he said. "But it requires effort to do it together. The facts are what they are. … We think we have a pretty good idea of what the issues are, but like all of you, our lives are data driven. So, we need to have an accurate assessment of the problems we are looking at."
Other Tribes at the summit included the Umatilla and Warm Springs from eastern Oregon. The Warm Springs Tribe made national headlines in 2015 when its members approved a plan to build a facility to grow marijuana on the Reservation and sell it at Tribal stores outside the Reservation. The project has not been completed due to financing difficulties.
In November 2015, the Squaxin Island Tribe in Washington state opened "Elevation," the first-ever retail marijuana store on Tribal lands.