Tribal Government & News
Tribe holds first virtual General Council meeting in response to pandemic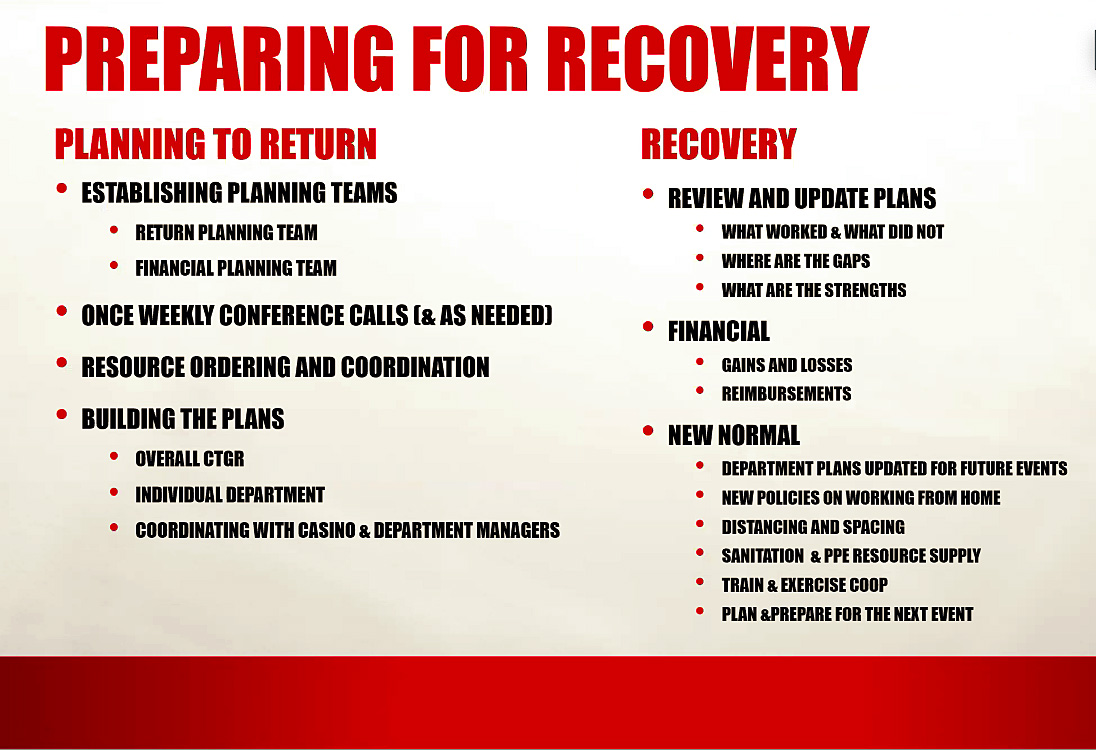 Danielle Frost
Smoke Signals staff writer
When the Confederated Tribes of Grand Ronde government offices re-open fully, things will look a lot different than before the COVID-19 coronavirus pandemic.
"We're evaluating the re-opening daily," Tribal General Manager David Fullerton said. "There will be changes and we're asking you for patience and understanding. We want to keep Tribal members and our staff members safe."
On Sunday, May 3, Fullerton gave virtual General Council attendees a report on the Emergency Management Program's response and recovery efforts during the COVID-19 pandemic via the app Zoom. This was the first remote General Council meeting the Tribe has ever held with close to 70 in attendance.
The meeting opened with an invocation by Tribal Council member Steve Bobb Sr.
Originally, General Council was set to hear an annual report from the Natural Resources Department, but COVID-19 necessitated a different approach.
The Grand Ronde Tribal government began a partial closure of services on March 13 in response to COVID-19, with only essential personnel working remotely or reporting to work, and a total closure of Spirit Mountain Casino occurred on March 18.
Tribal Council also declared a state of emergency at the Tribe on March 17. The resolution allowed Fullerton to oversee the Tribal response to the pandemic and use Tribal resources to respond and recover from its effects. One of the first things to happen after the declaration was to activate the Emergency Operations hub at the Tribal Community Center.
The Tribe's Emergency Management Program was established several years ago and since then has had staff participate in numerous drills including a major earthquake practice, active shooter event, communicable disease exercise and shelter-in-place.
"We want to make sure the membership knows we were prepared for an emergency like this," Fullerton said. "We had (already) developed partnerships with local, state and federal agencies, established HAM radio operation and a continuity of operations plan, so we knew who was in line to work if someone was unavailable."
The Community Center was established as the primary Emergency Operations hub and equipped with communication towers, supplies and equipment.
As the pandemic began to infect people across America, the emergency operations team gathered information and culled data, held daily meetings, established a help line, determined necessary operations on the government campus, established needed resources, and coordinated with local, state and federal agencies, as well as other Tribal nations and organizations.
"We've been serving more than 800 meals a week to Elders during this time," Fullerton said. "It was one of the things we started first. Now, government staff and Emergency Management are focused on preparing responsibly for recovery."
Tribal government operations will resume on Monday, May 18. A date for re-opening Spirit Mountain Casino had not yet been set as of Smoke Signals press time.
"We need to determine what will be the new normal," Fullerton said.
Some likely changes will include having the Elders Activity Center continue to serve take-out meals instead of hosting onsite dining, limited walk-ins at Tribal government offices, avoiding the shaking of hands, no in-person meetings, locking exterior doors to governance buildings if needed, wearing protective masks when around others, screening staff for symptoms and changing responses to housing maintenance requests.
Some departments will essentially remain shuttered, with the Education Department continuing its services remotely through the rest of the school year and summer, and Chachalu Museum & Cultural Center remaining closed to visitors.
"The re-opening will not look the same as pre-pandemic," Fullerton said. "Taking precautions are things we will work on as we move to re-opening. … When we get the COVID-19 testing capacity and contact tracing available, then we will be ready to move forward."
Following the presentation, Fullerton fielded several questions from the virtual audience ranging from wanting more details regarding re-opening of Spirit Mountain Casino to upcoming housing inspections.
"To open the casino, we are looking at recommendations from the National Indian Gaming Association and seeing how they will do social distancing of the machines, whether it's moving them, sanitizing after each use or turning some off," Fullerton said.
Tribal Council Vice Chair Chris Mercier added that Grand Ronde and other gaming Tribes in Oregon were planning a meeting to discuss when to open. Mercier serves as vice chairman of the Oregon Tribal Gaming Alliance.
"We're hoping to sync openings," he said. "Oregon Tribes are trying to keep each other in the loop."
According to the Confederated Umatilla Journal, the Umatilla Tribe outside of Pendleton is tentatively going to re-open on Friday, May 22, and will require casino guests to wear masks when they are moving around the casino floor, but not when they are eating, drinking or gambling at a slot machine.
Other precautions Wildhorse Casino is planning include frequent wiping down of slot machines, refillable sanitizer stands "everywhere" and the closing of the casino in the early morning hours for a thorough cleaning.
Tribal Attorney Rob Greene said the general managers of Oregon Tribal casinos also are developing best practices in preparation to open.
"The Oregon Tribal Gaming Alliance will be an avenue that people will hear from on regarding how we are opening in a safe and appropriate manner," he said.
Tribal Chairwoman Cheryle A. Kennedy said that she was pleased to see that almost 70 people attended the first-ever remote General Council session, which is more than usually attend in person.
"I really appreciate hearing all of the questions," she said.
The meeting adjourned at approximately 12:15 p.m. without the usual raffle drawings for $100 and $50 door prizes. It can be viewed by visiting www.grandronde.org and clicking on the Government tab and then Videos.