Culture
Tribal member Billy Bobb receives state promoter's license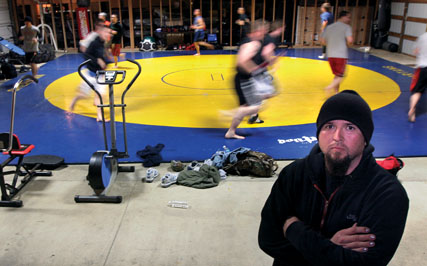 Tribal member and lifelong fighter Billy Bobb has attained professional status as a mixed martial arts promoter.
His gym, the Dog Pound in the old Sheridan bus barn by Deer Meadow, has been home to about 30 fighters in recent years, but with Bobb's state-awarded promoter's license, granted in mid-March, the Dog Pound is ready to rock and roll.
"We've been involved with MMA for a number of years," said Bobb.
Three years ago, when local fighters trained at Willamina High School in off hours, the team took fighters to the Roseland Theater to fight in Portland.
"Paul Hasslen had his first fight there, and it started growing," said Bobb.
Willamina Middle School wrestling coach Ray Carpenter, himself a state champion wrestler from Willamina, trained Hasslen.
Now, to start off his professional promoting career, Bobb has set up a match at his old stomping grounds, Willamina High School. The card will include up to 15 fights on May 14. Dubbed "Fight For Our Schools," the event is a fundraiser for cash-strapped Willamina schools.
Doors open at 6 p.m. and the fights start at 7.
"If they all go three rounds," said Bobb, "you've got a long night."
Support for this fight card comes from Spirit Mountain Casino and the Confederated Tribes of Grand Ronde, among others.
The Dog Pound name comes from the locker room at Willamina, also called the Dog Pound, which is a takeoff on the Willamina mascot, the Bulldog.
A lot of state championship wrestlers come out of Willamina, said Bobb, "and that's the perfect background for MMA fighting."
Mixed martial arts fighters come from a range of fighting backgrounds, he said, including wrestling, jiu jitsu, kung fu, karate, boxing, kickboxing or any conglomeration of all those different styles.
"It just started growing and people wanted to join," said Bobb.
Tribal member and Forest Patrol Officer Jake McKnight, another professional MMA fighter from the area, sometimes practices at the Dog Pound, Bobb said, though he is affiliated with the Chaos gym in Salem.
"Jake McKnight started taking fights as an amateur. That got everything started. He's the pioneer for this area," Bobb said.
Others at the Dog Pound are following in his footsteps.
Bobb's promoter license comes through the Oregon State Athletic Commission, a division of the Oregon State Police. It required the gym to pass a full background and financial check and requires that Bobb be insured with a $10,000 bond. He also pays a $100 annual fee to the Boxing Commission, he said.
Between licensing regulations and gym costs, including a cage, Bobb estimates he has already invested $20,000 in the effort.