Health & Education
Tribe honors 101 graduates during June 21 event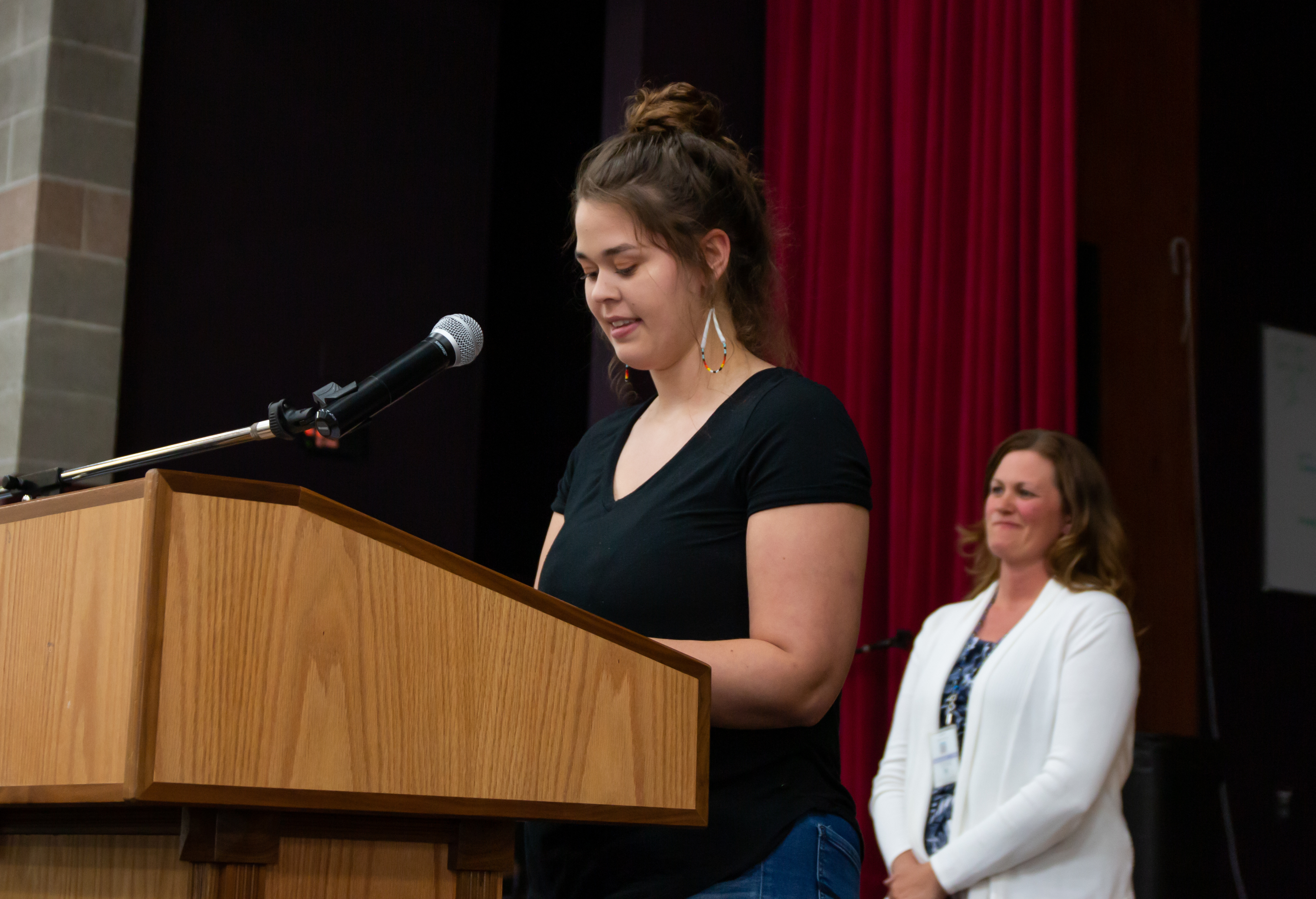 By Danielle Frost
Smoke Signals staff writer
The Confederated Tribes of Grand Ronde honored 101 graduates for earning eighth-grade promotion certificates through doctoral degrees during the annual Graduation Celebration held Friday, June 21, in the Tribal gym.
Interim Education Department Manager Bryan Langley welcomed graduates and their families to the celebration and the invocation was delivered by Tribal Council Secretary Jon A. George.
All graduates' names will be added to a plaque that lines the wall in the Adult Education Building.
"This event is to recognize the accomplishments of our Tribal students," Langley said. "My favorite aspect is seeing students who I have worked with over the years accomplish an educational goal they set out to achieve. It is also great when they come back to work for the Tribe."
After dinner, Willamina High School graduate Trinity Sherwood spoke and then eighth-grade and high school graduates were honored.
After Eastern Oregon University graduate and Acting Tribal Librarian Harris Reibach spoke, GED diploma and college graduates were honored.
All eighth-graders received a Pendleton wallet, and high school, GED and associate degree graduates received a Pendleton saddle blanket. Students earning bachelor's degrees received a larger blanket and those at the master's and doctoral degree levels also received a Chinook carved paddle.
The Tribe's Education Committee includes Tammy Cook, chair; Michael Cherry, secretary; and Valeria Atanacio, Michael Herrin, Peter Grout, Shelby Maerz and Chris Mansayon.
Tribal graduates honored were:
Eighth grade: Brooklyn Bailey, Gage Bishop, Kai Connelly, David Cooper, PJ Cureton, Daysia Duran, Jaden Haller, Teya Hiebert, Future Leno, Johnny McCormick, Hattie Mercier, Bryanah Lopez, Kylie Quinn, Kaleigha Simi, Shasta Simmons, Donovan Smith, Kady Smith, Kylie Smith, Hailey Tinoco, Denali Williams and Cole Youso.
High school: Makenzie Aaron, Miguel Adams, George Ankeney, Ariana Bennett, McKenzie Colton, Nick Colton, Christian Cooney, Sydney Dizick, Dyami Eastman, Brandon Gatchell, Tynan George, Tessa Gilbert, Jacob Haller, Jurnee Haller, Josie Justen, Kenneth Kittleson, Dylan Knight, Kailiyah Krehbiel, Evan Leno, Maleah Leno, Saghaley Lewis, Austin Lewis-Little, Dylan Page, Kalayo Pedersen-Harmon, Austin Ravia, Kaleb Reid, Jordan Reyes, JC Rogers, Dakota Ross, Trinity Sherwood, Kaelynn Simmons, Phillip Stryker, Zailey Wacker and Lexus Williams.
GED: Madeline Ainsworth, Kaytee Ann Mata, Sasheen Baker, Dorene Gillespie, Emma Leno and Adam Martin.
Certificates: Katelynn Bliven, Josh Biery, Heather Kent and Keri Kimsey.
Associate degrees: Maxwell Hale, Catherine Hill, Heather Kent, John Liljequist, Jesse Lippold, Julie Lomboy, Paxton Parazoo, Shaylynn Shandy, Angie Smith, Tajia Ulestad, Gary Westley and Cheyenne Woods.
Bachelor's degrees: Jeremy Bailey, Sean Brooks, Shane Cooney, Melanie Davis, Kory Ganuelas, Genevieve Henny, Ashlee Hitchcock, Kaylee Jenness-Ardt, Jared Kittleson, Kayla Kneeland, Kara Langley, Rylie Lawrence, Lindsay McCue, Cole Motheral, Melissa Palanuk-Mercier, Helen Tonso and Spencer Weiss.
Master's degrees: Joren Clowers, Sharrah McKenzie, Hannah Portwood, Harris Reibach, Natalie Thomas and Ashley Turley.
Doctorate degree: Stefanie Swan.