Tribal Government & News
Casino names 2010 Employees of the Year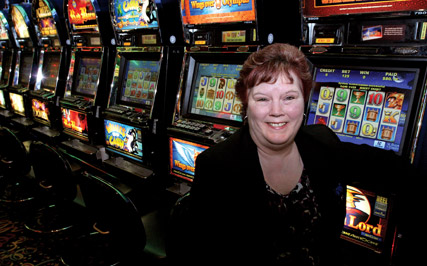 By Angela Sears
Spirit Mountain Casino Marketing Coordinator
Slots Supervisor Holly Williams of Cloverdale and Environmental Services employee Michael Mary of Willamina were named Supervisor of the Year and Employee of the Year, respectively, at Spirit Mountain Casino.
The announcement was made during a banquet honoring the casino's outstanding employees and supervisors of the month.
Chief Executive Officer Rodney Ferguson and Chief Operating Officer Randy Dugger presented the awards to Williams and Mary, who were both surprised in accepting the casino's highest honors for its approximately 1,500 employees.
Williams, who was named Supervisor of the Quarter for October-December, has been with the casino since it opened its doors 15 years ago and has worked as a shift supervisor for the last six years.
"I love my job and love the people I work with," Williams said.
Mary, a dedicated and consummate team player who "can fix anything," according to his manager, has been employed at Spirit Mountain for the past 10 years.
During that time, Mary has had a perfect attendance record and become an invaluable "utility man" for his and other departments. He was the casino's Employee of the Month in September.
Only Employees of the Month and Supervisors of the Quarter were eligible to be named the 2010 Employee and Supervisor of the Year. A committee of managers and directors narrowed down the list of 24 Employees of the Month - one each for back-of-house and front-of-house - and eight Supervisors of the Quarter. The casino's executive team then selected the two winners.
"We have many outstanding, dedicated and loyal employees who are committed to providing superb guest service," Ferguson said. "It was a very difficult choice, but Holly and Michael stood out as exemplary employees who raise the standards for all our employees to emulate."
Spirit Mountain Casino, the main business enterprise of the Confederated Tribes of Grand Ronde Community of Oregon, is the largest employer in the Polk-Yamhill counties area.