Culture
Tribal member Nicomi Levine participates in ICWA panel discussion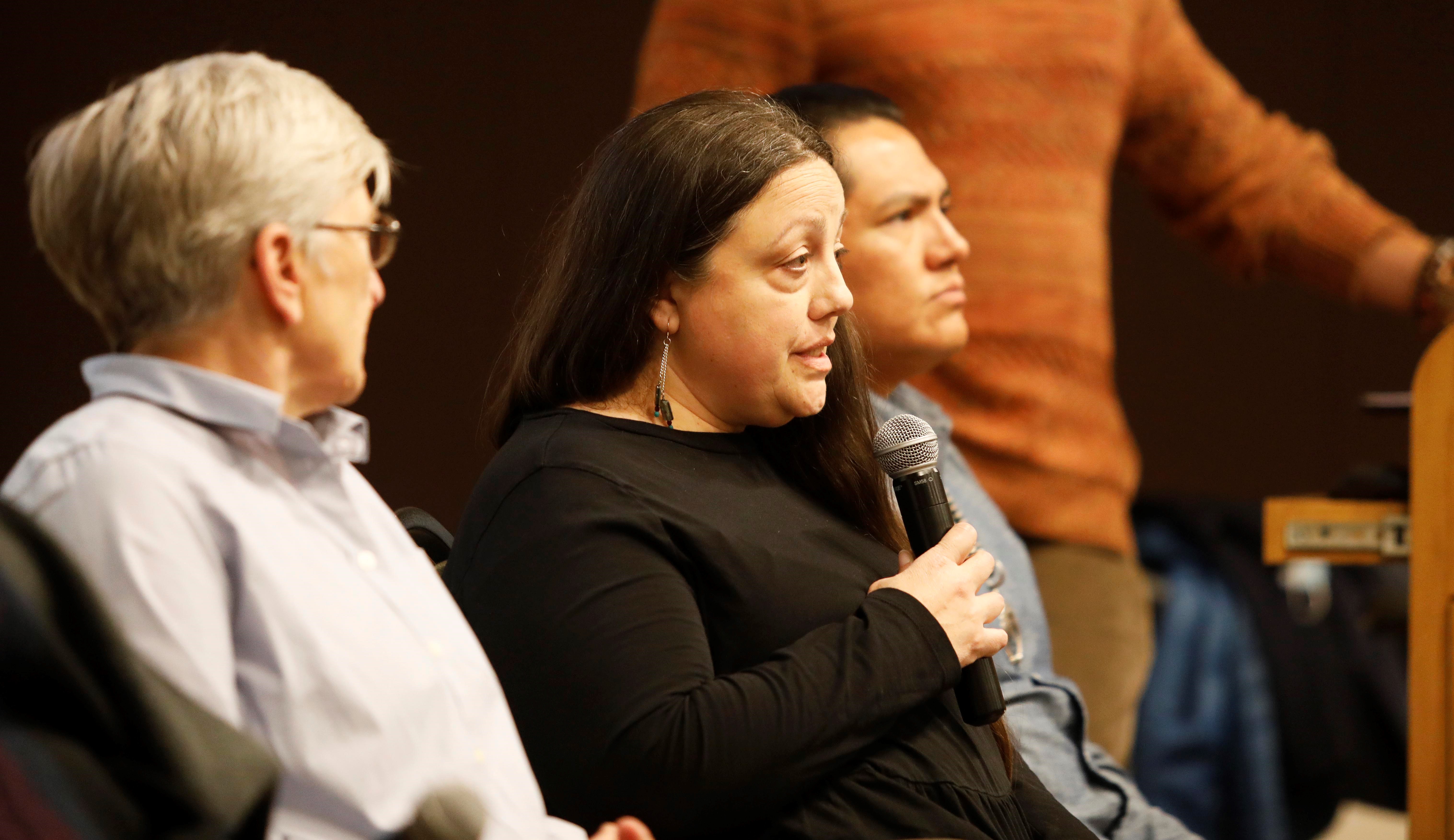 By Danielle Harrison
Smoke Signals assistant editor/staff writer
SALEM -- Grand Ronde Tribal member Nicomi Levine says her work as an Indian Child Welfare Act unit supervisor with the state of Oregon is far more than a job to her.
"I work for the Oregon Department of Human Services, but I'm also a mom and grandma. Three of my four children came to me through foster care," Levine says. "There were three sisters and they (caseworkers) were desperate to find an ICWA placement and I understood the importance of keeping children connected to each other and their Tribe."
Even though she was a single mother, Levine decided to foster all three girls. That was 10 years ago.
"Without ICWA, they wouldn't be placed together or have connections to cultural activities or live in a culturally appropriate home," she says. "We're really engaged with the Native American Youth and Family Center and are a part of the Portland Native community. It's been really incredible. On the level of work, my job is to support these children having the connections to their Tribe. It helps with healing Tribes, families and communities."
Levine participated in a panel discussion about the past, present and future of ICWA on Wednesday, Nov. 2, at Willamette University's Kaneko Commons. Approximately 15 people attended the in-person event with 275 more logged on to Zoom and Facebook Live.
The panel, "Complex Conversations: Tribal Rights Are Human Rights – Protecting Oregon's Indian Child Welfare Act," also included lawyer Lea Ann Easton, who represents Tribal governments in the Pacific Northwest, Oregon Department of Health Services Office of Tribal Affairs Director Adam Becenti (Diné Nation) and Oregon Child Welfare Deputy Director Aprille Flint-Gerner.
The event was sponsored by the department's Office of Equity and Multicultural Services and moderated by Director Dion Jordan. 
Congress passed the federal Indian Child Welfare Act in 1978 to extend protection to Tribal families by keeping Tribal children connected to their culture and to help preserve Tribes. Before the act was passed, Native children were frequently removed from their families and communities, and typically placed with non-Native families, often permanently without any connection to their roots.
In 2020, the Legislature passed the Oregon Indian Child Welfare Act, which aligned with the federal law and also recognized the needs of the nine federally recognized Tribes in the state.
The constitutionality of the federal act will be argued before the U.S. Supreme Court on Tuesday, Nov. 9, during the Haaland v. Brackeen case and the Confederated Tribes of Grand Ronde will discuss it during a Tuesday, Feb. 15, Facebook Live session.
Haaland v. Brackeen is the lawsuit brought by Texas (and previously Indiana and Louisiana) and several individual plaintiffs, who say the ICWA is unconstitutional. The Supreme Court generally issues its rulings on cases in May and June, according to supremecourt.gov.
"The Indian Child Welfare Act has a long history of protecting cultural connections for Tribal children," Becenti says. "This conversation peels back the complex layers of Tribal sovereignty, government-to-government relationships, Indigenous rights and how we will continue to amplify the voice of Tribes."
Becenti adds that starting in the mid-1800s and until the 1970s, Tribal children were removed from their communities in an effort to assimilate them into dominant society through a variety of measures including boarding schools far away from their communities and through the foster care system.
"This resulted in historical trauma and distrust of governmental agencies," he says. "Today revolves around recognizing and upholding Tribal sovereignty. With that said, the United States has a very poor track record of upholding sovereignty."
Easton says that learning about the historical trauma suffered by Tribal members, particularly Elders who had memories of being forced to attend boarding schools, taught her how important it is keep children connected to their culture.
"A Native child has a unique relationship to the Tribe that is unlike any other," she says. "The U.S. Constitution acknowledges Indian Tribes (as sovereign). It's a political relationship and not only based on treaties. That is the basis for how federal law has evolved. Now, it's under attack with the Brackeen decision at the Fifth Circuit (Court of Appeals) and others that seek to undermine Tribal sovereignty."
She adds that the non-Native families at the center of these cases are not bad people, but are caught up in poor decision making at the state level.
"There are a lot of well-meaning people who get Indian children sent to them," Easton says. "They bond with them, and then the state decides a few years later to comply with ICWA, remove the children and everyone is traumatized. If there was better compliance with the act up front, we wouldn't have these traumas to these families."
The panelists were asked what they think may happen if the Supreme Court doesn't uphold ICWA.
"What could happen is that it could put all of Tribal sovereignty into question," Becenti says. "It sets a dangerous precedent which creates a domino effect. … If you take away the collective rights of people, you take away human rights of life, liberty and security."
Flint-Gerner offered another perspective.
"There are many of us working in child welfare who are committed to living out the spirit and practice of ICWA no matter what happens," she says. "It's important that this just isn't limited to child welfare work. We need to share the message around about the importance of Tribal sovereignty. This is a big deal. This matters."
Easton says that placing children in culturally appropriate homes helps keep them connected to the Tribe and their identity.
"Think about what happens if a child is placed in a home without any of those standards," she says.
She also briefly touched on the Grand Ronde Tribe and its successes since 1983's Restoration to federal recognition, when the Tribe only had five acres and a cemetery to its name.
"Look at how successful they are now," she says. "There's very powerful things that happen when people get to identify with and reclaim their culture. We should support it as much as we can."
Levine was asked what effects she potentially sees happening if ICWA is overturned and how it relates to case practices in child welfare.
"The first thing that comes to mind is disproportionality," she says. "The entire purpose of why it exists was the sheer number of Native children entering foster care. Those protections will go away. I cannot even imagine what would happen without it. The purpose is to keep children and their (extended) families together. Without that protection, so many more will enter foster care. We need to do everything we can do to get children home as soon as possible. It's frightening to imagine what will happen. The Tribe knows what is best for Native children. We will not be serving them to the best of our abilities without that input."
Complex Conversations is a series of discussions on equity-related topics and usually intended for internal employees. This panel discussion was the first time the public was invited to participate.
"The complexity of the Indian Child Welfare Act conversation made us ask ourselves, 'How we can best serve Tribal communities within Oregon.' " Jordan says. "How can we open Complex Conversations to engage future leaders of Oregon? We serve through knowledge, laying a foundation for why complex conversations are necessary and making people aware of what's at stake."