Tribal Government & News
Community Fund celebrates 25 years of giving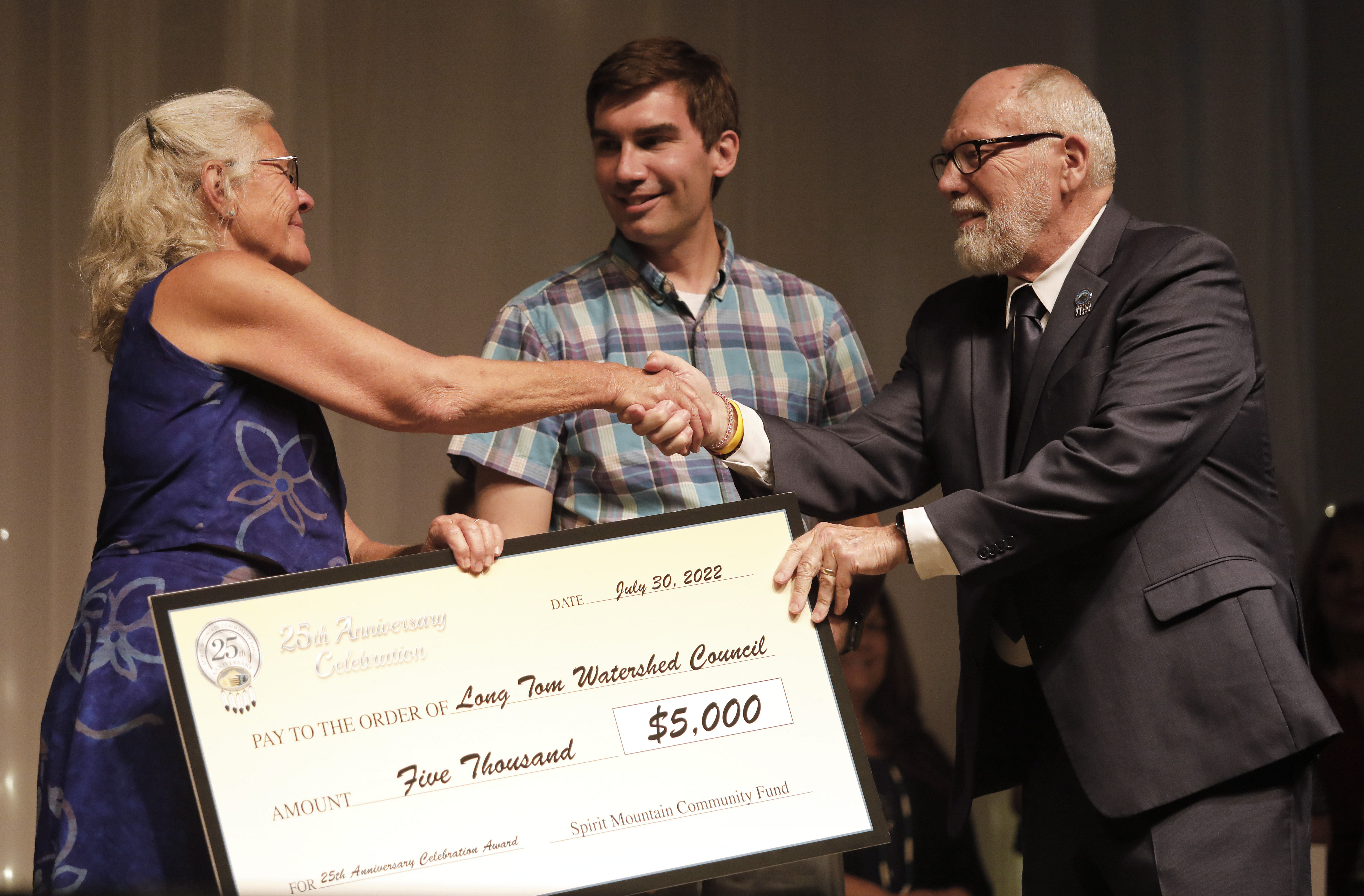 By Danielle Harrison
Smoke Signals assistant editor/staff writer
Spirit Mountain Community Fund celebrated 25 years of giving by awarding close to $800,000 in grants to nonprofits and Oregon Tribes.
Grants were awarded during a 25th anniversary dinner celebration held at Spirit Mountain Casino on Saturday, July 30, with approximately 200 attendees that included past and present Tribal Council members, Elders, Hatfield Fellows, Spirit Mountain Community Fund employees and board members, as well as representatives from various nonprofits and several Oregon Tribes.
"It's great to see so many of you here tonight," Community Fund Director Angela Sears said. "I'm honored, blessed and very thankful for our nonprofit partners. We're here to recognize the contributions of those who came before us and the partnerships we have created over the years. Your leadership, vision, dedication and generosity has allowed us to create a positive change for the past 25 years."
The event began with a drum song by Tribal Council member Jon A. George, Tribal musician Jan Michael Looking Wolf Reibach and Tribal members Ty George and Anthony Quenelle.
The Grand Ronde Color Guard brought in the flags followed by members of Veterans and Grand Ronde Royalty. Jon A. George gave the invocation and Reibach performed a flute song.
Tribal Council member Denise Harvey, who also serves on the Community Fund Board of Trustees, said the fund was dedicated to honoring Tribal traditions of sharing and giving back to the community.
"We're approaching $90 million in giving and that's amazing," she said.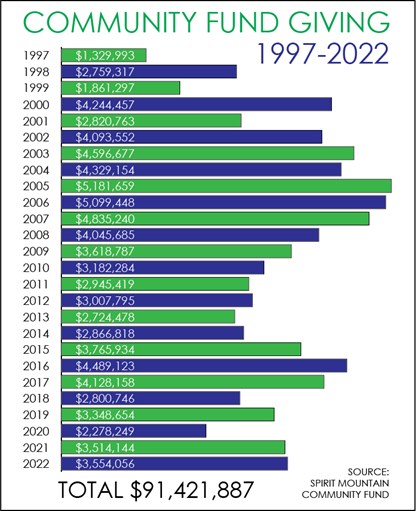 Graphic by Samuel Briggs III
Sears introduced Board of Trustees members. They are Chairman Chip Lazenby, former state Sen. Arnie Roblan, Harvey, Spirit Mountain Casino Assistant Chief Executive Officer Camille Mercier, Tribal Council members Michael Cherry and Jack Giffen Jr., state Rep. Karin Power and Clackamas County Commissioner Martha Schrader.
All nine Tribal Council members attended: Chairwoman Cheryle A. Kennedy, Vice Chair Chris Mercier, Secretary Michael Langley, Lisa Leno, Kathleen George, Jon A. George, Giffen, Harvey and Cherry.
Former Tribal Council members in attendance included Kathryn Harrison, Andy Jenness, Henry Petite, Candy Robertson, Jan Reibach, Angie Blackwell and Brenda Tuomi.
Sears also introduced Community Fund employees: Program Coordinator Angela Schlappie, Administrative Assistant Marissa Leno, and Summer Youth Program interns Laney DeLoe and Shasta Simmons. Grants Coordinator Jesse Knight was unable to attend.
Additionally, past Community Fund directors were introduced. They are Shelley Sneed, Kathleen George, Blackwell and Cherry.
Royalty members performed "The Lord's Prayer" and then Jon and Ty George drummed a food song.
During the dinner of summer salad, smoked bison, potato puree, asparagus, vanilla lemon bar, huckleberry cheesecake and raspberry mousse, attendees viewed a video featuring Tribal Council members, board members and grantees.
Kennedy delivered the keynote address and emphasized that throughout the Tribe's history it has always given back to the community, even in personally dire circumstances.
"I'm honored to stand before you and talk about the wonderful work the Confederated Tribes of Grand Ronde have done," Kennedy said. "Our people have had so many struggles, but we have a rich culture. … Our principles of giving are grounded in our history, to look past any situation and I believe that is why we are successful today. I believe that guided by our principles and values is that we help one another. … Establishing the Spirit Mountain Community Fund was our way of giving back to the people who helped us."
Spirit Mountain Casino Chief Executive Officer Bruce Thomas recalled the "early days" of trying to get a Tribal casino built in the early 1990s.
"What I recall is an extraordinarily challenging time," Thomas said. "The Tribe had made the decision to pursue casino gaming and at the time there was nothing like it in the state of Oregon. Most Tribes who had established casinos elsewhere hired professional gaming companies and paid them a large amount of money. The proposals we got were not very good so we made the decision to try to do it ourselves."
Thomas said that the group had the skills but not the business experience, plus most of them were in their 30s or younger.
"We had to go and find someone to lend us $45 million so we could get the casino built," he said. "We were able to pull it off and get financing and 10 months after the conversation with John Hancock in Chicago, we were the first major casino in the state (in October 1995)."
Facing intense criticism and threats of corporate taxation, the casino decided to partner with the community and launched the Community Fund in 1997, where 6 percent of all casino proceeds are allocated to local nonprofits.
"It wasn't a hard decision to offer the Community Fund," Thomas said. "We were fortunate to have kind, fair people involved in that process. … The message here is really about how much normal people can accomplish when they work well together."
Lazenby reflected on his years of service as a trustee.
"The past 15 years on this board have been some of the richest and most rewarding of my life," he said. "The real value of the fund is doing the quiet good things, and making things better for the community, people and Tribe."
After dinner concluded, 10 celebration grants for $5,000 each were announced by individual board members and Community Fund employees to recognize organizations providing "exceptional support and services in their communities."
The grants went to the Olalla Center, Oregon Justice Resource Center, Lutheran Community Services Northwest, Parrot Creek Child & Family Services, Willamette Vital Health, Salem Dream Center, Long Tom Watershed Council, McMinnville Area Habitat for Humanity, Boys & Girls Club of Western Lane County and the Dougy Center.
Additionally, five youth grant-making awards of $5,000 each were announced by DeLoe and Simmons for the Jackson Street Youth Shelter, Clara's Closet, Salem Free Clinics, SABLE House and Marion Polk Food Share, Inc.
Lastly, seven Tribal grants in the amount of $100,000 each were awarded to:
The Confederated Tribes of Warm Springs for its project, Our Children, Our Legacies;
Coquille Indian Tribe for its project, Coquille River Salmon Project;
Confederated Tribes of Grand Ronde for its project, Grand Ronde Health and Wellness Salmon Pit;
The Klamath Tribes for its project, Klamath Tribes Water Preservation;
Confederated Tribes of the Umatilla Indian Reservation for its project, Tamastslikt Wayfinding Signage;
Burns Paiute Tribe for its project, Economic Development Building Capacity Grant;
And the Confederated Tribes of Coos, Lower Umpqua & Siuslaw for its project, CTCLUSI Native Language Enhancement Program.
The 25th Anniversary Celebration concluded with Ty George and Quenelle drumming as the flags were retired by the Color Guard.