Culture
Tribal chair becoming a hologram to tell the tale of Oregon's first peoples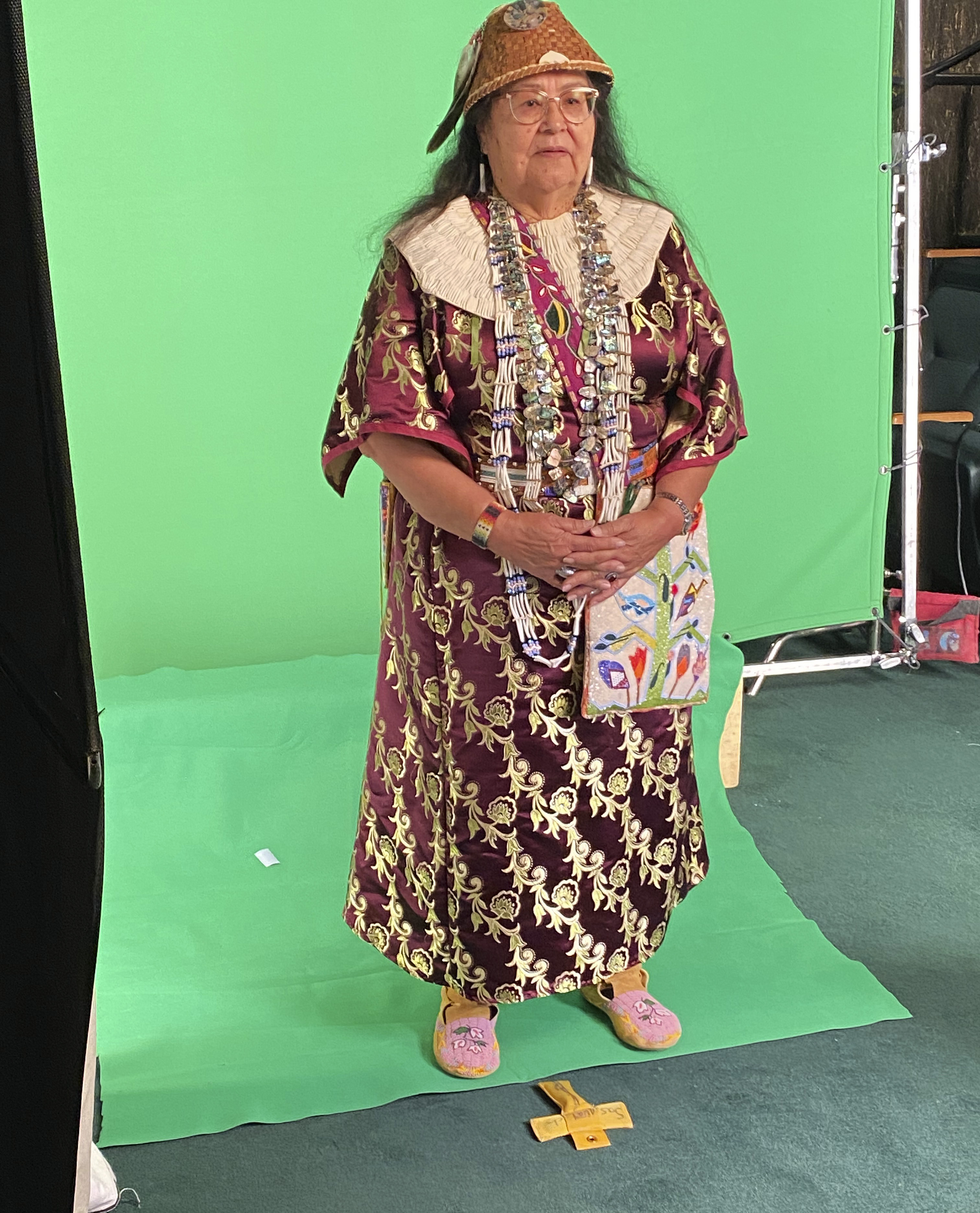 By Danielle Harrison
Smoke Signals staff writer  
OREGON CITY -- Tribal Council Chairwoman Cheryle A. Kennedy is no stranger to sharing the Grand Ronde Tribe's history and experiences with fellow Oregonians.
Now, she will share it every day for those who view the "Oregon's First People" film at End of the Oregon Trail Interpretive & Visitor Information Center. It has been closed for several months due to the COVID-19 pandemic, but Executive Director Gail Yazzolino is hopeful that it will be open sometime this spring.
"We are very excited about this film," Yazzolino said. "It is a dream come true ... a milestone to be at a point where we can share this project with the (Grand Ronde) community."
The film is expected to be complete by the end of November. Kennedy is featured as a hologram welcoming film viewers to Willamette Falls, which is located near the center.
"My ancestors are from this place," she says. "They lived in villages on these lands, fished at these falls and regulated commerce in the region for thousands and thousands of years. My great-grandfather was Chief Wacheno. He was a chief at Willamette Falls when the settlers arrived in Oregon."
Kennedy speaks about how the Native people became ill after the settlers arrived and eventually had their villages destroyed, plankhouses burned and were removed from their homelands.
"Today, we are rebuilding our community and our homelands," she says. "We are a thankful people, even in hardship. For we know it has made us stronger and has given us the ability to succeed."
 The 37-minute film was financed through grants, matching funds and in-kind donations.
"We've very close to completing it," Yazzolino said. "Cheryle's holograms are perfect and bring credibility to the film. We are very grateful for the involvement of the Grand Ronde Tribal leaders and staff."
Tribal Council Secretary Jon A. George serves on the Clackamas Heritage Partners Board of Directors, which operates the museum.
"I want to thank Cheryle," he said during a Legislative Action Committee meeting. "It's a great opportunity for us to be able to tell our story at the falls."   
George and Yazzolino have been working on ideas for a film premiere, along with other projects.
Yazzolino first became interested in including more Tribal history at the museum after joining the staff in 2004. The museum temporarily closed in 2009 due to the recession and low visitor numbers. With the help of grants, it was able to reopen, and Yazzolino subsequently redid the business plan and pored through consultant reports to see where it could improve.
"One thing we needed to change was the programming," Yazzolino said. "We needed to tell the whole story. We made major changes and also reached out to the Tribe, and to the Oregon Black Pioneers."
The Tribe partnered with the museum on different projects, including signage describing the Tribe's ceded lands and the effects of westward migration. Tribal Elder and artisan Greg Archuleta, Tribal Historian David Lewis and Ceded Lands Manager Michael Karnosh led those efforts.
"It is historical signage that depicts the Native experience," Yazzolino said. "We wanted to enhance that again. Jon and I discussed future exhibit opportunities with the Tribe, and Cheryle and Greg talked about how cool it would be to have their story told. That dream never left us."
In early 2019, Yazzolino applied for and received a Metro Enhancement Grant for the film. Between the $40,000 received from that, $78,000 in matching funds from the Clackamas Heritage Partners general fund and $15,015 of in-kind donations from the Tribe, the interpretive center had enough funds to begin production of the film.
"The end of the Oregon Trail story gives us an opportunity and responsibility to educate visitors of the human core, persistence, resilience and other qualities that are universal to our humanity," Yazzolino stated in the grant application. "In a time where many people are focused on differences and difficulties, there are many forgotten virtues to our differences to celebrate. The Native American stories of then and now illustrate vibrantly resilience, persistence and life."