Health & Education
Kandee Little named Employee of the Year at Health & Wellness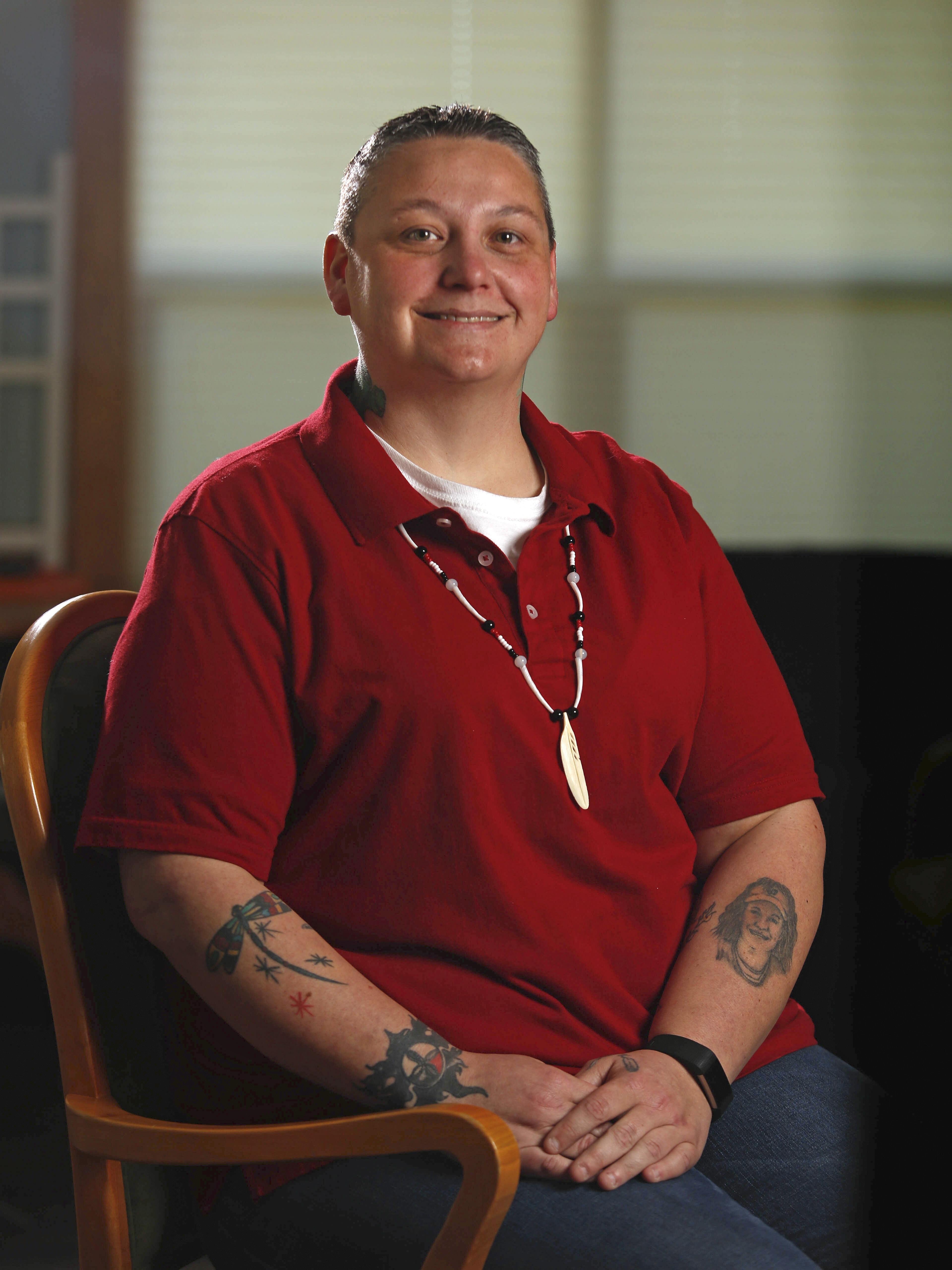 By Danielle Frost
Smoke Signals staff writer
Tribal member Kandee Little's office at Black Bear Lodge is a testament to her busy work life: Craft projects, posters advertising disease prevention and education, and upcoming community events are scattered about the space.
As the Tribe's Activities/Wellness Promotion Coordinator, Little has her hands full. But it's a job she loves.
"I've never actually had a job here that I didn't enjoy," she says. "But this job is the best one, even though I didn't feel that way at first."
Little's dedication recently resulted in her being named the Health & Wellness Employee of the Year.
"People always say I have the best job and they are right," she says. "There's not one thing I do every day that is the same."
On a recent afternoon in early May, Little was helping cook a Mexican feast for Health & Wellness employees in honor of Cinco de Mayo. She also was busy crafting an e-mail for an upcoming awareness day and planning summer community events.
"I want to get information in front of the community to find out what events they want here," Little says. "Whenever I come across a staff or community member, I try to make sure they leave with a smile."
Little has worked for the Tribe in various capacities since graduating from South Salem High School in 1999. Her sister, Melody Baker, also works at the Tribal campus as a Purchased/Referred Care supervisor. A little-known fact about Little is that she served as Miss Grand Ronde from 2000-01.
Little began her career in the temp pool and then went to medical records and on to become a pharmacy clerk. She then was promoted to lead clerk. Two years ago, she accepted a newly-created position as Wellness Promotion coordinator.
"It's definitely a switch from the pharmacy," she says. "Here, I get to go into people's homes and talk to them when I do transport for medical events. Now I get stopped everywhere I go, even walking through the clinic."
Some of the events Little has started or renewed during her tenure include the Mother's Day Tea, Elders' summer picnic and a family field day in the summer. She also arranges quarterly visits from a mobile mammogram van so that community members and employees can access this potentially lifesaving service without leaving Grand Ronde.
Little also hosts an awareness event monthly in the clinic atrium and organizes employee recognition e-mails and photos, along with educational events at the Tribe's Portland office.
"It's good for us to have events for those Tribal members who live outside of the Grand Ronde area as well," she says. "I want them to be able to enjoy these things, too."
When Little learned she had been named 2018 Health & Wellness Employee of the Year, she was surprised.
"I have a big mouth and that sometimes gets me into trouble," she says. "So having people see past that really felt good. I went to rehab 15 years ago and have been trying to make a difference here since then. This has been the biggest success for me."
Health Services Executive Director Kelly Rowe says Little goes "above and beyond" her job duties to make employees and community members happy.
"Kandee was chosen because of her endless commitment to the Tribe and community," Rowe says. "She consistently does more than what is asked or expected. I've had several managers, Executive Office staff and Tribal Council comment on Kandee's creativity, resourcefulness and persistence. She is positive, compassionate, punctual, dedicated and does everything with heart. I'm grateful to have her on the Health & Wellness team and honored to be a member of the same Tribe as Kandee."
When asked who her biggest mentors have been, Little is quick to name Rowe and Quality Improvement Manager Dawn Doar.
"They have been extremely patient and have a true open-door policy," Little says. "They listen and they don't judge, and have been patient, helpful and encouraging in every respect. It's been great to experience that at the clinic."
In her down time, Little enjoys relaxing at home in Grand Ronde with her partner of 14 years. She is the daughter of Julie Little, granddaughter of Annabelle Pool and great-granddaughter of Leona Severan.