Health & Education
The doctor is in ... his travel trailer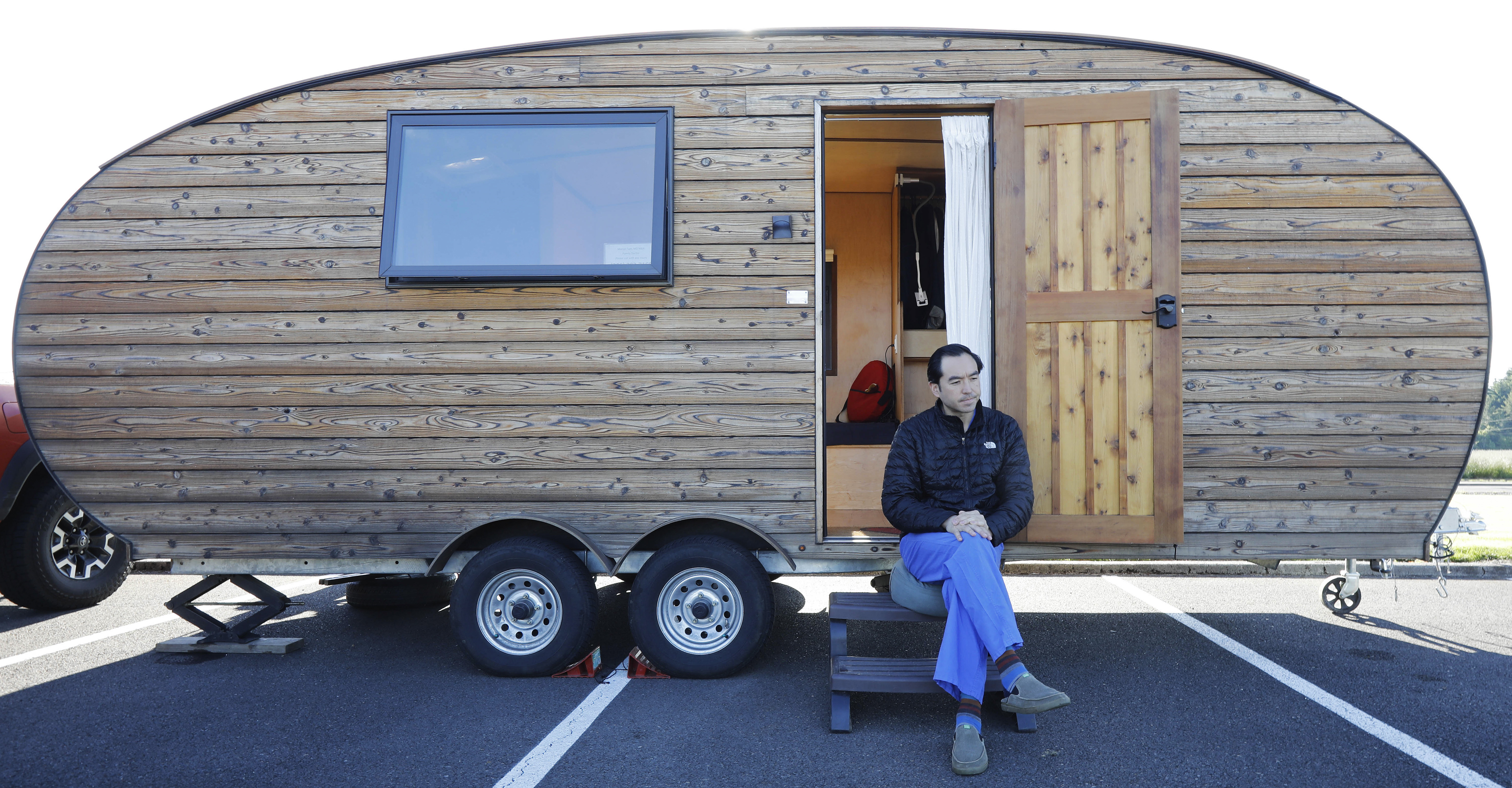 By Danielle Frost
Smoke Signals staff writer
Most people have heard stories about how grueling residencies can be for new doctors, with some staying at work so often they feel as if they live there.
But one doctor at the Grand Ronde Health & Wellness Center has literally lived onsite during the COVID-19 outbreak in his travel trailer.
Before the pandemic hit, family practice physician Marcel Tam split time between Grand Ronde and Warm Springs as a contracted employee, often staying in his camper or at Spirit Mountain Lodge. However, when the lodge closed suddenly in mid-March, he had to find another housing option to continue working for the Tribe, which needed his services more than ever.
"I stayed at a hotel in Dallas for a few nights, then in Lincoln City, but it became obvious the hotels would be closing so I needed to come up with something," Tam says.   
Since Tam has a house in Portland, he wanted to avoid commuting during the week and potentially being unavailable or delayed if roads were closed or there was a traffic accident. That's when he proposed the idea that he live onsite since there is an RV hookup in the clinic parking lot.
Health & Wellness Director Kelly Rowe was immediately receptive to the idea.
"My needing to have a provider with us, especially one that was already familiar with the community, was very crucial in the beginning of the pandemic when things were changing so rapidly," she says. "I was happy to have him live here in his trailer during the week."
Rowe and Tam connected in 2018 through Tribal member and pediatrician Allison Empey. Tam and Empey were both in a residency program through Oregon Health & Science University. He has worked for the Tribe in a contracted position since January 2019. He also provides medical services to the Warm Springs Tribe, although that was temporarily halted when the Reservation was closed due to COVID-19.  
"I'd love to have him here full-time," Rowe says. "He is great with staff and has a very calm manner, which is very important."
Tam hasn't had a problem adjusting to life in a 100-square-foot travel trailer because he spent eight months doing so after purchasing it.
Tam bought it in 2018 from Homegrown Trailers of Kirkland, Wash., a company that produces sustainable, handcrafted trailers, so he could live a minimalist lifestyle and travel to different areas. The trailer allows for off-the-grid camping with features such as solar panels, a composting toilet, 12-gallon freshwater tank, lithium battery, mini fridge and induction stove.
"I love living in this trailer," Tam says. "It is minimalist and simple."
During the weekends, Tam, 39, returns to his Portland home to spend time with girlfriend, Liza Vozna, and 16-year-old stepdaughter, Erandi Jones-Vega.
"It's been awesome to have permission to stay here during the week and I have a lot of gratitude for the support, from David Fullerton (general manager) to the security guys," he says. "The local residents will walk by in the evenings, but with social distancing I haven't had many come up and ask why I have the trailer here. I tend to just stay in there after I'm done working and enjoy the time alone."
When Tam first purchased the travel trailer, it required shedding two-thirds of his possessions to make the transition to living in it full-time.
"It actually felt pretty liberating," he says. "There is less to worry about and my mom likes to say I have always loved living in small spaces. I was the oldest of three kids and had two sisters so they got the pick of bedrooms and I would sleep in an alcove or a big closet."
During the pandemic, Rowe says she has found having Tam living onsite to be invaluable.
"There have been many times when it's after 5 p.m. and I can just go run down and ask him a question if I need to," she says. "Things are changing so rapidly with this virus that we had to adjust on the fly. Having the clinical knowledge here has been invaluable. Also, he cares about the community, our patients and the staff. We don't have any other providers who are close by and during this time there is such a heightened awareness and making sure we have medical oversight is key."
She adds that when the pandemic was at its height and most of the country was on lockdown, many people were scared to go to a hospital or urgent care facility.
"But we are a familiar entity," Rowe says. "We have the ability to accommodate people here."
Adds Tam, "There were so many patients who were scared to go to the hospital, but this was their safe place."
Before COVID-19, Tam enjoyed spending time with friends and playing on a soccer team. Now, he listens to audio books, cooks new recipes and take voice lessons.
"I've also been doing lots of meditation," he says. "Living in this trailer gives me gratitude for the basics, like food, water and electricity."
Tam says he also appreciates the other essential health care workers at the clinic.
"They really care about the work and each other," he says. "People really pulled together during this and stuck together as a team at all levels."