Health & Education
Grand Ronde participates in emergency exercise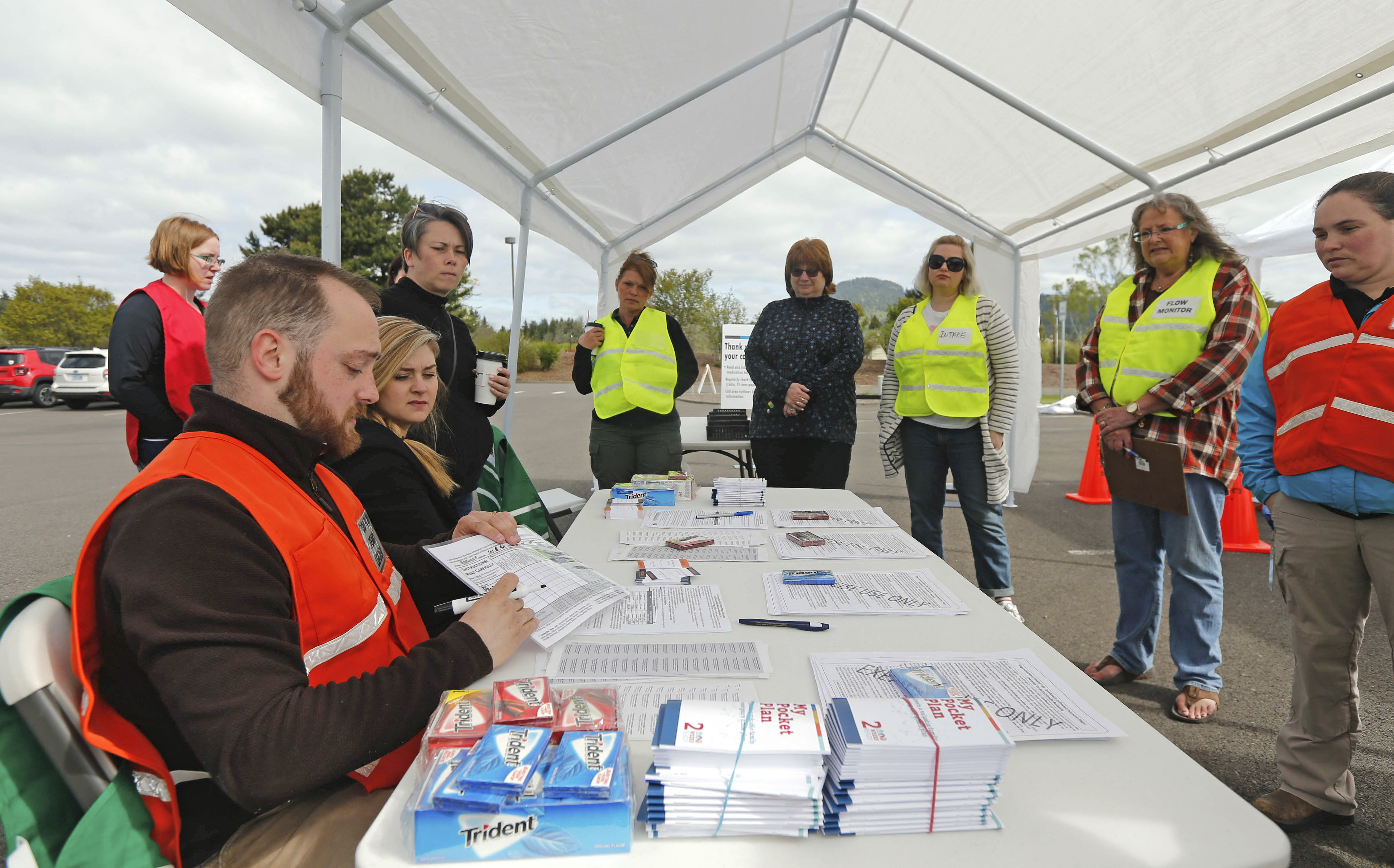 By Danielle Frost
Smoke Signals staff writer
In an ongoing effort to prepare for just about any emergency imaginable, the Confederated Tribes of Grand Ronde participated in a countywide emergency preparedness exercise on Thursday, May 2.
The mock scenario involved several Tribal members potentially being infected with pneumonic plague after attending a concert in Portland, where the crowd was sprayed with a mister that contained the virus. The exercise focused on setting up and operating a mobile public point of distribution site to dispense the proper medications to a large group of people.
Exercises occurred over a three-day period in Newberg, McMinnville and Grand Ronde. Participants included Yamhill County Emergency Management, Yamill County Public Health, Yamhill Public Works, Willamette Valley Medical Center, Oregon Office of Emergency Management, Chemeketa Community College, Yamhill Community Action Partnership, OHSU Monmouth and George Fox University.
Locally, a series of tents was set up outside the Tribal Health & Wellness Clinic after everyone in the area was sent an emergency message and asked to come to a dispensing pod if they had been exposed the evening of the concert.
Once there, patients were asked to fill out a form indicating medication allergies and then sent over to a mobile clinic if they required further screening. If not, medication and instructions were dispensed.
Tribal Emergency Management Assistant Brandy Bishop coordinated the event for Grand Ronde and also volunteered at other exercises.
"The event went well, but we definitely learned that there are areas to improve on," she said. "The biggest one is getting enough volunteers. We need to work on our organization with that. But we also learned we have the capability to very quickly set up a dispensing pod when needed."
The most challenging aspect turned out to be after initial paperwork had been filled out.
"The hardest part of this exercise is the screening," said Paul Myatt, Yamhill County Public Health Emergency Preparedness coordinator. "You must make sure it is accurate."
Yamhill County Public Health Manager Amber Miller said the primary objective of the three-day exercise was to increase collaboration between the county and its community partners, such as the Tribe.
"This is practice for real life," Miller said. "A lot of Tribal grounds are near Yamhill County, and we need to make sure there is good communication. With lots of Tribal members living off-reservation, this partnership is very important. Preparation is important, whether it's bioterrorism or an earthquake. Education is power. The more you know, the more resiliency you have after the event."
Amy Eagon is the emergency response coordinator for Cowlitz County Health & Human Services in Washington. She participated in the Grand Ronde exercise to hone her disaster preparedness skills.
"I've put these types of events on before and going through them and getting practice is very important," Eagon said. "This is not an 'if' scenario, but a 'when' scenario. Doing these types of dry runs is imperative. It's great that everyone is able to practice."
Bishop said that the emergency preparedness drill also helped Health & Wellness Clinic staff realize the importance of their roles.
"It helps them see they do have a part that affects the bigger piece," she said. "And the more we do, the more I hope people will participate in these events in the future. These provide an opportunity to answer questions as well. Getting out here gives people a chance to see what is going on."
Volunteer groups assisting in the exercise included the Community Emergency Response Team, Amateur Radio Emergency Service, Medical Reserve Corps and the American Red Cross.