Health & Education
Pharmacy going through 'transition period'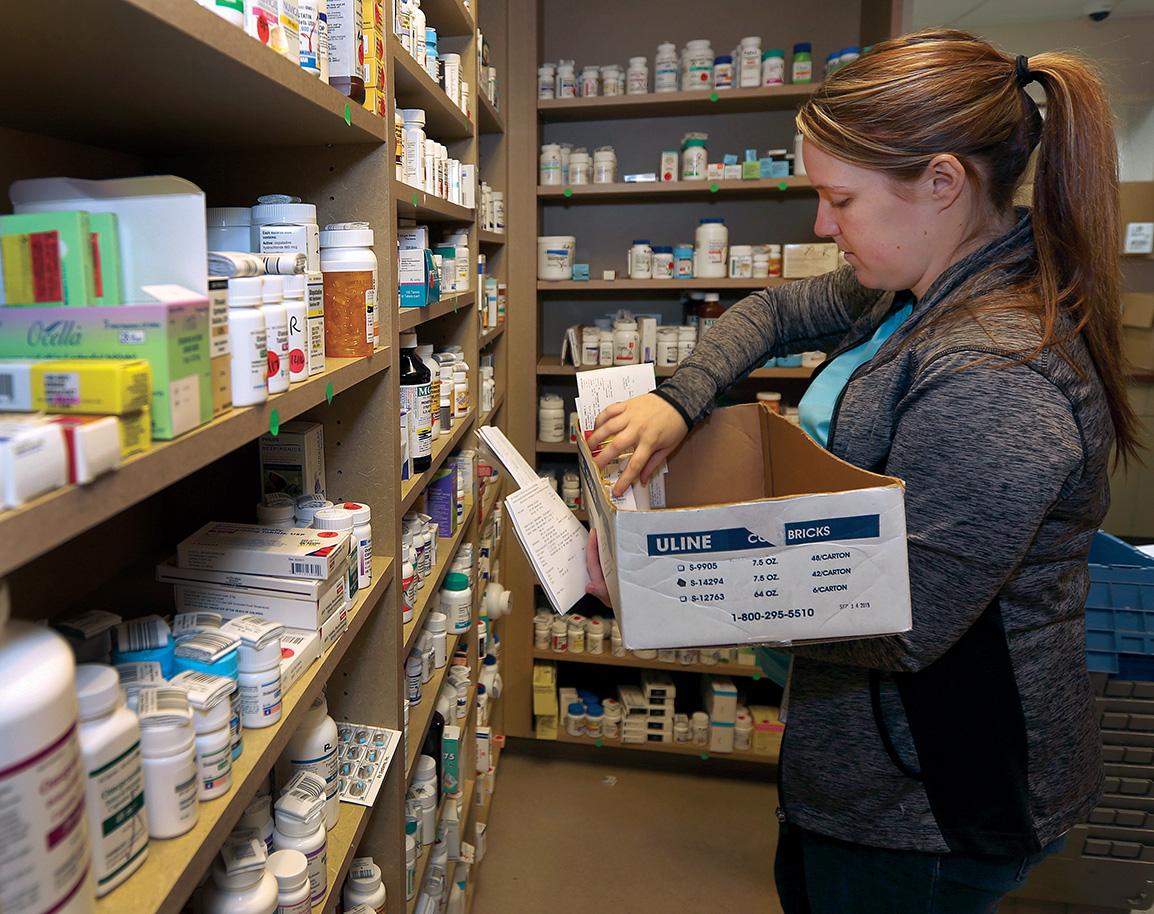 As the Tribe evolves so does its many programs aimed at providing services. Tribal programs are continually upgrading, updating and improving to meet membership needs.
The Tribal Pharmacy offers a service to Tribal members, as well as community and staff members, both at the Governance Center and Spirit Mountain Casino, and Tribal members who live across the country.
"I would say, in general, we are focusing on quality over quantity and when you do that it slows things down," said General Manager Dave Fullerton. "I think that the end result will be a faster, more efficient process, but it's a transition period."
Fullerton said there have been major changes at the Pharmacy recently.
"We have changed from 10-hour shifts to eight-hour shifts, which is focusing on the consumer not necessarily the hours of the staff," said Fullerton. "We are really trying to meet the consumer needs. There is a lot of effort and thought going into making sure we're providing a good service to the membership and the people who use the clinic. Nothing has been taken lightly in the process of making these decisions."
Tribal member and Pharmacy Director Dr. Leatha Lynch said there have been many changes affecting the program since she took over earlier this year. She said she has implemented each change with the best interests of the membership and community in mind while keeping patient safety as her foremost objective.
"The goal is to let Tribal members and the community know what transitions we have made and are going to make in the Pharmacy," said Lynch. "We have been changing our work flow to increase patient safety and prescription ethicacy. We're asking for people's understanding and patience as we go through our transitions."
Lynch said recent turnover in several staff positions that required new employees to obtain training and learn a new, upgraded pharmacy data management system are among reasons patients have experienced longer than usual waits recently.
The situation was mentioned by a Tribal Elder at the Wednesday, Nov. 16, Tribal Council meeting when she said that she had to wait until the next morning to have a prescription filled. The Elder said she had not had to wait that long before and she was concerned.
Tribal member and Health Services Executive Director Kelly Rowe said she wants people to understand that not only have several changes been made to the Pharmacy to upgrade services, but also to keep in mind that the winter months are the busiest times of the year for pharmacies in general.
"We had two new pharmacists join the team and they are doing great, but we do have new staff and we are looking at work flow to make things more efficient," said Rowe. "That has impacted the pace of how fast things are coming out. We are starting to get lines. They are working through them pretty quickly, but there have been some complaints from people having to wait. There have been some very profane complaints. So we wanted to get the word out that we expect this to get better.
"We are just in this transition point of new staff, new work flow and it's just going to take a bit for things to settle some."
The Pharmacy fills as many as 600 prescriptions a day on Monday and Tuesday and 250 to 400 a day on Wednesday through Friday, said Tribal member and Lead Pharmacy Technician Kandee Little.
On Monday and Tuesday, the Pharmacy fills an average of 77 prescriptions an hour, which is more than one a minute.
Little said she thinks the changes made at the Pharmacy and clinic as a whole are positive and she said she is buying in to those changes even though she has had to change her work schedule after eight years of working 10-hour shifts. She now works five eight-hour shifts.
"I absolutely think it is for the best," said Little. "Now we are having more theraputical, clinical work to make sure that people are being safe with their medications. We're actually making sure they know how to take it, what they are taking it for and making sure they are being safe."
Little said she thinks the recent problems come from frustrated Tribal members who are used to getting in line and being on their way 20 minutes later.
"It's not like that anymore," said Little. "We want to make sure we are bettering them and their health in the long run."
Little said the process of filling a prescription may be more complicated than most people think and that as the program has evolved along with the general health system, more processes have been put in place to ensure patient safety.
"We have to do a lot of steps to get it prepared," said Little. "We have to push it through insurances and make sure everything is correct looking on there with a doctor and directions and quantity and then it goes on back to the pharmacist. They have to make sure everything is correct. They count it and make sure we have the right bottle. It takes a process."
Little said patients receiving narcotic drugs have their doses triple-counted.
"We really do care. It's just taking us a little bit longer to do things now," said Little. "It's definitely a good thing. I think the changes are great. I really do. It's not just the patients; we are all adapting to the changes. It'll get there."
Tribal Council Vice Chair Cheryle A. Kennedy, who was the Tribe's first Health director and established the Pharmacy, said she remembers facing the same issues in the early days as well.
"The key word that comes to mind is patience," said Kennedy. "Tribal Council is very concerned about our people and their health care. It's always been No. 1 priority for our members. Having worked there and having set up the system years ago we didn't have the volume that we do now. We had people who would demand 'right now' and who used the same kind of behaviors to try to get something, and once I knew I would come downstairs and talk to the individual and diffuse the situation."
Rowe said that Tribal and community members can visit her office upstairs with concerns and that she and Tribal member and Quality Improvement Manager Dawn Doar will hear out all issues and try to resolve those issues and improve the service overall.
"I just want people to be respectful," said Rowe. "We want to get the message out that we are trying and they have picked up a lot. We are trying to make it as efficient as possible.
"We need people to try and be patient, but we know that's hard especially when you don't feel good. I would rather have people come up here and talk to me or Dawn about what the issue is. Hopefully this will help people understand this is a temporary thing. We are really trying."
Kennedy said her desire is to see patients access Rowe and Doar before negatively engaging Pharmacy staff.
"I would say patience is the best rule right now, but I also understand that people need their medication," said Kennedy. "We have people who have chronic disorders. They cannot go without their medication. So I would urge any of our members who use our Pharmacy to please talk with Kelly – she is open to that. She will take every call and she will work on it."
Fullerton said people accessing the clinic and Pharmacy should plan ahead for winter weather and also consider and realize the benefit to the community that is being offered by having a wellness facility.
"We didn't open the Pharmacy or the clinic to make money," said Fullerton. "So it's about quality. Let's talk about the convenience of having a pharmacy in this community. Maybe we have to stand in lines, but I don't have to drive to McMinnville, I don't have to drive to Salem. It's an overall service to the community. It's an absolute convenience."
Little said she wishes there were more hours in a day so she could help more people. She said she sees her fellow staff members feeling the same way about their jobs.
"The girls up front (manning the patient window) make it look easy because they are good at making it look easy, but behind that it's tough; we're bookin' " said Little.
Lynch said patients can ensure faster service if they follow some simple guidelines, such as patients calling in a mail-order prescription need to call those prescriptions in seven days in advance.
"We ask that after they call that they give us five business days before they call and check on the status of that prescription because it can take up to five business days for the mail service to get it to them," said Lynch.
She said mail can take even longer during the holiday season and that patients need to be aware of that potential delay.
"We don't want anyone to go without their medications," said Lynch, who also implemented tracking of mail-order prescription packages in early October.
Lynch said she will be making more changes in the coming months that will include streamlining the phone call-in system and becoming more efficient with the current e-prescription service.
The pharmacy now requires 48 to 72 hours to refill a prescription.
"People can call in refills seven days in advance and we will just have them ready for pickup; that way there is less waiting out in the lobby," said Lynch.
Lynch said she wants to reassure Tribal members that the changes are for the best and that they are safer because of those changes.
"We've hired some really amazing people so I'm confident that the learning curve will work," Lynch said. "Our thought is that if we all work together with mutual understanding and respect then we are going to increase that growth and ensure our success."