Tribal Government & News
Tribe hosts Coffee & Conversation, encampment in Medford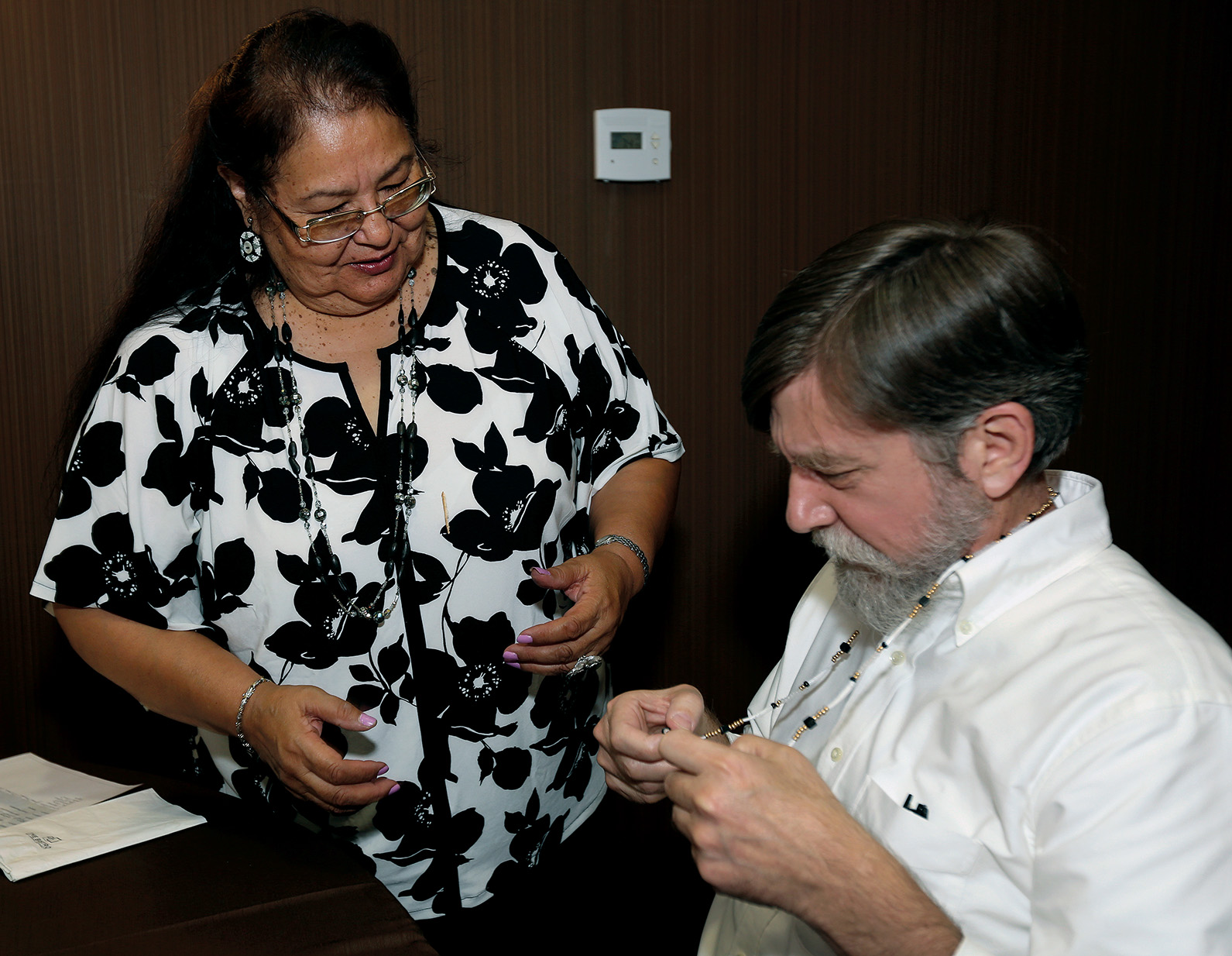 MEDFORD - Tribal legends say that the selfish actions of an ancient medicine man led to the creation of the flat-topped Table Rock in southern Oregon.
According to Cultural Outreach Coordinator Bobby Mercier, Red Tail Hawk knocked the tops off of those mountains with his wings after Blue Jay told him about a self-absorbed medicine man.
"One of the stories we always like to tell our children that goes along with this place is how Table Rock was actually formed," said Mercier to a gathering of Grand Ronde Tribal members, Tribal Council members, Tribal staff and local representatives billed as a "Coffee & Conversation" meeting in Medford on Friday, Sept. 16.
"One of our stories that goes back to our creation stories about this place talks about how one of the medicine men that was down here became very powerful and he wanted to start using his powers to only benefit himself. So he started doing this and people kept telling him he was doing bad things. He kept doing those things that would only benefit him and his family.
"The Blue Jay went and told the Red Tail Hawk about the things that he was doing and so Red Tail Hawk came and told him to stop doing this. He came back five times and on the fifth time he grabbed that man and he took him out and when he spread his wings he knocked the tops of those mountains off."
Red Tail Hawk placed the medicine man in the middle of the top of the mountain and he became a cedar tree.
"And he took his wife and his two kids and he stuck them up on the north side and they became those great big pillar rocks," said Mercier.
Mercier said that Red Tail Hawk told the people that every time they see these rocks they would be reminded that you shouldn't just use your powers to benefit yourself and your family, but that you should always help your people.
Mercier's presentation was part of the Tribe's annual trip to southern Oregon that also featured a presentation by the Tribe's Education Department Manager Leslie Riggs.
Tribal Council Chairman Reyn Leno led a contingent of seven Tribal Council members to Medford for the meeting that was organized by Tribal Council Chief of Staff Stacia Martin, Tribal Council Administrative Assistant Shannon Simi and Public Affairs Administrative Assistant Chelsea Clark.
Tribal Council Vice Chair Cheryle A. Kennedy, Secretary Jon A. George and Tribal Council members Jack Giffen Jr., Brenda Tuomi, Tonya Gleason-Shepek and Denise Harvey also attended.
Tribal Attorney Rob Greene, Tribal Photographer Michelle Alaimo, Riggs' wife Heather and Simi's daughter Kaleigha attended as well.
Mercier, George, Riggs and Clark performed the opening welcome song and George gave the invocation.
"This is a meaningful event," said Leno during his welcoming address. "I really hope one of these years we can have a larger event. Many of our Tribal members have Rogue River blood. I hope we can have a small powwow or something to celebrate this treaty signing because it's really one of the most important things that happened with our Tribe.
"When you come to our chambers we have all seven of our treaties hanging on the wall because it's the guide; it's the guide for us to what we should do for our people."
Among the guests in attendance were Grand Ronde Tribal member Celia Randolph, who lives in the area, Alison Chan of the city of Medford, Molly Morison of The Nature Conservancy, Jeanne Klein, Bonnie Million and Jennifer Sanborn of the Bureau of Land Management and local historian Ben Truwe.
Giffen talked about the Reservation lands in the Grand Ronde area before Riggs gave a presentation on the Tribe's fourth- and eighth-grade Native American curriculums that are finding their way into schools throughout Oregon, including the Medford School District.
Riggs introduced himself in Chinuk Wawa and said that his great-great-grandfather Solomon Riggs was from the Rogue River and Umpqua Tribal people.
Riggs said that the curriculum project was a collaboration between the Grand Ronde Education Department, the Tribe's former Land and Culture Program and the Willamina School District.
"This curriculum is the product of years of hard work and dedication by a number of committed staff," said Riggs. "It's the first of its kind in Oregon. All of the lesson plans follow common core standards and the lessons also meet Oregon social science academic content standards."
Riggs said it is increasingly important to the Tribal membership, especially the leadership, that a historically accurate, place-based curriculum that taught the true story of the Grand Ronde people be created for schools.
Riggs said that the project came about after many of the Tribal children/students reported having to explain their history to teachers and fellow students at local schools.
"Our desire is that teachers find it useful and we appreciate the positive difference they are making by teaching it," said Riggs. "We know it will have an incredible impact on the generations to come."
Randolph said that homeschooling is popular in the area and she encouraged Riggs to keep up the work of educating young people in southern Oregon about the true history of the area. She said a more realistic viewpoint of the current state of Native Americans needs to be a priority.
"They (home-schooled children) aren't even aware that the Rogue Indians were marched from here up north," said Randolph.
Truwe asked Tribal representatives if they had any information about the treaties that came before the Treaty of Table Rock.
Greene said that those were considered "agreements" and not considered treaties by the Tribe because they did not go through the government-to-government process.
Mercier said that some of the wording of those original agreements made its way into the treaties that were eventually signed and recognized.
Greene added that the agreements were important because they often provide details, such as the names of chiefs and headmen and the descriptions of lands and areas.
Truwe said he attended the meeting because of his intense interest in the local history of the people.
"The topic of the get-together was the Table Rock Treaty, one of my areas of interest," Truwe said. "I'm also interested in what becomes of Rogue Valley residents after they move on, and that certainly includes the area's original owners."
Truwe thanked the Tribe for the dentalia necklace he was gifted at the meeting.
"It's now one of my prized possessions," said Truwe.
Sanborn, who supervises research specialists, said the BLM hopes to hire a Tribal member to work with them on their Table Rocks projects.
"We would like to get a Tribal person hired to be an interpretive specialist for the Table Rocks program in the spring when we take all the kids up," said Sanborn. "We want a more active presence in the history of the area."
Sanborn said the relationship between the bureau and the Tribe is good.
"It's a much more active collaboration than it used to be and we really appreciate that," said Sanborn, who said she was impressed with the Medford meeting. "It was so well done. We appreciated how professional it was."
After the meeting, a group went up to an encampment at the Upper Table Rock Trailhead off Modoc Road for beading and Greene escorted Tuomi and Harvey on a hike.
"I really enjoyed the hike," said Harvey. "It was kind of spiritual going up on that hike and getting up there to the top and admiring the view, but then realizing that our people were encamped there. It was very meaningful for me to be up there and I'm glad I made the hike. I would like to go back in the winter."
Kennedy said she was at the first gathering in celebration of the treaty in 2011 when the memorandum of understanding was signed between the Tribe, BLM and The Nature Conservancy.
"It was a very moving experience," said Kennedy. "I was thrilled because the agreement was signed at the Lower Table Rock near where our original Rogue River Treaty was signed in 1853. As chairwoman of the Tribe when the MOU was signed I knew our Tribe was beginning to exercise its treaty rights in southern Oregon. I feel that our ancestors are pleased with the undertaking of the Confederated Tribes of Grand Ronde's effort in educating others on who the inhabitants of southern Oregon really are. This year's gathering was a great experience."
Leno said he was thankful for the staff members who made the trip to Medford and that he hoped the meetings would continue.
"When we come down here I always try to think of what it was like here in the valley 100 years before the treaty," said Leno. "This is a very meaningful event for us."