Tribal Government & News
Tribe leads the way during Tilikum Crossing grand opening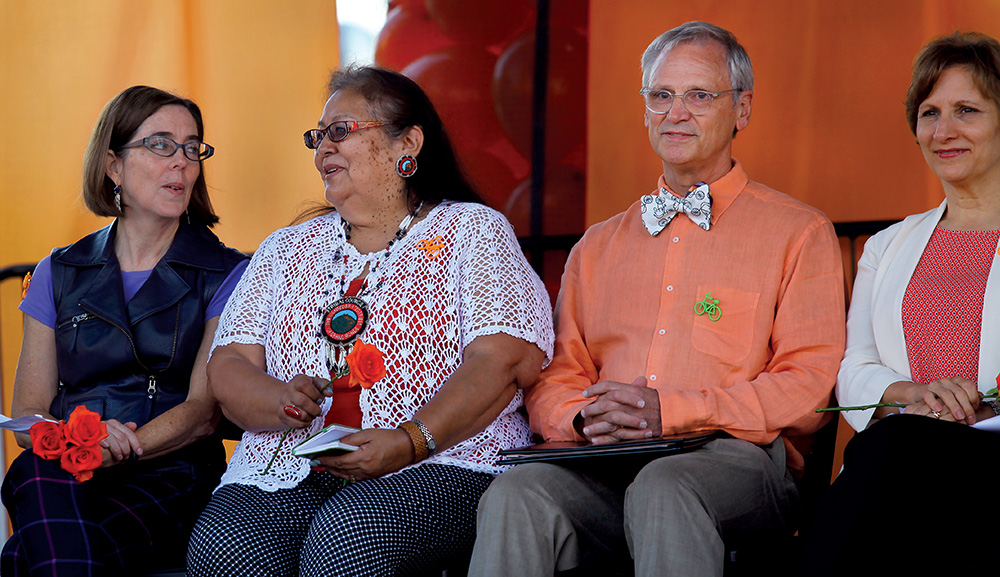 By Dean Rhodes
Smoke Signals editor 
PORTLAND – Members of the Confederated Tribes of Grand Ronde, descendants of the original tilixam – "people" in Chinuk Wawa – of the Portland area, appropriately lead the way at the grand opening of the new Tilikum Crossing Bridge in Portland on Saturday, Sept. 12.
With a light southerly breeze blowing, the Grand Ronde Honor Guard of Tribal Council Chairman Reyn Leno, Tribal Elders Alton Butler and Steve Bobb Sr., and community Elder Al Miller lined up on the new transit bridge across the Willamette River at about 8:40 a.m.
The breeze made the flags – MIA/POW carried by Butler, Oregon flag carried by Miller, U.S. flag carried by Bobb and Grand Ronde Tribal flag carried by Leno – flutter at almost 90-degree angles to their respective poles.
At 8:54 a.m., the first official Orange Line train No. 523 filled with dignitaries, including Tribal Council member Cheryle A. Kennedy, slowly crossed the bridge as the Tribal procession, which also included Tribal Royalty, Tribal Council members, Tribal dancers and numerous Tribal members, marched alongside in the pedestrian and bicycle lanes to the rhythm and singing of Bad Soul drum.
Tribal Council members who marched included Vice Chair Jack Giffen Jr., Denise Harvey, Jon A. George, newly-elected Brenda Tuomi and Ed Pearsall.
Meanwhile, Portland-area media representatives shot video and took photographs under the watchful eye of TriMet Communications Director Mary Fetsch and her staff.
Once the train reached its stop on the west side of the Willamette River, Harvey boarded for a trip up to the Southwest Third and Lincoln Street stop, where Kennedy was scheduled to speak alongside other federal, state and local representatives.
Harvey, upon exiting the train, received a hug from Gov. Kate Brown, who was a longtime member of the Spirit Mountain Community Fund Board of Trustees before assuming the governorship earlier this year.
On stage, Kennedy was flanked by Brown and U.S. Rep. Earl Blumenauer as the Lincoln High School marching band played and members of the Royal Rosarians handed out orange roses. Other speakers also included Portland Mayor Charlie Hales, U.S. Rep. Suzanne Bonamici and Milwaukee Mayor Mark Gamba.
The Grand Ronde Tribe became an integral part of the Tilikum Crossing process when it suggested a Native name for the bridge to honor the original peoples of the Portland area, which is part of the Grand Ronde Tribe's ceded lands in the 1855 Willamette Valley Treaty.
The proposed name, tilikum, is a Chinuk Wawa word for people, family or a gathering. Historically, the word is spelled "tilixam," a Chinuk Wawa word that can be difficult to pronounce.
In the interest of giving the general public a word that is easy to say, the Tribe proposed spelling the word with a "k" instead.
The Tribe's proposed name was one of four finalists and the public was invited to vote on their favorite. The TriMet Naming Committee unanimously choose "Tilikum" – "Bridge of the People" -- as the new bridge's name.
Earlier this year, the Grand Ronde Tribe also gifted two basalt carvings and a large bronze medallion to TriMet that will remind Portland and its residents that Native Americans have lived and continue to live along the shores of the river since time immemorial.
All three pieces, collectively called "We Have Always Lived Here," were created by Chinook artist Greg A. Robinson at the Gresham home of Grand Ronde Tribal member Greg Archuleta.
"I am so happy to be here for the opening of the Orange Line," Brown told the crowd assembled at Lincoln and Southwest Third. "This is absolutely a great example of the Oregon way. Collaboration to achieve meaningful changes that make everybody's lives better. Let's continue to work together, moving Oregon forward and creating more opportunities for all Oregonians to thrive."
TriMet General Manager Neil McFarlane said as he introduced Kennedy that TriMet realized early on that the bridge project fit into the area's long Native American history. "We honored that history with the naming of Tilikum Crossing, which is truly a bridge of the people," he said.
"This is truly a wonderful morning, a blessed time," Kennedy said as she welcomed people to the Tribe's homelands. "My heart felt just so joyful seeing my people marching to the train as we were coming over the bridge itself and seeing my people walking on the bridge … Today was a heartfelt time for me.
"When we put our thinking together, when we put our hearts together, truly something beautiful and magnificent emerges, and that is what we see here today. … I am very proud of this time in our history. When you think about history, today will be a landmark event for all peoples, including the Confederated Tribes of Grand Ronde."
Oregon Department of Transportation Director Matt Garrett called Tilikum Crossing "the crown jewel of bridges" in the Portland area.
After the speeches, McFarlane declared the Orange Line officially open to the raucous sound of the Transcendental Brass Band and at 11 a.m. a throng of pedestrians and bicyclists started crossing the bridge, which does not allow motor vehicles.
Tilikum Village
Meanwhile, in a lot below the western terminus of Tilikum Crossing, a sprawling Tilikum Village put on by the Confederated Tribes of Grand Ronde educated people about the Tribe, its history and its connection to the Portland area since time immemorial.
Under several tents, numerous Tribal employee and Tribal member volunteers spent the day welcoming, talking to and educating Tilikum Crossing visitors.
Archuleta and Robinson displayed traditional crafts while Tribal Council Chief of Staff Stacia Martin and Public Affairs Administrative Assistant Chelsea Clark supervised volunteers in giving away surplus 30th Restoration bags, Tilikum Crossing coloring books and other Tribal items.
Tribal volunteers also did a brisk business in selling Tribal merchandise, such as the special Tilikum Crossing logo Pendleton blanket, while Native vendors sold their wares under another tent.
Nutrition Program Manager Kristy DeLoe and her staff operated a food cart, selling Indian tacos, fry bread and a fry bread/salmon combination. The food cart line was consistently 15 to 20 people deep most of the afternoon. DeLoe estimated the food cart served about 1,000 people.
Will Penn (Squaxin Island) and Traven Joseph (Gros Ventre) traditionally cooked salmon on wooden stakes over cedar logs, which Interim General Manager Dave Fullerton and Youth Prevention Activity Assistant Cristina Lara later served.
Children enjoyed entering the miniature plankhouse and summer house created by Grand Ronde Tribal artisans.
Tribal Culture Department Manager Kathy Cole explained the Chinuk Wawa language to visitors while Cultural Exhibits Supervisor Julie Brown displayed a selection of artifacts from Chachalu Museum & Cultural Center. Tribal Elder Connie Graves gave Tribal basketry demonstrations.
Tribal Historic Preservation Officer David Harrelson and Archaeologist Briece Edwards spent many hours explaining the Tribes' ceded lands and its history.
Portland Area Office Tribal Services Representative Lisa Archuleta did an expert job of applying temporary Tribal tattoos to visitors.
Drum Smokey Valley from Chilliwack, British Columbia, provided the music and singing for Tribal Royalty dancers who performed on an impromptu dance floor built in the center of the village. Tribal Elder Deitz Peters and his wife, Rose, also performed in their resplendent regalia.
At about 1:30 p.m., the Tribal Canoe Family pulled in with two Grand Ronde Tribal canoes after paddling on the Willamette River for more than an hour. After eating lunch, Canoe Family members performed protocol.
Tilikum Village remained open until 6 p.m. and was organized by Martin and Clark, who worked with TriMet counterparts to put the event together.
"It's always a good day when we have the opportunity to share our culture with the community," Tuomi said. "I've been looking forward to participating in the procession across Tilikum Crossing with our Tribal members. Education is very important to me and I'm excited for today's opportunity to educate the community about our culture and traditions."
"I think this was a great opportunity for the public to become educated about the Tribe," Harvey said. "It's a great opportunity for the people to know that Native Americans were the first people here and for our Tribe to educate people about our culture."
"It gets our name out there," Pearsall said, adding that he became "emotional" as he crossed the bridge during the Tribal procession. "We are the people of this land."
"It's another step toward telling our Grand Ronde story," George said. "Another step in educating the metro area about who the Grand Ronde people are. Today was a great day to come out and spread the story of saying that we are the people of this area. We are Grand Ronde. Today is showcasing our culture and how we lived in this area. What a great way to share our story."
Other Tribal employees who attended included Tribal Attorney Rob Greene, Emergency Operations Coordinator Jamie Baxter, Police Chief Al LaChance, Sgt. Jake McKnight, Budget/Grant Coordinator Nancy Renfrow, Tribal Council Senior Administrative Assistant Lauri Smith, Tribal Council Administrative Assistant Shannon Simi, Health & Wellness Business Office Manager Tresa Mercier, and Culture Department employees Bobby Mercier and Brian Krehbiel as part of the Canoe Family.