Tribal Government & News
Tribe hosts cultural exchange with young African leaders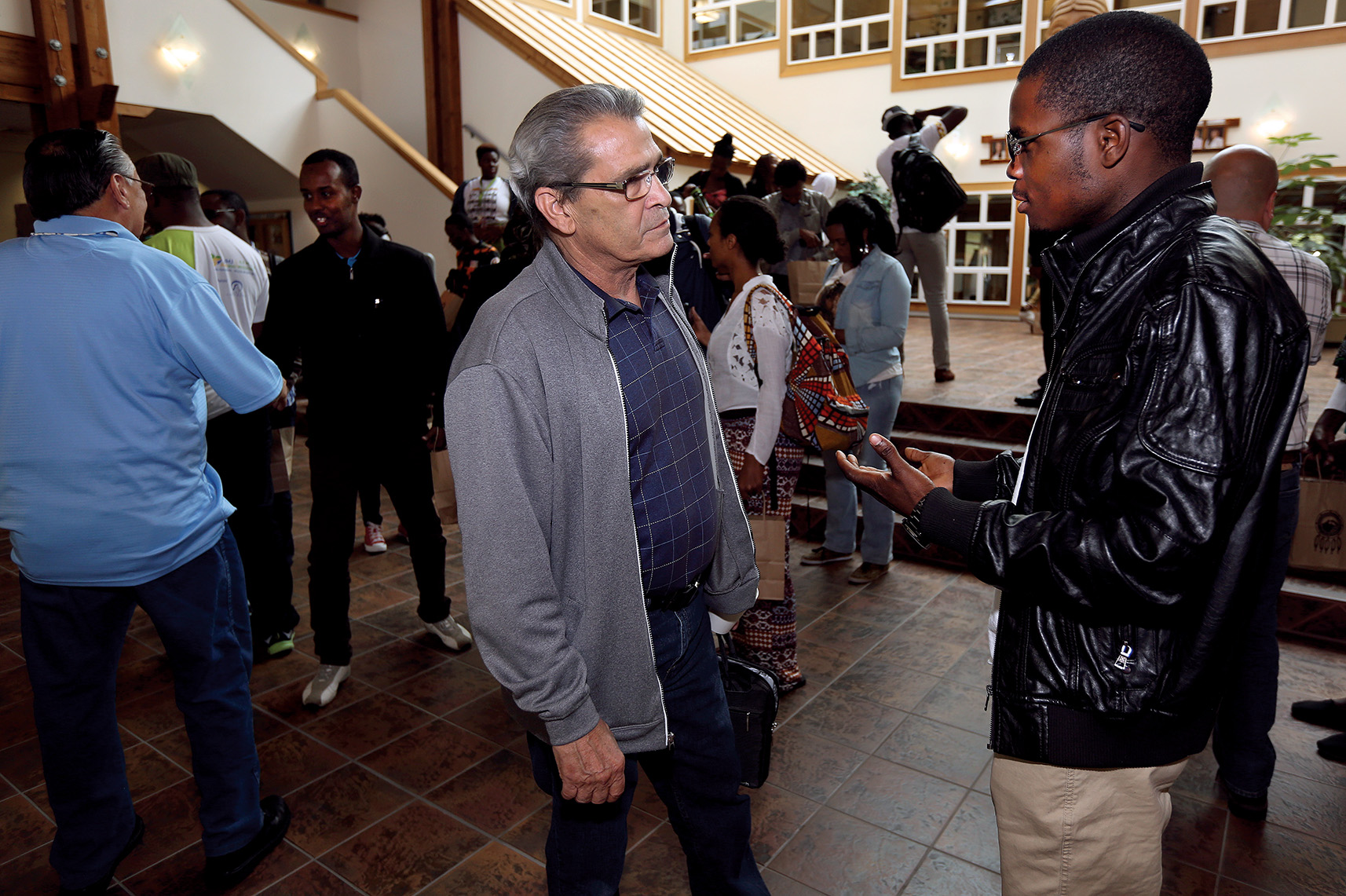 Tribal member Clifford Olson had no idea that work on his master's project at Portland State University conducted here with the Elders on the Grand Ronde Reservation would be opening eyes and breaking stereotypes in 21 African countries.
On Friday, July 15, Tribal Education Department Manager Leslie Riggs and his staff welcomed 25 young African leaders to the Tribal campus in Grand Ronde who are part of a cultural exchange program through Portland State's Civic Leadership Institute.
The lead professor on Olson's project is Dr. Rachel Cunliffe and due to Olson's project and others, she has visited the Reservation several times. She approached Olson with the idea of bringing the group to Grand Ronde.
Olson put his professor in touch with Riggs and the visit was put together for this summer.
"Any time you get to experience people from another culture and people who live another way of life, I'm definitely game for that," said Riggs. "How often do you have an opportunity like this? I think it's awesome."
"She said they wanted to see a Tribe out here in Oregon and see how it operates," said Olson. "She (Cunliffe) needed an avenue into our Tribe; I was very happy to provide that connection."
Cunliffe, and her colleague, Dr. Vandy Kanyako, are involved with a program called the Young African Leaders Initiative launched by President Barack Obama in 2010.
The initiative looks to support young Africans between the ages of 25 and 35 who are considered leaders in their communities. The initiative looks to provide growth and avenues to prosperity as well as strengthen democratic government and enhance peace and security across the continent.
The flagship program for the initiative is the Mandela Washington Fellowship. The young leaders selected to visit the United States and Grand Ronde were part of a six-week exchange designed to provide leadership training and mentoring in business, civic leadership and public administration as part of the fellowship.
The group's tour of Grand Ronde started when everyone gathered in the Tribal Governance Center for a performance by students in the Tribe's Chinuk Immersion class.
Riggs and Chinuk Teacher Jeff Mercier lead the children in three songs for the guests who came from 21 African nations.
The group moved to council chambers to meet with Tribal Council Chairman Reyn Leno, who was joined by Tribal Council Secretary Cheryle A. Kennedy and Tribal Council members Chris Mercier, Tonya Gleason-Shepek and Ed Pearsall.
"I'm so grateful to be here today," said Cunliffe as she introduced her colleague Kanyako.
"Thank you so much for inviting us," said Kanyako. "These are 25 fellows that are young professionals with a proven track record of change in their communities. For me, it's the classic citizen exchange program. This is really exciting. We are honored to be here and we look forward to this exchange."
Leno welcomed everyone and introduced the other members of Tribal Council.
"We are always honored to have people come here," said Leno.
"Our job is to develop laws and policies and to establish our government since we were terminated," said Kennedy. "We're building a nation. We have been doing that for 35 years now. It's a great pleasure to host you here today."
One young leader from Uganda asked council members about the Tribe's treaties and another young leader from Zimbabwe asked about the Tribal Constitution in relation to the U.S. Constitution. Another young leader from Chad asked about the Tribe's language programs.
After meeting Tribal Council, the group went to the plankhouse for singing and dancing and then back to the Education building for lunch with Riggs, Gleason-Shepek, Tribal General Manager Dave Fullerton, Natural Resources Manager Michael Wilson, Tribal Historic Preservation Department Manager David Harrelson, College Program Coordinator John Harp, 477/VR Program Supervisor Michael Herrin and Domestic Violence Program Coordinator Anne Falla.
Riggs provided the invocation for the lunch and staff members took turns going around the table to educate guests on what their individual Tribal programs were all about.
"I felt like I learned so much that I didn't know," said Cunliffe, who is from England. "This was a very different experience. I thought it would be interesting if these people got together for cultural exchange."
One of the young leaders spoke about the many common issues he sees between African Tribes and Indian Tribes that were to him profound. "My view of what I thought I knew about Native Americans is now challenged by what I see," he said.
Once the luncheon was concluded, the group toured the Tribal museum and cultural center, Chachalu.
"In general, people know very little about Tribes," said Mercier following the visit. "Within the United States people know little about Tribes and when you go outside of the United States they know even less. I was hungry to know more about what goes on in those countries after talking to them. I want to get a better comparison of how it relates to Tribal people in the United States."
Mercier, who has traveled the world often, said cultural exchange is important and necessary for a well-rounded Tribal government.
"I think there is so much opportunity there," said Mercier. "Both sides can only benefit from it."
Olson, whose master's project was successful, said he was happy to play a small part in the bigger picture of things.
"I want Tribal folks to understand it is awesome to encourage other cultures to visit out here because it makes us grow," said Olson. "I love those things when we get together with other people like that."