Tribal Government & News
Casino opens new north entrance on June 22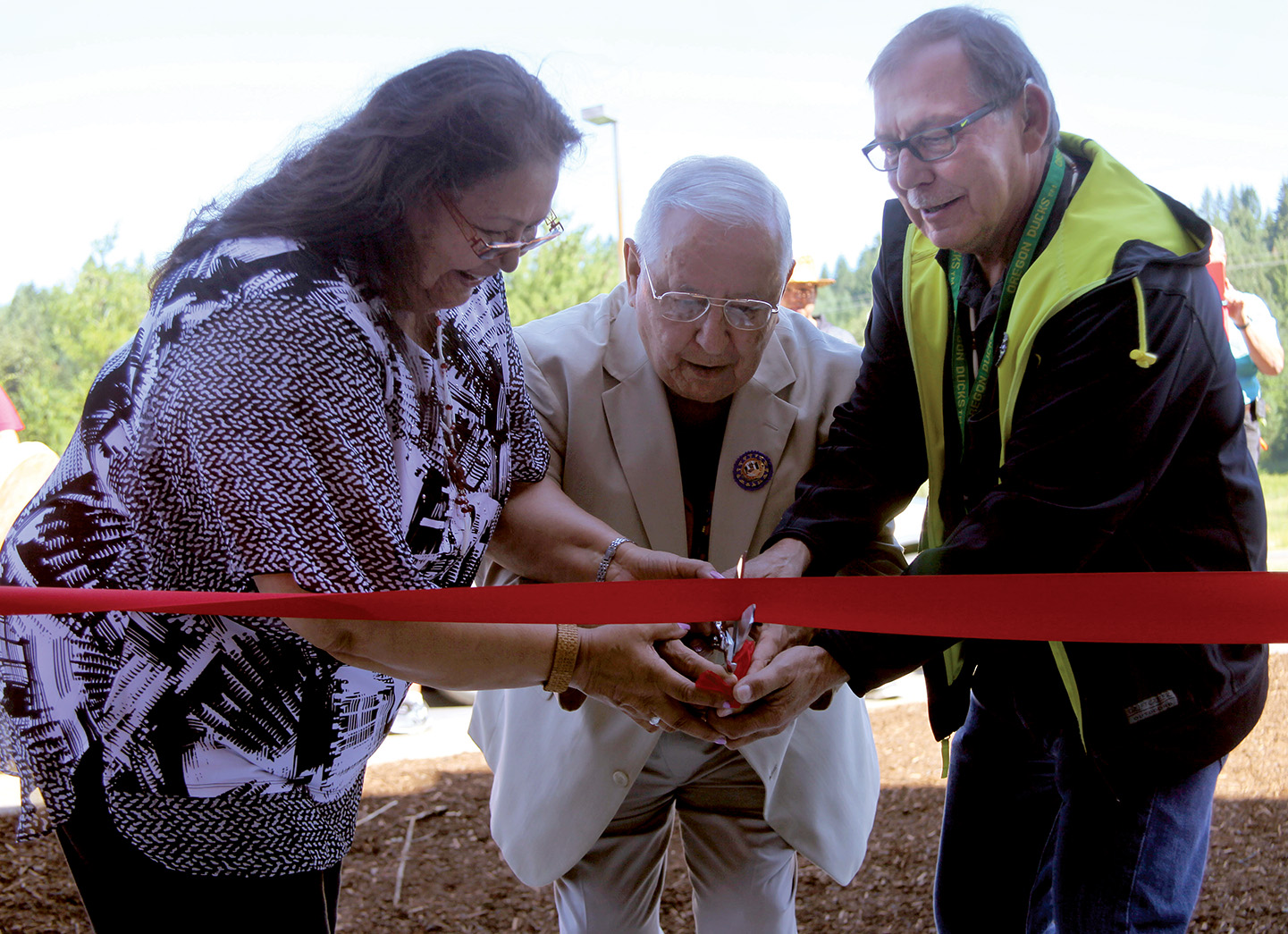 Spirit Mountain Casino opened its new north entrance with a ribbon cutting ceremony on Wednesday, June 22.
The new entrance, for adults 21 and older since it leads directly on to the gaming floor, is the first outwardly visible sign of a $13 million renovation to the 20-year-old casino that was approved by Tribal Council in November.
Spirit Mountain Casino Marketing Director Shawna Ridgebear said the new north entrance is a new beginning for Spirit Mountain that is energizing employees.
In all, the extensive remodeling will affect about 82,000 square feet of the casino and better position Spirit Mountain to compete with potential new gaming competition in 2017.
"I've got volcano lava running through my veins right now," Ridgebear said. "The north entrance truly does represent Spirit Mountain Casino's commitment to our guests. It was their voices that helped inspire the north entrance to give our guests better access to the parking and direct access to our gaming floor. It also starts the physical part of our remodel, a very extensive, multi-million dollar remodel that is only going to open a new chapter for Spirit Mountain Casino. So here's to our continued success that we can continue making our community and all of Oregon better."
Tribal Elder Steve Bobb Sr., a member of the Spirit Mountain Gaming Inc. Board of Directors, opened the ribbon cutting event with an invocation before a Grand Ronde drum led by Culture Department employees Bobby Mercier and Brian Krehbiel performed a song.
"I want to thank everybody for the outstanding work that they did here," Bobb said after delivering the invocation. "I want to thank our Tribal Council for their ultimate wisdom to move forward with bringing this new energy and new beginning to our casino."
Tribal Council Vice Chair Jack Giffen Jr. welcomed attendees, which consisted mostly of casino employees, to the event.
"I want to welcome everyone here to a new chapter in Spirit Mountain Casino's legacy," Giffen said. "Many of us Tribal members have been here for many of the openings for new additions to the casino. I hope this brings forth more enjoyment to our guests and gives our staff more tools to make the dollars that go to the Tribe."
Tribal Council Secretary Cheryle A. Kennedy and Tribal Council member Brenda Tuomi also attended.
"I want to express my appreciation to all of the staff who have worked to bring forward this beautiful new entrance," Kennedy said. "I think that the color selection here really guides you into the building, and I enjoy that.
"To me, the new additional entrance represents more opportunities for us. More ways that we can do things and help Oregon be a better state. As we continue to earn money, we are able to return back to Oregon, and what a wonderful thing to do."
Approximately 6 percent of Spirit Mountain Casino profits are funneled into the Tribe's philanthropic entity, Spirit Mountain Community Fund, which has given back more than $70 million in grants since its inception in 1997.
Spirit Mountain Casino General Manager Stan Dillon said the north entrance is just the first of 10 remodeling phases.
"I really do think it will keep us as one of the premier gaming industry casinos in the country," Dillon said. "I think it will be something that we can all be proud of."
Tribal Elder and former Tribal Council member Wink Soderberg, who also sits on the Spirit Mountain Gaming Board of Directors, joined Giffen and Kennedy in cutting the ceremonial red ribbon.
The Grand Ronde drum sang another song to close the ceremony.
I-5 Design and Manufacture Inc. of Lacey, Wash., is performing the remodeling work.
"Now on to Phase Two," Ridgebear said as employees entered the casino through the new opened entrance.