Tribal Government & News
Spirit Mountain Casino prepares for 20th anniversary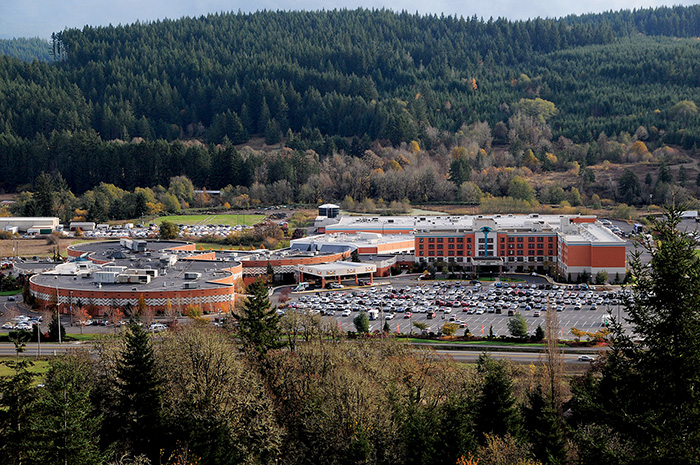 By Brent Merrill
On Oct. 16, Spirit Mountain Casino will mark its 20th anniversary of opening.
Consistently one of Oregon's top tourist attractions, Spirit Mountain Casino has been the driver that put the Confederated Tribes of Grand Ronde on the Oregon map economically, culturally and politically, as well as helped lead the Tribe to prosperity.
"I think this anniversary is a huge event," says Tribal Council Vice Chairman Jack Giffen Jr. "I really think that the people who drove the casino in the beginning really thought it would last only 10 years. So a 20-year anniversary is huge in my eyes."
Tribal gaming in the United States began Oct. 17, 1988, with passage of the National Indian Gaming Regulatory Act. Tribal gaming in Grand Ronde started when Tribal Council member Merle Holmes and a handful of Tribal Council members visited the Poarch Band of Creek Indians in Alabama.
The Poarch Band had established a bingo hall on its Reservation and used the profits to build a fish hatchery and paint recycling business, and it had begun building Elder housing. The Poarch Band now operates three casinos in Alabama.
Before the trip to Alabama, Holmes had opposed gaming. But when he saw the economic opportunities brought about by something as simple has a bingo hall, he thought about how gaming could benefit the Grand Ronde Tribe. Holmes was one of the most respected Tribal leaders in the Northwest when he passed away in May 2004 at the age of 70.
"When he (Holmes) came back he said we have to get in on this while the door is open," says Tribal Elder and former Tribal Council member Ed Larsen. "He said there is a window of opportunity and we have to take it."
"The Poarch Creek had a very good facility," says Tribal member and then-Spirit Mountain Development Corp. General Manager Bruce Thomas. "It was after the initial visit with them that council decided to take a closer look at gaming."
Jim Willis, the Tribe's general manager at the time, says discussions at the leadership level were whether there would be gaming in Grand Ronde ever. Willis, who now lives in southern Oregon near Table Rock, says the small contingent of Tribal Council members who visited Alabama came away with a different view of Tribal gaming.
"That visit changed a lot of people's minds," says Willis. "All they (Poarch Band of Creek Indians) had was high-stakes bingo and they had used that to build a good community. The folks from Grand Ronde saw what was possible and that had an effect on them."
Thomas says there were many economic development options on the table for Tribal leadership to consider. He said Tribal Council looked at all of them and in particular they looked at what other Tribes were doing.
"We had been looking at different proposals and considering different opportunities for economic development when the gaming proposal came up," says Thomas. "We realized it could be a home run. Originally, we had been looking at having a third party run the operation for us, but after considering our options in that regard we decided to do it ourselves."
Thomas was Spirit Mountain Casino's first general manager from opening through Feb. 8, 2000. He now works at Rolling Hills Casino in Corning, Calif.
Thomas says the development corporation - the Grand Ronde Tribe's economic development arm - worked with the Shakopee Mdewakanton Sioux Tribe in Prior Lake, Minn., to establish Spirit Mountain Casino. The Shakopees own and operate Mystic Lake Casino southwest of Minneapolis and St. Paul.
"I think Bruce Thomas was a key player in that whole situation," says Tribal Council Chairman Reyn Leno. "I think not having to hire a management company to come in and manage our casino for us added to our success. We weren't relying on somebody else to tell us how to run our casino. We, as a Tribe with Tribal members and others, were doing it on our own."
Larsen agrees that Thomas was one of the keys to Spirit Mountain Casino's early success.
"When we got going he took us to the top," says Larsen. "It was exciting."
Gaming compact signed
Oregon Gov. Barbara Roberts, who was governor from 1991-95, signed a gaming compact with Grand Ronde in 1993 and the Tribal membership voted to pursue gaming in 1994.
Roberts was Oregon's 34th governor and the first woman to be elected to the office. She was born in Corvallis and raised in Sheridan, where she graduated from Sheridan High School in 1955.
"She (Roberts) was open to the idea," says Larsen. "She came out to the powwow to sign the compact. It was quite an experience."
"The process was new in Oregon and it was relatively new nationally because the Indian Gaming Act was new to the country," says Roberts during a recent interview at Spirit Mountain. "We had no experience in Oregon with the kind of discussions and negotiations that went on in terms of size and the number of machines. All of the technical part of those negotiations we had never done that before.
"It literally was a whole new process for both the Tribal representatives and the state people who were doing the negotiations. We knew the process had to be fair to the Tribe. It had to be realistic. It had to be economical so that they could in fact make money at this process."
Roberts says negotiating the compact with Grand Ronde was at times "tedious" and time-consuming, but she said it was critical that it was done correctly.
"It set the pattern for every other Tribal negotiation that we did setting up the next set of gaming operations," says Roberts. "So this was the blueprint, if you will, for what we did with the rest of the state."
Roberts says growing up in Sheridan made working with Grand Ronde Tribal leadership interesting and important.
"I had a few Tribal members who actually went to school with me in Sheridan," says Roberts. "This felt like home for me out here and the fact that this was the first Tribe was very special for me that I got to do this one. It was a very positive experience. It was not confrontational and it was not just a legal process. It was, 'How are we going to make this work?' and 'How do we put the pieces in place to ensure that it works well?' That was always the attitude.
"We were inventing the wheel. We had never done this before. I felt very good about how all of that went and the outcome of it. I feel so proud of what they have done and how well they have done it."
Larsen says the next step was to rally the community to support a casino in Grand Ronde. He began by talking to local residents about the idea.
"In order to have a casino we had to go out and educate the community and become good partners with the community," says Giffen. "I think it is just an example of the foundation that was built in the early days."
Willis says educating the surrounding community, as well as state and county leaders, was crucial to the Tribe's efforts in establishing gaming in Oregon. He says people had visions of gaming derived from movies and popular fiction and that dispelling those myths was important to the eventual success of Spirit Mountain Casino.
"We tried to support the council with our strategic planning and it showed the people that we were thoughtful about what we were doing," says Willis. "It showed people that the Tribe was stable and people could see that we had embraced the surrounding community in the right way.
"When we sought the initial loan to develop the casino we were supported in our efforts. All those thoughts about the negative aspects of gaming were dispelled and people understood the benefits of having this operation in place."
Construction loan secured
Tribal leadership secured an $18.9 million loan from John Hancock Insurance Co. and broke ground on the casino project in October 1994. Six months later, the casino's new logo – a coyote jumping over Spirit Mountain - was unveiled.
"I can't believe it has been 20 years already," says Tribal Council member Chris Mercier. "I remember seeing it for the first time. I was coming back for Christmas from school and I remember seeing this huge structure with lights and everything. It was fantastic."
Mercier remembers working at the casino during its first year of operation.
"There was a lot of camaraderie because all of a sudden there was this area that was supplying good-paying jobs," says Mercier. "People were just excited. The community had not seen anything like it. It brought so much to the community."
Tribal Council member Tonya Gleason-Shepek remembers a similar experience when she first saw Spirit Mountain Casino.
"I remember coming over here right after it was built and just being in awe of how beautiful it was," says Gleason-Shepek.
"I think one of the most important pieces of it was that you start at a level you believe could be successful," says Leno. "Obviously after phase one of the casino it was realized really fast that there was going to be a phase two and maybe a phase three and on and on. I think that was strategically important."
In 1996, the Fourth of July holiday marked the opening of phase two at Spirit Mountain Casino. The expansion opened the new Legends steakhouse restaurant and lounge, new banquet rooms and a children's play area.
"As we moved forward with phase two we used the same strategy as when we started," says Leno. "We weren't looking to build a monster. We were looking at needing more machines and we needed more amenities for our guests so that is what we built. I think we were very wise in the way we were building and we always had it in our minds how much money did we need to make to start giving benefits to the membership."
Another casino expansion project began in January 1997 when Gov. John Kitzhaber agreed to a new gaming compact with the Tribe that allowed for new gaming options. Later that year, roulette was added in April and craps was added in June. Spirit Mountain Casino currently has 17 tables in the poker room, which is open 24 hours a day every day.
Community Fund created
In 1997, the Tribe began fulfilling its tradition of potlatch, a ceremony at which good fortune is distributed, by sharing 6 percent of the casino's profits through Spirit Mountain Community Fund.
The fund's focus is to improve the quality of life in northwest Oregon through community investments that provide lasting benefits consistent with the Tribe's culture and values.
"The fund supports work that addresses the health, education and social needs of Oregonians with a special focus on empowering our most vulnerable populations," says Spirit Mountain Community Fund Director Kathleen George. "We promote equity, value diversity and believe that all Oregonians can live and work together better when we understand our shared and unique histories.
"We understand that the philanthropic community has not historically invested adequately in communities of color and so we believe that a critical part of our work is to promote more equitable philanthropic investment in traditionally underserved communities."
George says she thinks the biggest legacy of the Community Fund is one of partnership.
"It's a way for the Tribe to institutionalize their partnering," says George. "We partner with communities that have identified issues in their communities – whether it is a health issue, a safety issue or an education issue. They feel like they can do something about it. But, they need a partner – an investor to be able to do that work. I think it has been incredibly empowering for the Tribe to be that partner and say, 'We agree with your vision and we want to empower you to do that work.' I think that's really the legacy."
To date, Spirit Mountain Community Fund has distributed more than $67 million to nonprofit, charitable organizations in 11 counties in Oregon, as well as awarded grants to the nine federally recognized Tribes in the state.
The next big development at Spirit Mountain Casino was the opening of the new 100-room lodge on Dec. 21, 1998. Just five months after Spirit Mountain Lodge opened, the Oregon Tourism Commission declared the casino to be the state's top tourist destination, besting perennial top attraction Multnomah Falls. 
With the new millennium came one of the most important distinctions in the casino's brief history that still sets the property apart from other Indian gaming operations. In December 2000, the National Indian Gaming Commission recognized the Tribe for operating one of only two self-regulating casino operations in the United States.
Six months later in 2001, Spirit Mountain Casino expanded again when construction work began and 5,200 square feet of gaming floor was added. The new space made room for an additional 200 slot machines.
In August 2003, the walkway between the casino and lodge was remodeled to become the Hall of Legends. The new space became an area for the display of items and pictures showcasing the history and culture of the Tribe for casino and lodge visitors to see and learn about the Tribe.
Also in 2003, the Tribe opened a new convenience store – Grand Ronde Station -- next to the casino. The store offers gasoline, a car wash and restaurant to go with other standard convenience store items. The convenience store now has a charging station for electric cars as well.
In April 2004, construction work began on a new expansion to the lodge. With the lodge running at a 95-percent occupancy rate, the new rooms were needed. The five-story lodge addition added 163 rooms and opened in April 2005.
On Sept. 1, 2006, the casino opened The Peak area, offering additional gaming space.
On Feb. 5, 2007, a groundbreaking ceremony was held to mark the beginning of construction work on the southern expansion project at Spirit Mountain. The expansion was completed and opened on May 15, 2008.
The fourth major expansion added 132,000 square feet of space to the casino and is the new home of the Cedar Plank Buffet and the new Events Center that seats as many as 2,000 people.
The new buffet instantly became the largest in Oregon and the second story of the building became offices for casino administration, executive staff and the Gaming Commission. The Events Center's movable walls can be closed to provide multiple areas for meetings, receptions and banquets or opened up completely for concerts, prize fights and other large-scale entertainment events.
Over the years the caliber of entertainment featured at Spirit Mountain Casino has been stellar and the property continues to draw big name stars. Star attractions like Jay Leno, Crystal Gayle, Rita Coolidge, Willie Nelson, Johnny Cash, Waylon Jennings, Merle Haggard, Faith Hill, Tim McGraw, Chris Isaak, Trisha Yearwood, Chris LeDoux, B.B. King, Boz Scaggs, Dana Carvey, Paul Anka, Gladys Knight, George Benson, Patti LaBelle and John Legend have performed at the casino. This year, country singer Martina McBride will perform for the casino's 20th anniversary at 8 p.m. Saturday, Oct. 17, as part of her "The Everlasting Tour."
Former casino General Manager Rodney Ferguson says he was particularly proud of the top draws that have made their way to Spirit Mountain.
"John Legend sold out in two days," says Ferguson. "We were trying to reach out to the Portland audience by bringing in rhythm-and-blues acts and rock acts that could add excitement to the property. We found out what people really liked and we used the drawing power of the casino to make the shows affordable. John Legend brought a whole new audience to the casino."
Mercier says he remembers the first wave of big city folks making their way to Grand Ronde for entertainment.
"What tripped me out most about the casino was all of a sudden you started seeing all these Portlanders coming down," says Mercier. "People were all dressed up and coming from Portland for a real night out in Grand Ronde. You never thought in history that someone would say that, but the casino created that opportunity."
Tribal leaders are unanimous in expressing their amazement at the quality of top level performers who have made their way over the years to perform at Spirit Mountain Casino.
"We have had some very big names here in Grand Ronde and I think it plays to who would have ever thought this could happen in Grand Ronde," says Leno. "I think it is pretty incredible."
"I could have never imagined when I was growing up out here, kicking rocks down the gravel roads, that Jay Leno or Willie Nelson would be standing on the property that was just an open field," says former Tribal Council Secretary Toby McClary. "I would have laughed at you if you said that those people would have been standing on the property 20 years from the days when I was growing up. It's pretty unbelievable what we have going on down there on that property."
In August 2007, the casino opened the new free-standing PlayWorld Events Center adjacent to the lodge.  
On May 23, 2009, the casino opened the Mountain View Sports Bar, which features a 100-inch projection screen television and 15 plasma screens for guests to watch sporting events while enjoying food and beverages.
"It took us a while to get the sports bar going because we didn't want to just close down the whole area," says Ferguson of the Mountain View expansion. "So it took a while, but it turned out very nice. I'm really proud of that project."
Ferguson, who now lives and works in Virginia, also says he was proud of the way the renovation of many of the rooms in the lodge turned out when that project was completed under his watch.
"We renovated 109 rooms that hadn't been done is some time," says Ferguson. "We wanted to transform those rooms into something that not only captured the flavor of the Northwest but the feel of the Tribal aspect as well. We got very positive responses from our guests. We wanted to make them nice and give them a Las Vegas feel. We wanted to make them more contemporary and give the guests something to remember us by.
"We tried to do the same thing with the restaurants as well when we renovated them and when we put the new carpet in. When you have 2 million people coming to the property annually, you want to freshen the look once in a while and give it a higher energy feel."
Casino bolsters economy
Over the years, Spirit Mountain Casino has become the largest employer in both Polk and Yamhill counties. Almost 375 people work for the Tribal government and more than 1,200 people work for Spirit Mountain.
"There is only 12 percent Tribal members who work at the casino so that is a huge thing for the community surrounding us," says Giffen. "We like to give Tribal members all the opportunities we can, but we don't have enough Tribal members to do it (operate the casino) ourselves."
McClary agrees that the community has been strengthened by the employment opportunities provided by the casino.
"That means that 88 percent of the workforce at the casino is community members," says McClary. "So we are not only providing opportunities for Tribal membership, but we are also embracing the outside community. In many cases some of those folks would have had to relocate, move somewhere else, leave their homes and look for work outside the community they live in to continue to provide for their families. So having the casino and the Tribe present really offered them the opportunity to stay home and be with their families and provide for their families."
"I think we have a lot of good workers," says Leno. "I think our employees – whether they be past or present employees – have led to the success of our casino and they still do today. They are the ones that do the work."
Larsen says he and other Tribal leaders never imagined what Spirit Mountain Casino has become was even possible when they started the project. He says the plan was to start a bingo hall like the Poarch Band had established in Alabama.
"We knew it was going to be good for the Tribe," says Larsen. "We were told when we first started that the income could be as much as $16 million annually if everything went well. Then it went to $23 million that first year. It's been a good ride for the Tribe. The medical and health care is just unbelievable. The dividend we give has turned our Elders' lives around."
Based on the Community Fund's 6 percent distribution of $67 million, Spirit Mountain Casino has earned more than $1 billion since it opened that has gone to support the Tribal government and its programs for members.
Dr. Katherine Spilde, who is an associate professor at the L. Robert Payne School of Hospitality and Tourism Management at San Diego State University, says revenues at Spirit Mountain Casino place it among the most successful Tribal gaming operations in the United States.
"Gaming revenues are a function of numerous factors, including operations expertise, good management, location and marketing," says Spilde. "As important as the revenues, however, is the Tribal government investment strategy. Your Tribe invests these revenues into endowments, which is a true commitment to institutionalizing the social and economic recovery that Tribal gaming has stimulated across Indian Country."
Spilde says that according to the National Indian Gaming Commission's 2014 statistics on Indian gaming revenues, Spirit Mountain Casino is in the top 25 percent of Indian gaming operations. The commission's statistics show that 50 of the 459 Tribally owned gaming operations generate revenues between $50 million and $100 million annually.
"The benefits from the casino are just unmeasurable to the people in this community and especially to the Grand Ronde Tribal members," says Gleason-Shepek. "You look at all of the programs that we offer and a lot of that is supported by gaming dividends and I really support that.
"The early Tribal Council had a wonderful vision and without the gaming we would have none of that. It's brought so many people back to the Reservation and it has provided so many jobs and opportunities."
'It's a benchmark'
Current Spirit Mountain Casino General Manager Stan Dillon says he has seen casinos open and close in less time during his long career.
"It's a benchmark," says Dillon. "I look at it like 20 years of success is a long time for a casino. So when you think of the casino not only as still there, but thriving 20 years later, it says a lot about the people and the company that is running it."
Dillon says much of the credit for a successful casino operation goes to Tribal leadership. The fact that Spirit Mountain is competing with another casino nearby and the Oregon Lottery's 12,000 machines says a lot, he adds.
"Our board and our council have done good things to keep the company where it's at," says Dillon. "It's a huge moment for us and we expect to continue to be the premier destination with the best machines, the best food and the nicest appearance. So that's what it means to me in my position."
Dillon attributes much of the property's success to the employees who work at the casino.
"Casinos are a reflection of the people who work in them, I think any good business is," says Dillon.
The casino is now 100 percent coinless. When players cash out of their slot machines or video poker games, they are issued a paper ticket that can then be fed into any other machine. Players can move freely from one machine to another without having to cash in at the cashier window each time. When players are ready to receive their cash, they can go to the cashier window or cash in at exchange machines placed throughout the casino – usually next to the ATMs.
Casino visitors can play Texas Hold'em in the poker room, three-card poker on the gaming floor along with pai gow, Let It Ride, craps, roulette, blackjack, keno, bingo and the largest variety of slot machines in Oregon. Selected video slots machines are considered progressives and they are connected nationally to other Native-owned and -operated casinos throughout the country. Guests playing these machines have a chance to win major jackpots of as much as $500,000 or more.
"I think the Tribe has managed the casino great," says Gleason-Shepek. "I think the casino has grown with the community and the needs. I think they have done a good job managing the growth. I think they have done a good job of keeping it nice and fresh and updated, and I absolutely love the hall that tells our story."
"One of the goals for any council, whether it was 20 years ago or today or hopefully in the future, is self-sustainability for our Tribal members," says McClary. "And I think the revenues driven by the casino allow us to help build those steps to self-sustainability for our membership. It really provides us an opportunity to get people moving in the right direction. Take education, for example. We spend a portion of our revenues from the casino every year to educate our people, which helps them go on to become positive influences in society."
Mercier agrees that the casino has had a huge effect on the Tribe and the surrounding community.
"It's more than a casino," says Mercier. "It's been a catalyst for change. It's brought the Governance Center. That is something we wouldn't have without the casino. We have sidewalks now on Grand Ronde Road – remember seeing people walking in the ditches? It's brought so much to the community. Who would have ever seen this at Restoration? It's phenomenal. It's put our people on the map."
Leno says he sees a 30-year or even a 40-year anniversary coming.
"When I drive by the casino every morning I guess I don't see the glitz and the glamour and all the cars and the excitement and everything, I see the future of the Tribe," says Leno. "I see our education program. I see our Elders' pension. I see our health plan. I see all of that in the casino."