Health & Education
Two new nurse practitioners join Tribal Clinic's staff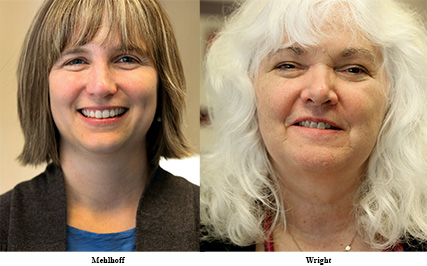 Nurse Practitioner Victoria Wright, 59, joined the Tribal Health & Wellness Clinic on Aug. 29 with some 25 years of experience under her stethoscope.
Amanda Mehlhoff, 36, also joined the clinic at the end of September in her first nurse practitioner position since graduating with a master's degree in Nursing from Gonzaga University in Spokane, Wash.
Wright and Mehlhoff fill half of the four nurse practitioner staff positions at the clinic.
They are ramping up on clinic systems and procedures. When ready, they are expecting to treat 14 to 18 patients daily.
Long term, the Tribal clinic encourages its different specialists to work together, where appropriate, on patient issues, such as integrating treatment for medical and mental health patients.
Long term for the nurse practitioners, Wright said she would like to focus on wellness.
"On more natural ways of pain control," she said. "We're seeing more deaths from overdoses of controlled substances as well as more addiction and dependencies. In the U.S., 46 deaths a day are attributed to these overdoses."
Wright said her efforts are looking at pain control through physical, stretching and massage therapies, and by building muscle mass. Of course, the controlled medicine forms of pain control still have their place with injuries or following surgery. Holistic is for the long run, she said. Better physical health means a patient will not be as susceptible to pain.
Mehlhoff comes to Grand Ronde "to provide holistic primary care, and help patients avoid unnecessary hospitalizations." She has been a nurse at Salem Health since 2007, working initially in the medical surgical unit and the last four years in the intensive care unit. She worked part-time while attending Gonzaga to earn her master's degree.
"My most satisfying moments in nursing have been during my clinical rotations as a nurse practitioner," Mehlhoff said. "It feels really rewarding to be able to help prevent complications or conditions with patients. To help them cut down on their smoking, to treat high blood pressure or to help a scared kid, or adult for that matter, through an uncomfortable exam.
"It is so exciting to have patients come back and say, 'Did you see my blood pressure?' or 'I'm down to half a pack!' These things seem so simple in comparison with many of the things I did as a nurse in the ICU, but they can really make a difference in the long run for patients and families. It feels good to be a part of that, even though the patients are doing the real work."
Wright worked at Harborview Hospital in Seattle in the intensive care unit for more than four years as a registered nurse and at Evergreen Hospital in Kirkland, Wash., in the Oncology Department for about five years. She also has worked in urgent care, family practice and internal medical in Washington state as a nurse practitioner for three years.
Wright has a bachelor's degree in nursing from the University of Washington and a master's in nursing through Seattle Pacific University. She is currently working on a doctorate in nursing from the University of Central Florida and a master's in mental health counseling through Stetson University.
Wright lives in Grand Ronde while her husband, Robert, who works as a critical care registered nurse on an amyotrophic lateral sclerosis transport in the greater Tacoma-Seattle area, finds new work in this area.
Wright was born and raised in Seattle. Her family includes five grown children, all living in Washington state, three stepchildren and 12 grandchildren. During her off hours, she is an artist and jewelry maker.
Mehlhoff, who was raised in McMinnville, lives in Willamina. Her off hours are spent with her husband, Ryan, her 2-year-old daughter, Amelia, and their dogs.