Culture
Tribal ally Vic Atiyeh walks on at age 91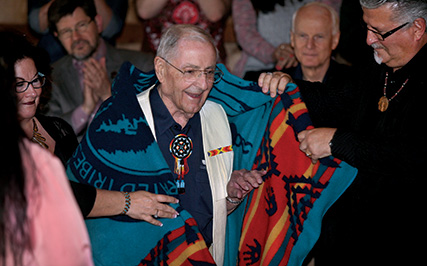 It's fitting that during what turned out to be the final time former Oregon Gov. Vic Atiyeh visited Grand Ronde on May 21, he was gifted a Pendleton blanket by Tribal Council in appreciation for his support of the Tribe during its Restoration efforts in the early 1980s.
Atiyeh, 91, walked on on Sunday, July 20, at Providence St. Vincent Medical Center in Portland from renal failure.
Atiyeh served as governor of Oregon from 1979 to 1987 and was supportive of the Grand Ronde Tribe's efforts at regaining federal recognition during his time in office. The Tribe officially became restored on Nov. 22, 1983, after 29 years of Termination.
Atiyeh also was instrumental in the formation of the Legislative Commission on Indian Services during his time in the Oregon Senate in 1975.
He visited Grand Ronde in May as part of the Legislative Commission on Indian Services' Spring Gathering.
"The Confederated Tribes of Grand Ronde is saddened by the passing of former Gov. Vic Atiyeh," said Tribal Council Chairman Reyn Leno on Monday, July 21. "On behalf of our Tribal family, I'd like to offer our condolences to the family and friends of Gov. Atiyeh.
"Gov. Atiyeh meant a lot of Grand Ronde. The timing of his passing is unfortunate. We're greatly appreciative of the time we were able to spend with Gov. Atiyeh at our Tribal plankhouse in May and at the various gatherings and meetings we've had with him over the last several decades.
"Today, we mourn the loss of a dear friend and pay tribute to his many accomplishments. He will be sorely missed and we thank him for his work on behalf of the state of Oregon, the Confederated Tribes of Grand Ronde and Oregon's federally recognized Tribes."
The Tribe lowered its flags to half-staff in honor of Atiyeh's passing.
Karen Quigley, executive director of the Legislative Commission on Indian Services, said that Atiyeh was "a remarkable leader and dear friend" of the Legislative Commission on Indian Services, Tribal leaders and Oregon Tribes.
"You would be hard-pressed to find anyone who has done more to support and encourage a positive relationship between the state of Oregon and the nine federally recognized Tribal governments in Oregon," Quigley said.
"It was wonderful that the Legislative Commission on Indian Services, other Tribal leaders, Tribal and state representatives and friends had the opportunity to share a special evening with him and his grandson this past May and honor him as the founder and longest supporter of the Legislative Commission on Indian Services. He mentioned recently how important his relationship over the years has been to be involved with and such a good friend of the Tribes and LCIS."
Atiyeh served in the Oregon House for six years starting in 1959 and then moved on to the Senate in 1965, where he served for 13 years, seven of which as Republican leader.
He was elected governor twice, in 1978 and again in 1982, and currently is the last Republican elected to lead Oregon. Of Syrian descent, he was the first Arab-American governor elected in the United States.
"I am deeply saddened by the passing of Gov. Vic Atiyeh," said Gov. John Kitzhaber. "He will be greatly missed, yet his steady leadership, gentle spirit and love for our state lives on in the many contributions he made to Oregon."
Atiyeh was born Feb. 20, 1923, to George and Linda Atiyeh. He attended Portland public schools and the University of Oregon for three years. He dropped out of college to tend the family carpet business, Atiyeh Brothers, at the age of 21 after his father passed away.
As governor, he was considered ahead of his time in diversity, supporting Native American causes and appointing the first woman to serve on the Oregon Supreme Court.