Tribal Government & News
Tribe donates $5,000 to code talker museum effort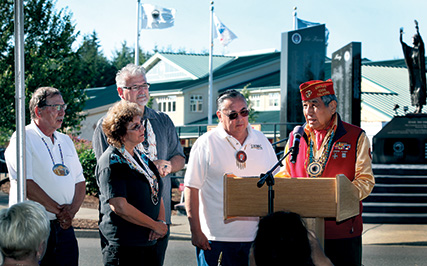 The Confederated Tribes of Grand Ronde donated $5,000 to help build a Navajo Code Talker Museum on Thursday, July 10.
During a dinner in honor of Navajo code talker Peter MacDonald Sr. held under a tent near the West Valley Veterans Memorial, Tribal Council Chairman Reyn Leno presented the check.
"You have done our Native people proud," Leno said.
"This is a really great honor given to the Navajo Code Talker Association," MacDonald said. "This is the first donation received from another Tribal unit. I hope others will follow you."
MacDonald said the proposed museum will preserve the legacy of the code talkers, who used their language to speak a code during World War II that was never broken by the Japanese. He said the name of the Confederated Tribes of Grand Ronde will be in a place of honor in the museum once it is built.
MacDonald, 86, said he is the youngest of the 30 surviving code talkers because he was only 15 when he enlisted in 1944.
The dinner, prepared by Spirit Mountain Casino Executive Chef Richard Burr and coordinated by the Tribal Public Affairs Director Siobhan Taylor and Administrative Assistant Chelsea Clark, included entrees of chicken, salmon and prime rib.
Tribal Council members June Sherer, Jack Giffen Jr., Leno and Jon A. George attended. George gave the invocation.
Marine Corps veteran and Veterans Special Event Board Chairman Steve Bobb Sr. provided the invocation and introduced board members in attendance - Wink Soderberg, Wayne Chulik, Raymond Petite and Annette Ingram.
The dinner opened with cultural drumming and singing performed by Jan Looking Wolf Reibach, Mike Karnosh, George, Kathy Cole, Travis Stewart and Veterans Royalty Queen Savannah Ingram and Junior Veterans Queen Amelia Mooney.
Leno said the Grand Ronde Tribe will place MacDonald's name on the West Valley Veterans Memorial, which is usually reserved for veterans who live in Grand Ronde, Willamina and Sheridan.
MacDonald then presented Leno with a necklace that had been blessed by the Navajo in appreciation for the Grand Ronde Tribe's hospitality and generous donation.
"This is the nicest reservation I have ever visited," he said, praising the leadership of the Tribe as evidenced in the development of the Tribal campus.