Culture
Yesteryears -- Jan. 1, 2014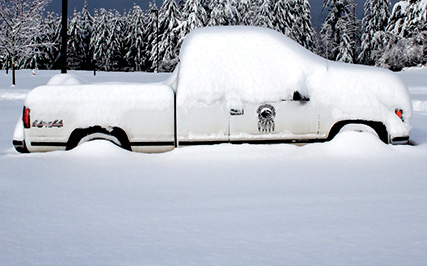 2009 - An Arctic blast that moved into the Pacific Northwest the week before Christmas buried the Grand Ronde area beneath several blankets of snow and ice, shutting down the Tribal campus for a week. Seventeen inches of snow and more than an inch of rain, mostly freezing, fell in the Grand Ronde area.
2004 - Power was knocked out to more than 30,000 residences and shut down Tribal offices for more of the week after a heavy snow hit the West Valley area just after Christmas. Portland General Electric personnel said that Grand Ronde was one of the hardest hit areas in the state and Portland General Electric crews worked overtime to get the power back on.
1999 - The Timber and Roads Department of the Natural Resources Division erected "entering" and "leaving" Reservation signs, which were placed along roads wherever a road crosses the reservation boundary."These signs will help gatherers, hunters, fishermen and other recreationists know when they are on Tribal land and when they are not," said Timber and Roads Coordinator Jeff Kuust.
1994 - The Tree of Giving, sponsored by the Tribal Social Services Department and coordinated by Mychal Childers and April Howren, was a huge success for the second year in a row. More than 60 Tribal staff and community members participated to help children have a merry Christmas.
1989 - Smoke Signals does not have a copy of the January 1989 edition.
1984 - Twenty-seven Tribal members were nominated during the Jan. 8 General Council meeting to run for the Interim Council. The election was scheduled to be held on Feb. 11 in the cafeteria of St. Michael's Recreation Hall.
Yesteryears is a look back at Tribal history in five-year increments through the pages of Smoke Signals.