Tribal Government & News
Portland officially formalizes relationship with Oregon Tribes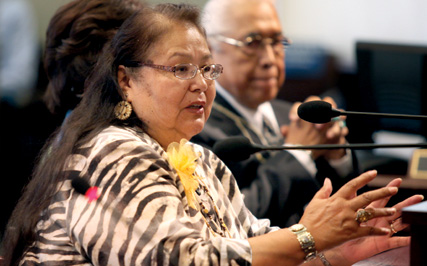 PORTLAND - More than nine months after the Confederated Tribes of Grand Ronde held its first-ever Tribal Government Day with Portland elected officials and staff, the City Council in Oregon's largest city voted unanimously on Wednesday, July 11, to formalize coordination and consultation with Tribal governments.
During the morning meeting, the Portland City Council approved a resolution that establishes government-to-government relationships with Tribal governments and recognizes Tribal sovereignty.
"This is an exciting and historic day," said City Commissioner Amanda Fritz, who spearheaded the effort with Portland Mayor Sam Adams. "This is a significant change and establishes structure to our relationship."
Adams said the city has a "unique responsibility" to work with Tribal partners on many issues, including the health of the Willamette River and the Portland Harbor cleanup.
"This starts the formal process of a government-to-government relationship," Adams said. "At its core, this resolution means we will no longer rely on the state or federal governments for our relationship with Tribes. They (those relationships) will be direct."
City Commissioner Dan Saltzman called the resolution a "historic moment" that would further "the good working relationship between the city and the nine Tribes in Oregon."
The resolution states that Portland will "implement its programs and activities within the context of honoring and respecting Tribal treaty rights, federal-Tribal trust responsibilities, traditional Native religious beliefs and the city will seek opportunities to partner with Tribal partners on economic, environmental and social improvement initiatives."
The city of Portland sits in the homelands of the Confederated Tribes of Grand Ronde, which ceded the land to the federal government in the 1855 Willamette Valley Treaty.
"The city wishes to establish and maintain a relationship of mutual respect to achieve positive, mutually understood and beneficial solutions to common situations and … to build relationships, promote effective communication and coordination, to seek opportunities and prevent conflict," the resolution states.
Portland elected officials committed in the resolution to develop internal city policies and procedures that support and affirm its commitment to government-to-government consultations with Tribes and will enter into intergovernmental agreements and/or memorandums of understanding "at the request of its Tribal government partners."
"This is truly a pleasure to be here," Tribal Chairwoman Cheryle A. Kennedy said during her testimony before the City Council. "I want to welcome everyone to the homelands of the Confederated Tribes of Grand Ronde. I want to thank you for listening to what has been said about the importance and support of this resolution. It is very moving and meaningful. There have been times that we have sometimes felt like we were on the periphery of what was happening here, but thank you Council and Mayor for standing by us and listening to us.
"A few years ago, this was only an idea that this event would take place. We are very pleased that is has happened here today. It's clear to me that when we're dealing with honorable people, as well as being respectful, things do happen. Hopefully for the future of all us, Tribal leaders as well as the great city of Portland, that we will be able to move forward and forge many other relationships.
"It seems that the bond that holds us together is really the earth on which we walk and that is the thing that I personally have great concerns about … the way that the earth is being treated. This is what sustains all of us. Food does not come from outer space, it comes from here, the earth that we live on. If we don't take care of it, there will be disaster for all us. So by joining together to look at ways to clean up our mighty rivers, we're doing a great thing for the future generations of all of our people.
"This is a great thing being done here today and the bonds will certainly grow stronger through the gesture that is being made here today."
Fritz said that the Portland City Council will work with each city bureau about implementing the resolution and set up meetings with individual Tribal leaders to discuss how to move forward.
"I'm hoping this resolution will make for a much more respectful relationship and that we will be required to consult and treat our Tribal government partners as partners," Fritz said before the City Council meeting during a reception in the City Hall South Atrium.
Both Fritz and Adams said that establishing a government-to-government relationship will transcend who sits in positions of leadership for both the city and Tribes.
"It formalizes the relationship that already exists between the land on which Portland exists and the historic presence of our Tribal nations and Tribes that frequented the confluence of the Willamette and Columbia," Adams said. "It further cements our relationships with the area Tribal sovereign nations. … This continues our efforts to make Tribal nations full partners in Portland.
"This makes it government-to-government. It recognizes that there will always be turnover in leadership positions in the city and Tribal governments. This goes beyond person and makes it formal between Tribal nations and city government."
Tribal representatives, including Kennedy and Tribal Council members Kathleen Tom, Jack Giffen Jr. and Chris Mercier, met with Portland elected officials and staff on Sept. 23, 2011, to build more awareness about the Grand Ronde Tribe and its historical connection to the Portland area.
Also attending the July 11 City Council meeting were Tribal Attorney Rob Greene, Public Affairs Director Siobhan Taylor and Ceded Lands Program Manager Mike Karnosh.
"I think the importance of this resolution is that it memorializes the government-to-government relationship," Karnosh said.
Representatives from the Nez Perce, Umatilla, Siletz and Warm Springs Tribes also attended and testified.
"I think that the City Council's passage of the resolution reflects the work Grand Ronde has done to lay this foundation," Kennedy said after the vote. "Now we have to do the work."