Tribal Government & News
Tribe signs memorandum of understanding with city of Salem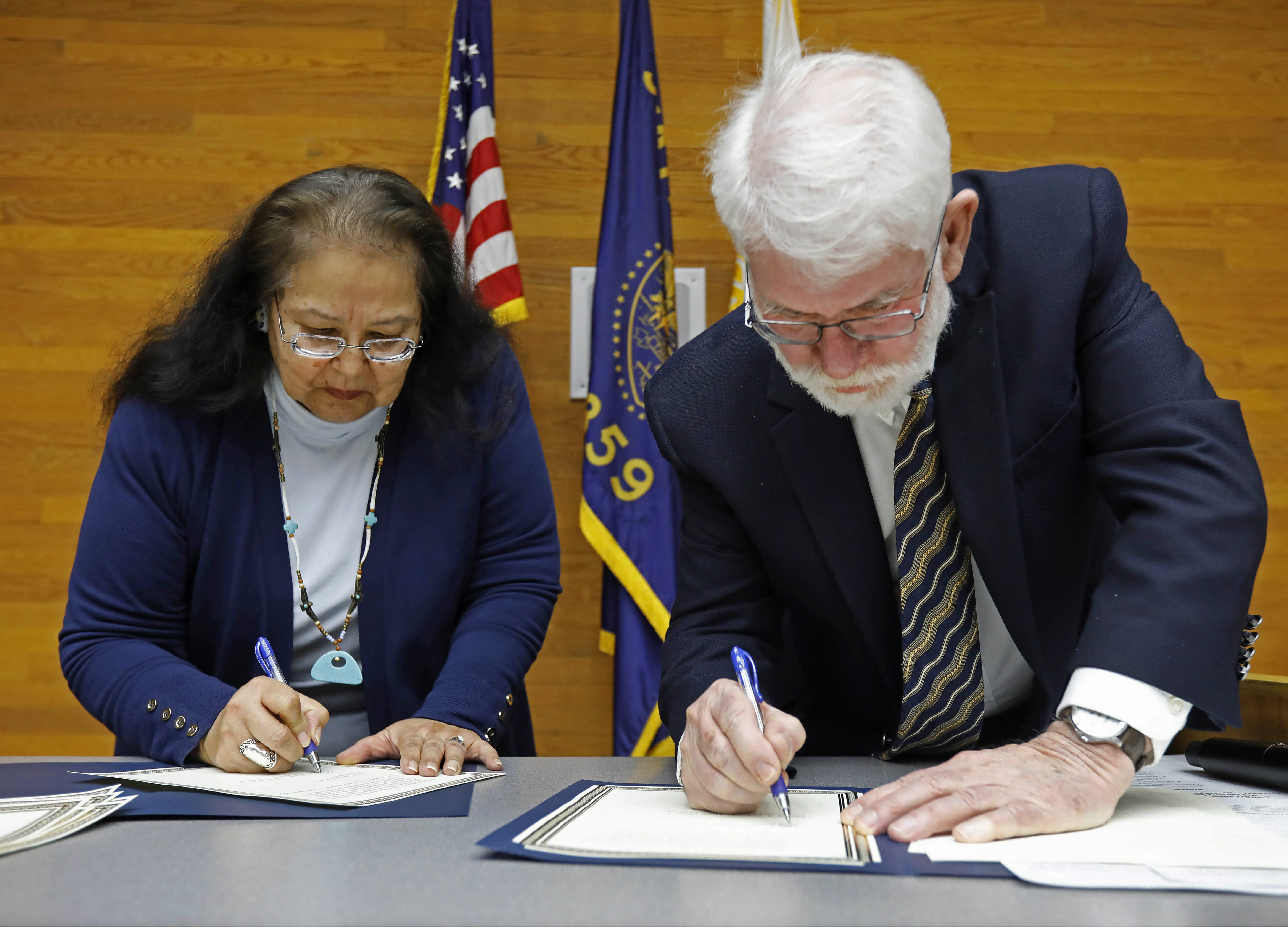 By Dean Rhodes
Smoke Signals editor
SALEM – The Confederated Tribes of Grand Ronde and city of Salem consummated a memorandum of understanding during a signing ceremony held on Wednesday, Feb. 19.
Salem joins myriad other governmental entities that have signed MOUs with the Tribe, including the city of Portland, University of Oregon, state Department of Transportation, national forests located within the state and area school districts.
Both the Grand Ronde Tribal Council and Salem City Council approved the MOU in January 2019.
Representing the Tribe at the signing were Tribal Council Chairwoman Cheryle A. Kennedy, Tribal Council Secretary Jon A. George and Tribal Council member Lisa Leno. Tribal Council Chief of Staff Stacia Hernandez and Ceded Lands Manager Mike Karnosh were among staff members who attended, as well as drum of Cultural Resources staff members Bobby Mercier, Cristina Lara and Chris Bailey.
The MOU's goal is to "strengthen the government-to-government relationship" between the Tribe and city and "facilitate communication on matters of mutual interest."
Specifically, the MOU pledges that representatives of the Tribe and city will work collaboratively to establish a database that will include known archaeological sites and Tribally significant areas that have a high probability of historic and pre-contact significance.
"Every effort shall be made to ensure protection of these areas, and avoidance of any adverse effects," the MOU states.
The city also pledges to provide the Tribe with adequate notice for proposed land use actions on private lands within the significant areas and ensure consultation.
The MOU also moves to ensure consistent contact between the city and Tribe with "constructive dialogue and problem solving that will promote cooperation."
The city pledges to annually proclaim November as Native American Heritage Month and that the city's Historic Landmarks Committee will develop activities in collaboration with the Tribe to honor the month.
Salem is part of the area ceded to the federal government in the 1855 Willamette Valley Treaty by several bands of the Kalapuya and other Willamette Valley Tribes.