Tribal Government & News
Tribe fetes release of new Chinuk Wawa dictionary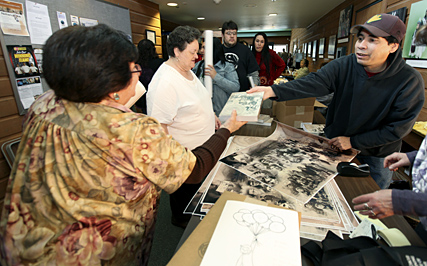 The Tribe officially has a new Chinuk Wawa dictionary, "Chinuk Wawa: As our elders teach us to speak it."
At the Sunday, March 4, General Council meeting, Cultural Resources Department employees choreographed a celebration that included drumming and singing, thanks to those who assisted in the decade-long project, honoring of Jackie "Chicha" Whisler's family and, finally, Chinuk Wawa bingo.
The new dictionary is almost 500 pages long and includes about 1,000 core words and about 3,000 compound words documenting the Northwest Indian trade language as it was spoken by past and current generations of Grand Ronde Indians. The new edition is one-third larger than the working dictionary previously created by the Tribe's Cultural Resources Department.
"This is a pretty amazing publication for the Tribe," said Tribal member and Cultural Resources Department Manager David Lewis. "It really shows the depth of our culture and the depth of our interactions with other Tribes in the area."
Lewis thanked the Public Affairs Department and Tribal Council for their help and funding, respectively.
Former Tribal employee Tony Johnson (Chinook), who worked on the new dictionary for many years while he was employed in Grand Ronde, said it was a "proud day" for Grand Ronde.
"This dictionary is going to be awfully important to folks that are just lay people interested in the language, linguists studying other languages and the community, of course, the children, everybody coming up," Johnson said.
The new dictionary is dedicated to Tribal Elder and Chinuk Wawa teacher Jackie Whisler, who walked on in December 2007. Members of her family, including son Mike Colton, grandchildren Justine, Nick and Jade Colton and sister Cheryl Carl, attended and received a copy of the dictionary.
"It was great," Mike said after the ceremony. "Anyone who knew mom knows that she put her heart and soul into the Tribe without ever expecting anything in return. (The dedication) was nice."
During lunchtime activities, a blessing song in Chinuk Wawa was sung and drummed by Tribal members Travis Mercier, Bobby Mercier, Brian Krehbiel and Gregg Leno and Johnson with Tribal youth lending a hand.
Posters of the book cover, which was designed by Tribal Graphic Designer George Valdez, were given away to those who wanted a copy, and several Tribal members purchased the dictionary for $20.
In addition, copies were distributed to Tribal Council members in attendance.
Tribal youth who are currently learning Chinuk Wawa in Grand Ronde Tribal language classes sang several songs in Chinuk Wawa during lunch.
"This dictionary is very important to us," Bobby Mercier said. "Our kids are speaking the language of our ancestors. That is a very big thing and is helping to keep our language alive."
Tribal member and Cultural Resources Program Manager Kathy Cole honored Johnson and Henry Zenk, an anthropologist who first started working with the Grand Ronde Tribe in 1978, for their work on the dictionary.
"It grew in stages," Zenk said about the evolution of the new dictionary.
Zenk and Johnson signed copies in the lobby of the Tribe's Community Center.
Cole thanked Chinuk Wawa teachers past and present for their effort in keeping the language alive. She mentioned Johnson, Bobby Mercier, Whisler, Ali Holsclaw, Crystal Szczepanski, Zack Edwards, George Neujahr, Daniel Haugg, Frank Quenelle, Jeff Mercier, Esther Stewart, Kim Contreras, Elaine Lane, Shawn Bobb, Bubba Sohappy, Shawn Beauchamp, Halona Butler, Hannah Zimbrick, Leslie Riggs, Tiffany Greenburg and herself.
Then Bobby Mercier, the Tribe's Language and Culture Specialist, led Tribal members in a couple games of Chinuk Wawa Bingo.
The bingo cards featured eight colors designated by their Chinuk Wawa pronunciation around a blank, white center square, and the first players to get a blackout received a prize.
"Liblo," Mercier said while holding up a brown card.
"Legley," he said, holding up a gray card.
"Ti?il," he said, holding up a black card.
Meanwhile, players, such as Tribal Elder Linda Brandon, filled in their bingo cards as the colors were announced.
Following bingo, a closing song concluded the celebration.
Also during the General Council meeting, Lewis announced that the Cultural Resources Department will be moving into the former Grand Ronde Middle School building later in 2012. The building, purchased by the Tribe in 2011, will house that department and a museum.
"It is going to become a cultural center in many ways for the Tribe," Lewis said, adding that the Tribe has received more than 50 applications to be project architect.
In other action, it was announced that the April 1 General Council meeting will be held at the Monarch Hotel & Convention Center, 12566 S.E. 93rd Ave., Clackamas, at 11 a.m.
Tribal Elder Gloria Sundahl gave the invocation while Tribal member Wendell Olson and Tribal Elders Dorothy Shortt and Marlena Lancour won the $50 door prizes and Tribal Elder Cheryl Carl won the $100 door prize.
Tribal Chairwoman Cheryle A. Kennedy also announced that Tribal members have 45 days to participate in a Per Capita Distribution Survey that is seeking input on how frequently the Tribal membership wants per capita checks allocated per year.