Tribal Government & News
BIA official meets with Tribe regarding new police force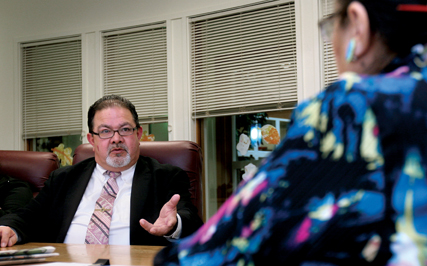 Ten Tribal staff members met with two representatives from the Bureau of Indian Affairs' Office of Justice Services on Thursday, Nov. 17, in the Adult Education Building to seek information on the Tribe's continuing effort to develop a fully functioning police force.
Thomas Woolworth, special agent in charge of the BIA's Office of Justice Services in Portland, and Law Enforcement Assistant Maria Gutierrez, from the Billings, Mont., office, met with Director of Public Works John Mercier, Tribal Attorney Jennifer Biesack, Public Affairs Director Siobhan Taylor, Natural Resources Division Manager Mike Wilson, Tribal Court Administrator Angela Fasana, Planning and Grants Development Manager Kim Rogers and others for a 90-minute session that concentrated on whether the Grand Ronde Tribe can access additional federal funds to aid in development of a Tribal police force.
The Office of Justice Services is active in criminal investigations and police services, detention and corrections, inspection and internal affairs, Tribal law enforcement and special initiatives, the Indian Police Academy, Tribal justice support and program management. It also provides oversight and technical assistance to Tribal law enforcement when requested.
Woolworth said there are 211 Tribal law enforcement agencies in the United States and 31 of those are "direct service programs," meaning the BIA provides the law enforcement for the Tribe.
However, the Grand Ronde Tribe, thanks to a new Oregon law, is developing its own police force. The Tribe already has sent former Forest Patrol Officer and Tribal member Jake McKnight to the Oregon Department of Public Safety Standards and Training Academy in Salem and McKnight is currently receiving field training from the Polk County Sheriff's Office.
In addition, the Tribe has received a three-year, $672,525 federal Department of Justice grant that will pay to hire two more Tribal police officers for three years with the Tribe committing to fund the positions for a fourth year.
The Tribe also has received grants to buy police vehicles, fund a women's transition house and develop civil laws.
Under the new Oregon law, all Tribal police who pass state-sanctioned law enforcement training are recognized as peace officers, giving them the ability to enforce state law anywhere in Oregon, including on a Tribal Reservation, against Native and non-Native offenders alike.
Woolworth said that Tribes that "religiously" report their crime statistics are more likely to demonstrate their need for federal funding.
However, Woolworth told Biesack, the Tribe is more likely to receive Office of Justice Services funds if it formulates its own Tribal criminal code instead of only enforcing state law.
Woolworth told Tribal Grants Developer Bob McElderry that there is not a base funding level the BIA distributes to all Tribes with law enforcement agencies.
Fasana said Tribal Court is currently "trying to figure out what to do" in regards to whether it will start handling criminal cases in addition to its current civil caseload.
"Tribal Council has to decide which way to go," Fasana said.
Woolworth said he would put Fasana in contact the BIA's Tribal Court administrator in Washington, D.C., to get a better feel for what might need to occur if the Tribe opts to expand its public safety code to include sending criminal cases to Tribal Court.
Biesack said the Tribe's current approach to law enforcement is to enforce state law and perhaps expand the public safety ordinance depending on funding and support available from the Office of Justice Services.
"SB 412 (the new state law) is a good middle ground," Woolworth said. "You don't have to develop your own criminal code and you can enforce state law on Tribal land."
Woolworth advised that, considering the current state of federal funding and threatened $1 trillion in budget cuts, that the Tribe look at other funding sources outside of the Bureau of Indian Affairs.
"A lot of Tribes use that kind of funding to supplement their operation of law enforcement," he said.
"We want to start with the tools available to us and grow it," Biesack said. "The Tribe wants to do what is best for the community while exercising its sovereignty."
Woolworth promised to be a regular visitor to the Grand Ronde Tribe as the law enforcement process evolves.
"I see this as the beginning of an ongoing relationship," Woolworth said. "I want to be a resource to help you achieve your goals."
Also attending the meeting were McKnight, Tribal Self-Governance Coordinator Janell Haller, Tribal Nursing Supervisor Teri Andries and Polk County Sheriff's Deputy Todd Fenk.