Tribal Government & News
Tribe hosts FEMA administrator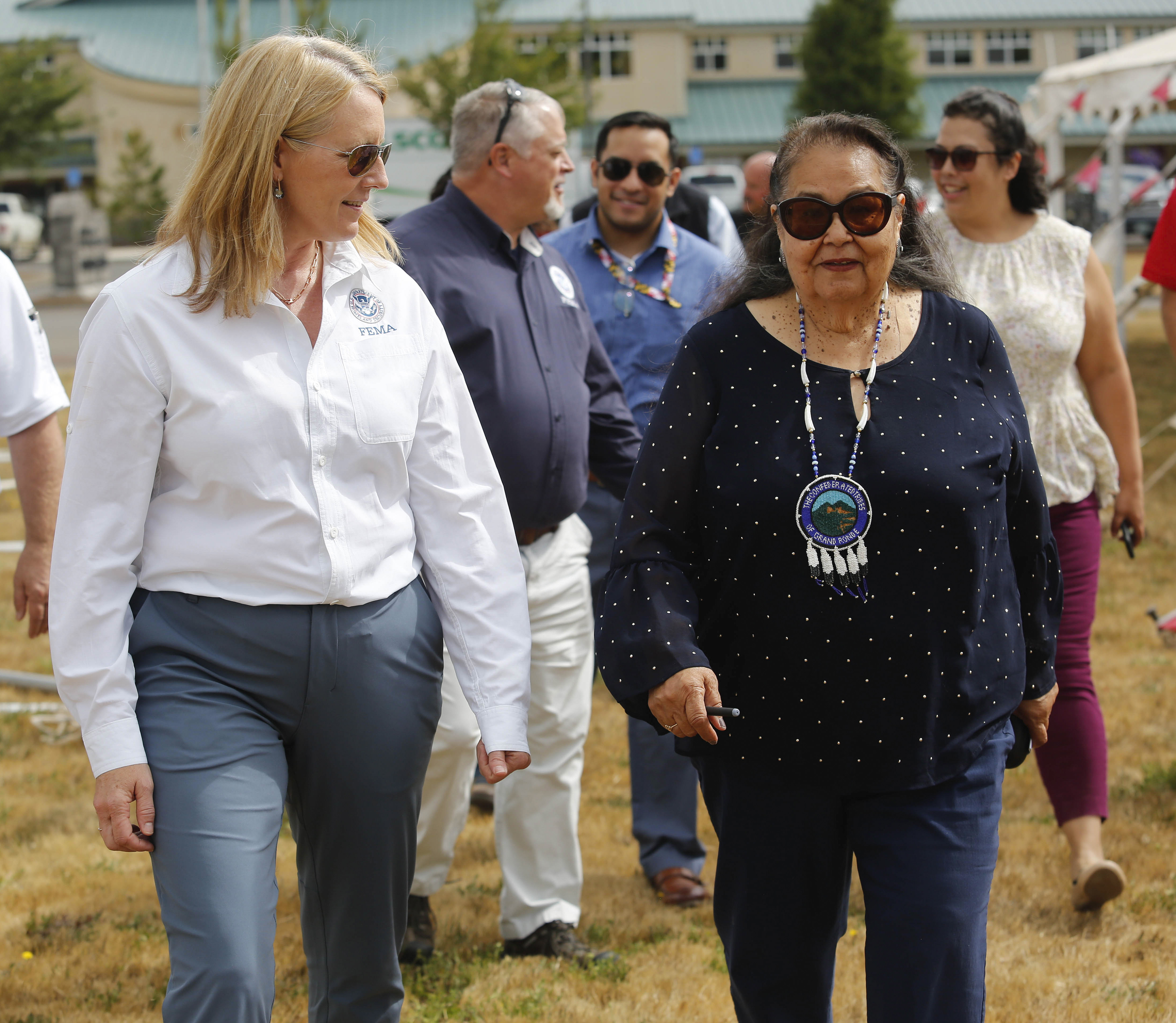 By Danielle Harrison
Smoke Signals staff writer 
Emergency Management officials from several of the state's nine federally recognized Tribes met with Federal Emergency Management Agency Administrator Deanne Criswell on Wednesday, July 21.
The purpose of the 90-minute meeting was for FEMA to strengthen relationships with Tribes in the areas of disaster preparedness and emergency management. It was held in a circle format outside on the old powwow grounds at the Grand Ronde Tribal government campus with the intent to encourage open discussion between FEMA officials, Tribal leaders and emergency managers.  
"I'm very excited to be here today," Criswell said. "I hope through my time here we will have an opportunity to work with Tribal communities and understand what your challenges are."
The meeting began with an invocation by Tribal Council Chairwoman Cheryle A. Kennedy, who also spoke about the struggles once-terminated Tribes like Grand Ronde face when trying to provide basic public safety services, such as police and fire safety.
 "Part of our funding that has never been provided by the federal government is for public safety," Kennedy said. "We bear the burden with no other means of support. We take care of the whole community without a dollar from anyone. We don't have the resources other Tribes do because of being terminated. To put federal (emergency management) funds in the hands of the state doesn't do much good because it goes to the state. Then, Tribes have to compete against each other for that funding. It is not fair. We do what we can, and all the Tribes are good at supporting each other when tragic things happen. … I appreciate everyone coming together today."
General Manager David Fullerton agreed.
"We've always sent our crews out to help other communities, but we also have to focus on preparedness here," Fullerton said. "We need to be at the same table as other municipalities are for funding. Right now, we are at a huge disadvantage for that." 
Tribal Emergency Management Preparedness Coordinator Brandy Bishop said that there is simply not enough staff to do what the Tribe is being asked to do in the area of public safety.
"That needs to be changed and we don't have the capability to make those changes," Bishop said. "The coalition we have with other Tribes has been about building relationships. I know I can call any of these people and they will be there. That is the nature of our people and I would like to see that grow beyond Oregon Tribes."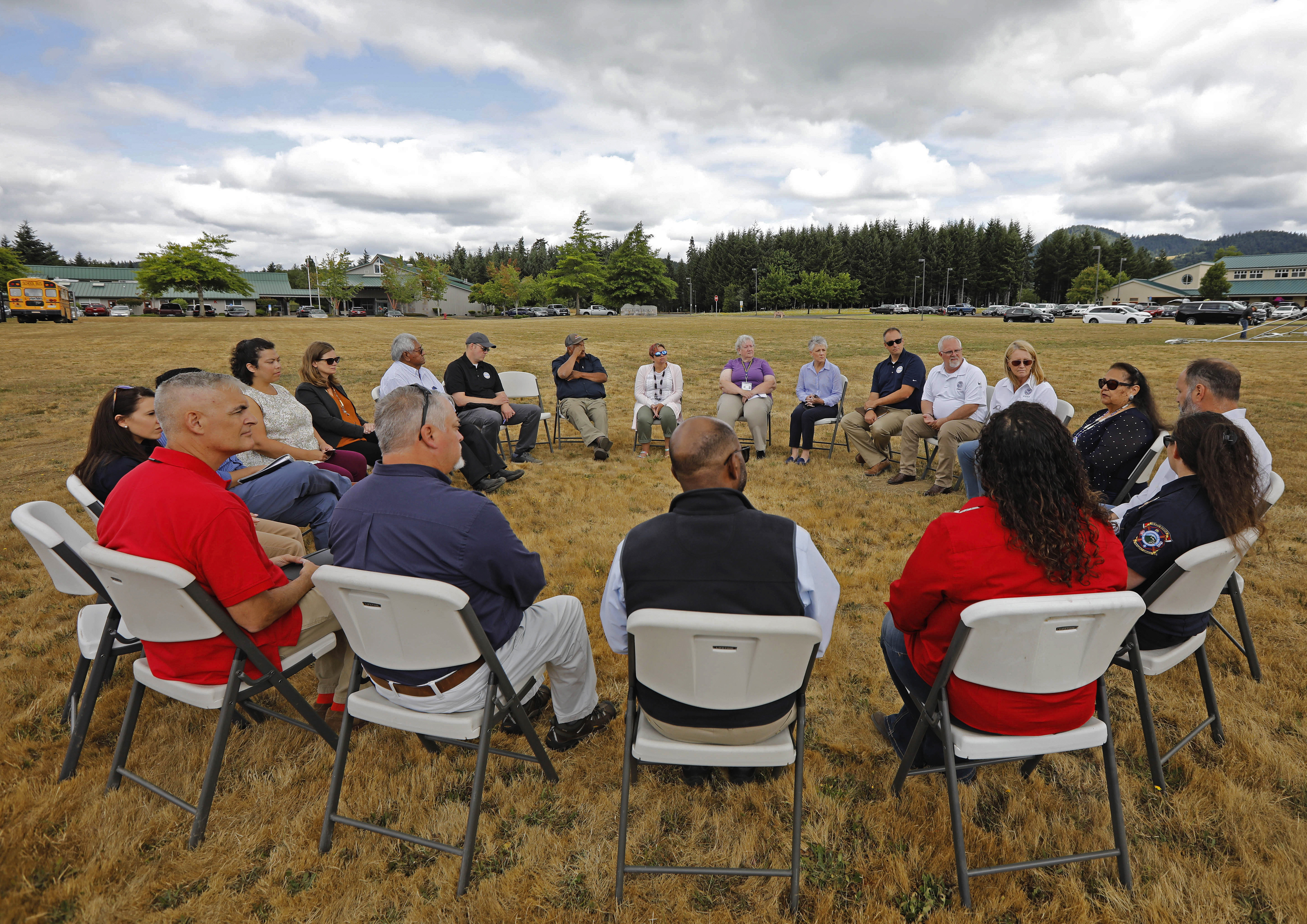 Tribal Council Chairwoman Cheryle A. Kennedy, right, and FEMA Administrator Deanne Criswell, second from right, host officials from Oregon's other federally recognized Tribes on Wednesday, July 21. (Photo by Timothy J. Gonzalez/Smoke Signals)
In addition to Kennedy, Bishop and Fullerton, other attendees included Emergency Management officials from the Cow Creek, Warm Springs, Coquille, Burns Paiute and Siletz Tribes, U.S. Fire Administration Acting Chief Tonya Hoover and Oregon Office of Emergency Management Director Andrew Phelps.
Several officials from FEMA Region 10, which oversees operations for 271 Tribes as well as Oregon, Washington, Alaska and Idaho, also attended the event, including Tribal Liaison Aurora Lehr, who is based out of Seattle.
Several Tribal leaders spoke about the challenges they face as small nations responsible for providing public safety services for members who live in remote areas, and how they often don't apply for federal grants due to the large amount of paperwork involved and not having enough time to focus on it without taking away from the vital services they provide.
"I understand what you mean about wearing multiple hats," Criswell said. "Part of my vision is to help others understand the value emergency managers bring to the table."
Criswell was confirmed as President Joseph Biden's FEMA administrator in April. She previously served as the commissioner of the New York City Emergency Management Office and worked in the FEMA office during the Obama administration. She also served as a firefighter for 21 years, was deployed to Kuwait with the Colorado Air National Guard and worked as the emergency manager for the city of Aurora, Colo.