Culture
Tribal Elder Ellen Fischer appointed to Chemawa Indian School Board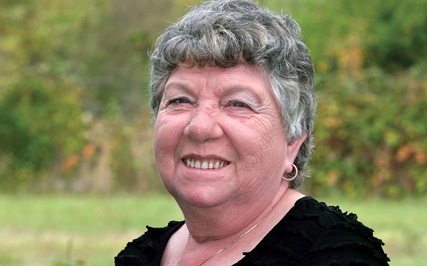 Tribal Elder Ellen Fischer, an employee at Chemawa Indian School in Salem for 27 years before her retirement in 2009, has been appointed to the Chemawa School Board.
"As a former employee," said John Claymore, Northwest Education Line Officer for the federal Bureau of Indian Education, "she was kind of a natural fit. She knows what's going on at the school, and she has always been a real professional."
Claymore oversees nine other Indian schools in the Northwest and is acting school supervisor at Chemawa.
"I loved it there," said Fischer. "I liked the people that worked there. And you learned a lot from the students. I enjoyed that."
Fischer applied for the position during the summer and was notified of the good news by Claymore on Sept. 14. She was sworn in to the three-year position on Sept. 22 at the first board meeting of the new school year.
Chemawa serves about 400 students a year, and board members are selected from reservations where the largest proportion of students live. Forty of Chemawa's students this year are from Oregon.
Fischer will work with four other board members, including one from Alaska, two from Arizona and a still-to-be-named board member from South Dakota, reflecting the home states of many students attending Chemawa this year.
Fischer remained friends with many students after they graduated and went on with their lives, she said. "They would call me, introduce me to family members. It was always nice to keep in contact."
"She is real dedicated and committed," said Claymore. "I remember one incident when there was a real bad storm, trees across the road; people from the immediate area could not make it in, but Ellen forged her way through and made it. She's a real dedicated employee and we really appreciate what she does for the school."
However, Fischer says she has not "really done much since I retired. That's why I wanted to go back to Chemawa. I was involved with the kids. I liked being there."
Fischer started working for the school in the dorms as a matron, she said.
"I went back to college (while working) and got a degree in Special Education in 1990, and then worked in the Special Ed Department," she said.
Being somebody who knows the school, the staff and students as she does, Fischer seems a perfect fit for the position. Still, she said that when she was selected, "I was very surprised (to get position)."
Tribal Council supported Fischer's efforts with a letter to the school, a requirement of the application process.
Fischer said she appreciated the support.
"I did go in and thank the council," she said. "They get all the complaints, but never get compliments for what they do; or very rarely. I thought that would be very nice to let them know that I appreciated it."
"We know that she will represent us well as she has a deep passion and commitment for the children of Chemawa," said Tribal Council member Kathleen Tom.
In addition to the business of budgets, the board this year also will be working with a new Parent Committee, a five-member board that will advocate for the students, Fischer said.
"When Ellen was there," said Claymore, "she always was a woman with integrity and always very professional. I'm looking forward to working with her as a school board member."
Fischer has lived in Grand Ronde for the last 25 years.