Health & Education
Tribal members in Ireland graduate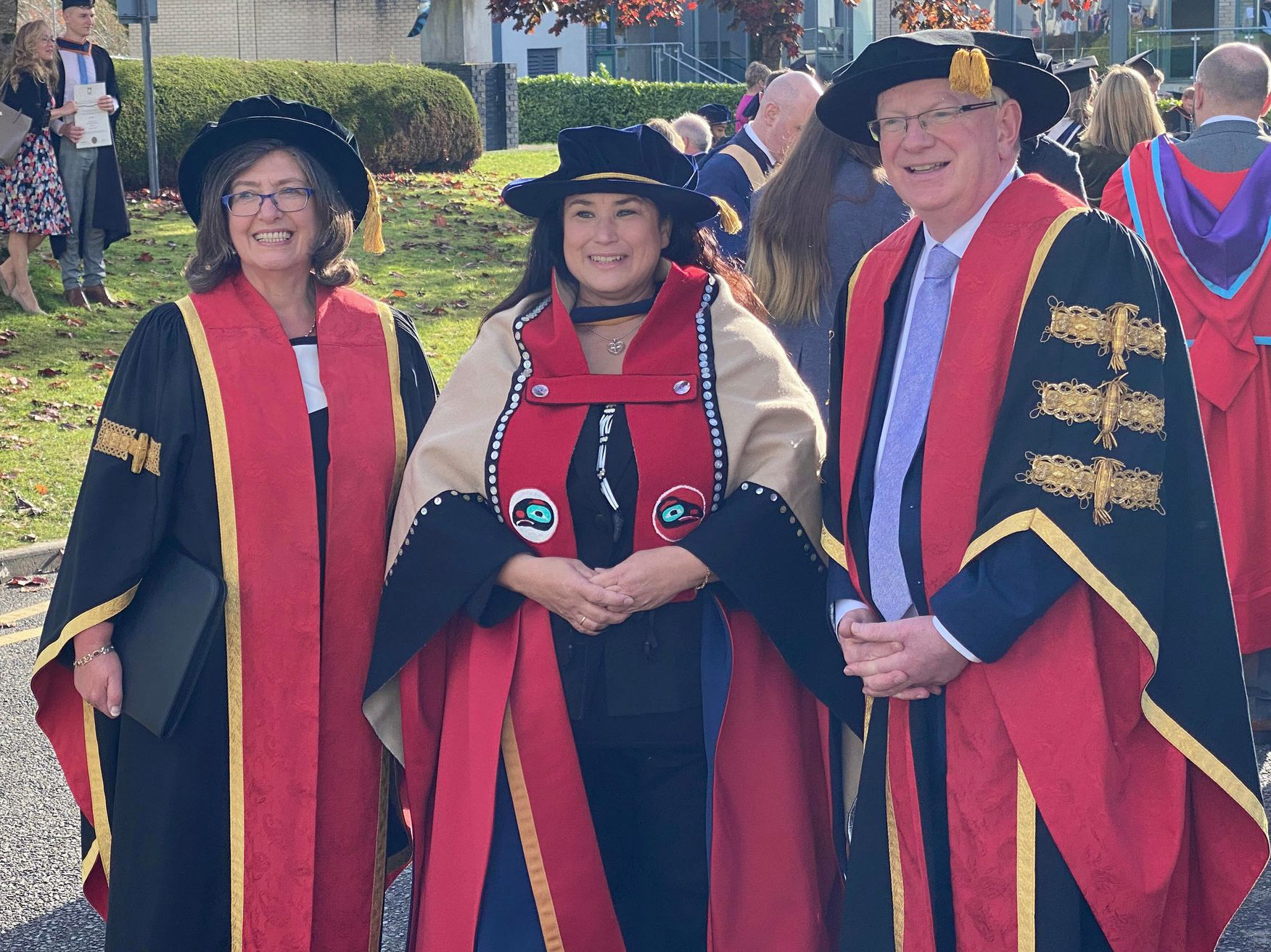 By Dean Rhodes
Smoke Signals editor
Grand Ronde Tribal members Maya Frost, 52, and her son, Liam O Gallachoir, 17, have graduated from a doctoral program and high school, respectively, in their adopted homeland of Ireland.
Frost and her son were featured in a March 2020 "So Far Away" story about Tribal members who live overseas and significantly distant from the Reservation.
Liam graduated from secondary school – the equivalent of a U.S. high school – and received his first choice of universities. Starting in October, he began attending the British Irish Modern Music Institute through the Technological University of Dublin.
"He is doing a bachelor of arts in Commercial Music in drumming," Frost said in an e-mail.
Because of the COVID-19 restrictions in Ireland, there was no graduation ceremony, but Liam received a Pendleton blanket from the Tribe.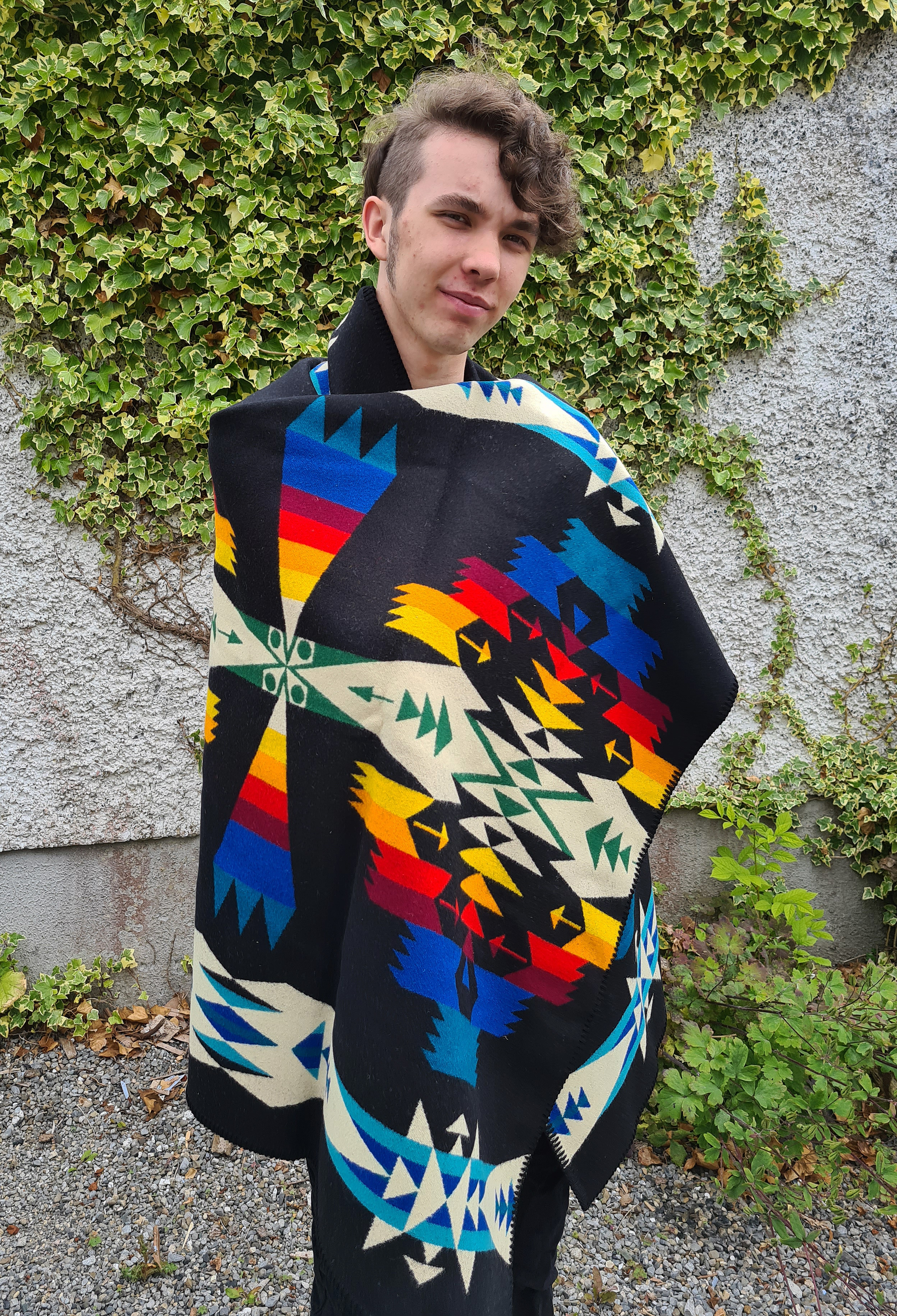 Tribal member Liam Ó Gallachóir graduated from secondary school recently in Ireland. He is attending the British Irish Modern Music Institute through the Technological University of Dublin where he is pursuing a degree in Commercial Music. He is wearing a blanket sent by the Tribe. (Contributed photo)
Frost graduated on Oct. 29 with a Ph.D. in Polymer Engineering from the Technological University of the Shannon: Midlands Midwest. She wore a button blanket robe during the ceremony and feathers in her hair. She thanked her cousin, Dolores Parmenter, for help and guidance and Bobby Mercier, Greg Robinson and the Tribe for inspiration. The feathers were a gift from Lands Manager Jan Michael Looking Wolf Reibach who visited them in 2012.
"My research explored the synthesis of thermosensitive polymers for use in drug delivery applications," Frost said. "I succeeded in creating a novel, less expensive, more environmentally friendly method of synthesis of a safe, non-toxic polymer suitable for use in targeted drug delivery platforms. This is a means of delivering a needed medication to a person at the site of the disease in the body rather than to the person systemically which can have an effect on the body as a whole."
Frost is currently working as a research scientist at the Technological University of the Shannon on an Innovations Partnership Program with Nelipak Healthcare Packaging headquartered in Cranston, Rhode Island.
"I have been able to do this because of support through the Confederated Tribes of Grand Ronde," she said. "I had never expected to get this far and it has been a tough journey, but worth it. I can only ever encourage people to educate themselves, whether it is academically or through experience. We can only be better for it. You have all made it possible … hayu masi, tilixam!"
Frost, who is Molalla and Chinook, is descended from her great-grandmother, Esther LaBonte. She grew up in Oregon City, overlooking Willamette Falls, and has lived in Ireland for more than 20 years.