Gaming
'Dry' Stampede returns after two-year hiatus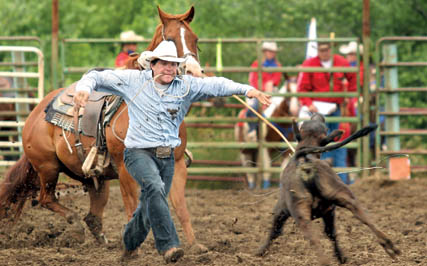 By Melissa Biery
Summer Youth employee
Despite unseasonably wet weather and a two-year absence, the 2011 Spirit Mountain Stampede rodeo successfully returned to the Grand Ronde Rodeo Grounds on the Tribal Campus, July 15-17.
After two years off because of difficult economic times, the rodeo was back with help from Spirit Mountain Casino. According to organizers, it was a great success.
Spirit Mountain Casino allowed free parking at the casino and had the shuttle run to the rodeo grounds. Casino personnel also provided marketing and ticketing assistance.
There was one big question: Should there be a beer garden at the rodeo?
After long discussions at several Tribal Council meetings, council members and Tribal Elders answered this question with a firm "No."
The beer garden was proposed to help attract more people to the rodeo.
However, not having a beer garden did not seem to affect the outcome.
"Loss of participation didn't come from not having a beer garden," said Harold Lyon, Tribal Elder and Rodeo Special Event Board chairman. "It came from the bad weather on Sunday."
Lyon said that attendance figures were still being determined.