Culture
Twenty-seven names being added to West Valley Veterans' Memorial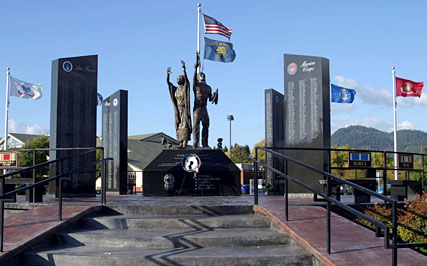 Twenty-seven names, including six Grand Ronde Tribal members, are ging added this year to the four granite columns of the West Valley Veterans' Memorial on the Grand Ronde Tribal campus.
They are:
Navy: John E. Alldredge, F. Marion Amerine, Tribal member Ronald A. Bly, Tribal member E. Glen Davis, Emery V. Hilderbrandt, Raymond E. Locke, Ann M. Runyan, James L. Stone, Tribal member Eirik E. Thorsgard and Robert D. White.
Army: Tribal member Marvin L. Davis, Arthur S. DeHart, Vernon A. Edwards, Tribal member Peter M. Harris, Bruce R. Lattin, F. Lee Lembkie, Steve C. Loran, Wilfred W. Piller and Casimir A. Zakaras.
Marines: James H. Kampmann, Jimmy L. Laker, Craig L. Lambert, Duane L. Nickerson and Michael L. Nolen.
Air Force: Al Fast Thunder, Tribal member Henry D. Leuthauser and Billy D. Pratt.
In addition, a feather is being added to the name of Wilson S. Bobb Jr. on the Army column to signify that he is a Grand Ronde Tribal member.
The West Valley veterans will be honored at 1 p.m. Monday, May 30, during the annual Grand Ronde Memorial Day ceremony.