Tribal Government & News
Tribal Council takes step toward establishing school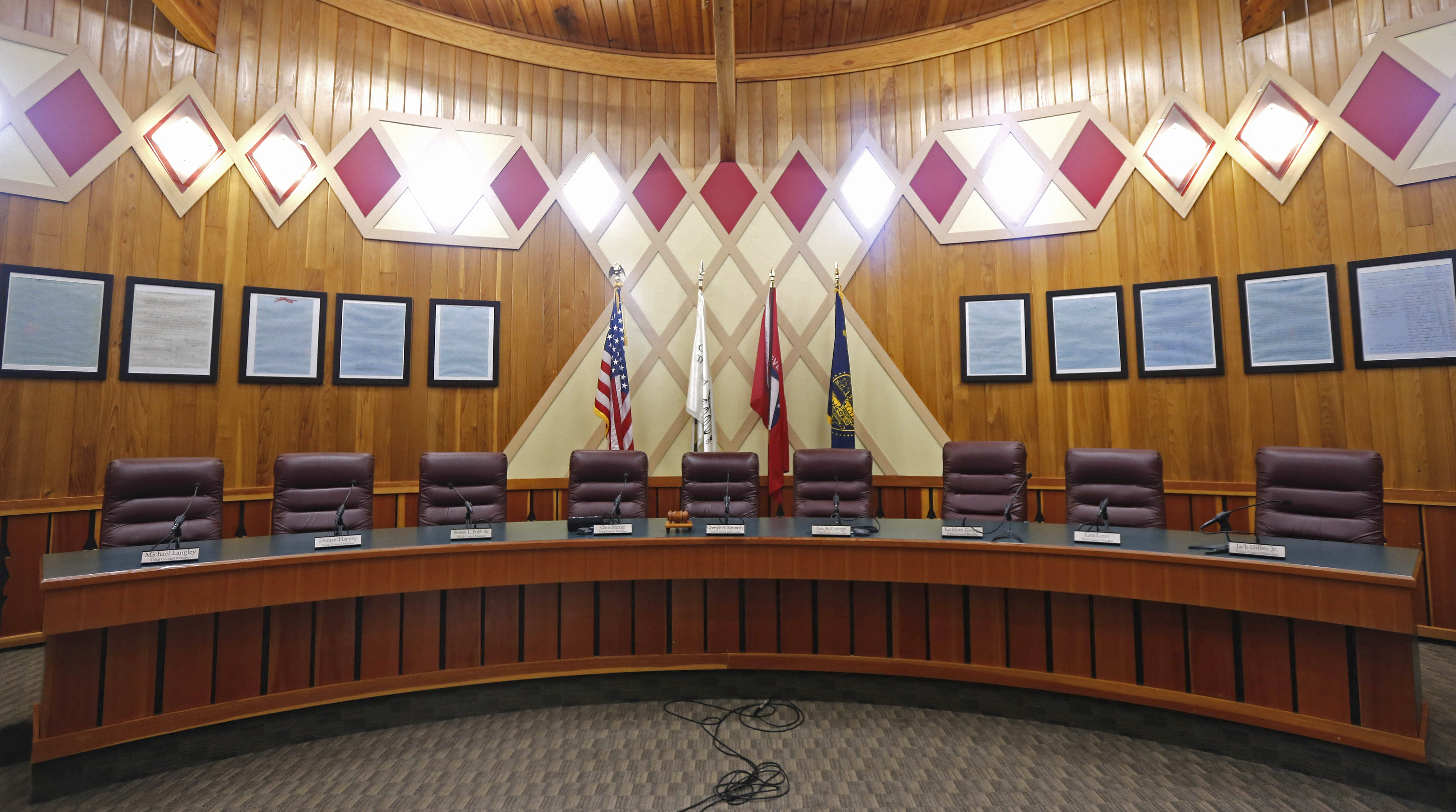 By Danielle Harrison and Dean Rhodes
Smoke Signals staff members
Tribal Council approved a professional services agreement for a feasibility study on Wednesday, Jan. 25, that will bring the Grand Ronde Tribe a step closer to opening its own school.
The agreement with GLAS Architects of Eugene will include four months of information gathering, Education Department Manager Angela Fasana said during the Tuesday, Jan. 24, Legislative Action Committee hearing.
Fasana said the firm would look at options, such as opening a kindergarten through fifth-grade or kindergarten through 12th-grade school, and also examine operational models and funding possibilities.
"We have a lot of things we have to think about," Fasana said.
During the 2019 Tribal Council election, Tribal members were asked as an advisory vote "Should the Tribe evaluate a charter/private school for youth in Grand Ronde?" and 53.9 percent of those who voted supported the idea.
Currently, most Tribal member youth and descendants who live in the Grand Ronde area attend the Willamina School District. According to the most recent memorandum of agreement between the Tribe and district, approximately 277 of the 865 students – 32 percent -- enrolled are Native American.
Willamina School District Superintendent Carrie Zimbrick said the prospect of a Tribal school could potentially be a "big financial hit" for the district because state school funding is based on enrollment.
"Other grants are tied to our Native enrollment as well, like Title VI, impact aid and the Tribal Attendance grant," Zimbrick said. "A public charter school must be sponsored by an existing public school district. For example, Sheridan School District sponsors Sheridan All Prep and the former Japanese School. Working with a public district is typical.
"We would need to make some adjustments, but typically that would be at the core subject areas. Staffing high school is based on offering all courses required for graduation. … So that becomes a bit more difficult when enrollment declines."
She cited the Nixya'awii Community School, which is a public charter school in Pendleton that serves the area's Native American population, as an example.
"To access public funds (state school funding), the charter school must be sponsored by a public school," she said. "The funding flows through the public school with 85 percent of the funds going to the charter school. The public school would be responsible for providing financial oversight and access to specialists: special education, Title One, English language learners, talented and gifted, etc."
The agreement calls for GLAS Architects to submit a finalized draft feasibility study by Oct. 13 at a maximum cost of $97,750.
Tribal Council also set the agenda for the 11 a.m. Sunday, Feb. 5, General Council meeting to be held at the Monarch Hotel and Conference Center off Interstate 205 in Clackamas. The presentation will be from the Tribal Employment Rights Office.
In other action, Tribal Council:
Adopted a resolution to accept negotiated opioid lawsuit settlement agreements with opioid manufacturers Teva and Allergan, as well as pharmacy chains CVS, Walgreens and Walmart, that had been reached by the Tribal Leadership Committee in the multidistrict suit. "The Tribe's legal counsel in the litigation believes the proposed settlements represent a fair deal for Tribes and recommends that the Tribe accept each of the proposed settlements," a staff recommendation stated. The amount the Tribe will receive will await finalized settlements and approval of a Tribal allocation matrix, Assistant Tribal Attorney Kim D'Aquila said;
Adopted final amendments to the Marriage Ordinance that include removing the requirement to record with a county of record or with the state vital statistics office, and added that any marriage that was issued a license, had a ceremony and had been issued a marriage certificate as authorized by the ordinance is presumed to be valid, and allowed Tribal Court to charge fees for providing additional copies of the marriage certificate;
Approved applying for a $207,000 Oregon Community Paths grant that would fund an 18-month planning process for a possible walkway from Grand Ronde to Spirit Mountain Casino. In 2020, 56.5 percent of Tribal voters in an advisory vote said they favored a walking path from Tribal housing to the casino. Interim Community Development Manager Kristen Svicarovich said any construction would not occur for several years;
Approved applying for a $2 million Environmental Protection Agency grant that would help the Tribe reduce toxins emanating from the Tribal campus and other Tribal properties. The five-year grant would help the Grand Ronde Tribe contribute to improvement of water quality in the Columbia River Basin;
Approved acceptance of a $134,374.90 Oregon Department of Education Office of Indian Education grant that will help the Tribe aid youths to successfully transition between grade levels. The Tribe's Education Department plans to use the funds to provide an academic coach, buy supplies to enhance coaching sessions and hold family night activities;
Adopted the Early Childhood Education's triennial Child Care Plan, which identifies infant/toddler care as a priority, as well as Child Care Development Fund health and safety standards and a complementary amendment log. Early Childhood Education Manager Angie Blackwell said the adoptions will move the Tribe from having state licensing requirements to setting its own standards for child care;
Approved the Tribe selling approximately $47,000 of its common shares in Broadmark Asset Management to Westwood Holdings Group. Finance Officer Chris Leno said the Tribe would liquidate its Broadmark shares that it has held for several years and invest the funds in the Tribal portfolios;
Approved an administrative services agreement in which the Tribal government's Audit Department will provide audit services to Spirit Mountain Casino;
Approved paying $25,000 in dues to the Indian Gaming Association and named Tribal Council member Denise Harvey as the Tribe's principal delegate to the organization;
Approved paying $7,500 in dues to the Affiliated Tribes of Northwest Indians and named Tribal Council member Jon A. George as the Tribe's principal delegate to the organization;
Approved paying $30,000 in dues to the National Congress of American Indians and named Tribal Council Secretary Michael Langley as the Tribe's principal delegate to the organization;
And approved Tribal membership for one infant based on the minor meeting the Tribal requirements outlined in the Tribal Constitution and Enrollment Ordinance.
Also included in the Jan. 25 Tribal Council packet was an approved authorization to proceed allowing the Emergency Services Department to apply for a Community Wildfire Risk Reduction grant to create defensible-space landscaping around the Grand Ronde and Willamina fire stations to protect critical infrastructure.
To watch the entire meeting, visit the Tribal government's website at www.grandronde.org and click on the Government tab and then Videos.